Last week Soundtoys soft launched V5 of their plugin range. This has been building for a while and I was quite surprised to see they didn't even really tweet about it. Nonetheless, it's with us now so let's take a look at what this update has to offer.
Upgrading And Authorizing
If you're an existing customer then you'll want to upgrade (if you haven't already) to V5 for a number of reasons and you might be in for some pleasant surprises.
Firstly there's the upgrade price. This will vary for everyone as it's based on the amount of Soundtoys products you already own and the price you payed for them. As you know Soundtoys do a fair amount of promo pricing, etc. Essentially the more products you own the cheaper your upgrade price. You basically have to trade in some of your existing individual licenses (which are dissolved in to the bundle), the higher the value of the product you trade in the cheaper the upgrade. My upgrade was a mere $50 after trading in three plugins in my account. As V5 includes every plugin they currently make it doesn't make much difference. Customers who purchased V4 Native after Oct 1st, 2015 get a free upgrade.
Another thing existing customers (and new) will be pleased about is that you no longer need to have an iLok dongle to run Soundtoys V5 (you still need an iLok account). You can simply authorize on two computers and free up a USB port!
What's New?
Probably the thing most people will be interested in is the new Effects Rack. This is a container where you can build combination effects out of your Soundtoys plugins. It's a similar concept to Slate's Virtual Mix Rack although you can add as many as you want. This is a great way to build preset chains and you can also take advantage of the collection of top quality presets that come with the rack.
The second, and to me the most welcome is the 'Tweak' pages on all the plugins now have a dedicated slide down panel that has been optimized for easier use. This is a marked improvement on the 'floating window' concept of previous versions. It makes getting into the nitty gritty of the plugin parameters a whole lot easier and more fun.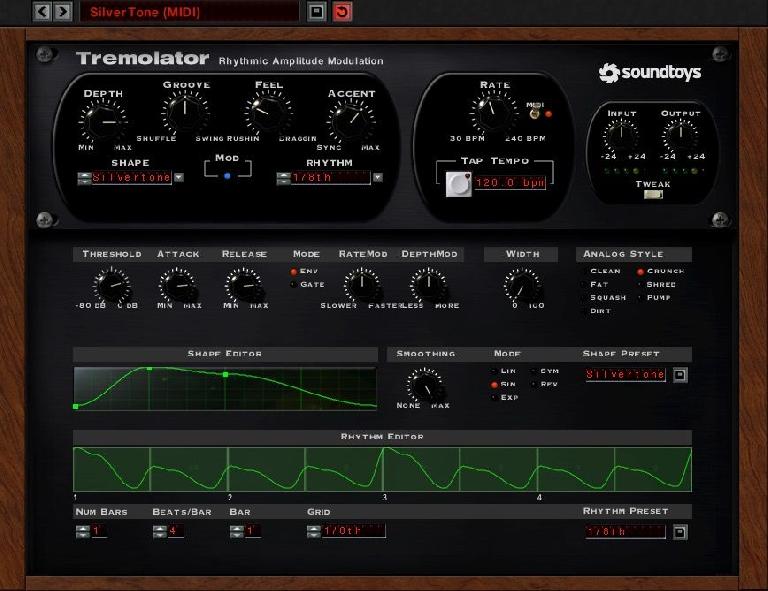 V5 Native Bundle includes all Soundtoys plugins currently available. Here's what you get!
Effects Rack
Build your own effects chains. A neat idea with a few extra features. Globally control tempo of all your effects. There are controls for Input and Output gain and the Recycle control for feeding a portion of the output of the rack back into the input. Great for extreme tape delay effects that take on a life of their own!
Saturation
Soundtoys know their stuff when it comes to adding dirt to sounds! There are three saturation effects to play with. The first is Decapitator which brings five different types of analog sounding saturation to the party. A lot of people swear by this plugin for good reason. The grit and compression of Decapitator makes any source sound killer. Turn on 'Punish' to really feel the burn!
Soundtoys know their stuff when it comes to adding dirt to sounds!
Devil-Loc-Deluxe is modeled after the Shure M267 Broadcast Mixer/Limiter and in my opinion the best thing Soundtoys has ever made! Distort, crush and smash audio with this thing. It likes doing that!
Radiator is based on the Altec 1567A tube mixer. It brings warmth and dirt to any source. Great for vintage sounds or just bringing flat audio to life!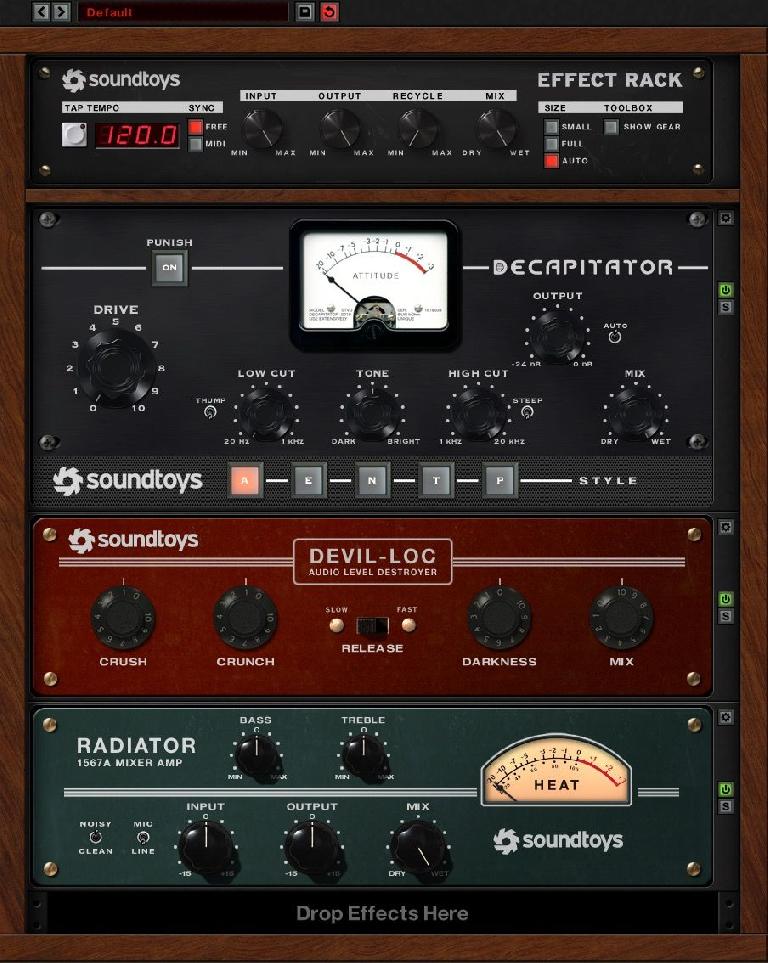 Delay
Echoboy is regarded as one of the best delays on the market. From everyday jobs to more complex rhythmic delays Echoboy can do it all. Comes with a tone of character settings from Echoplex to Transistor radio. The only delay you'll ever need? Probably!
PrimalTap is based on the Lexicon Prime Time which is a favorite of mega producers around the world. Classic 80's delay and the ability to create some very interesting soundscapes using the time divider functions. It features four new feedback options including Ping-Pong and Reverb modes.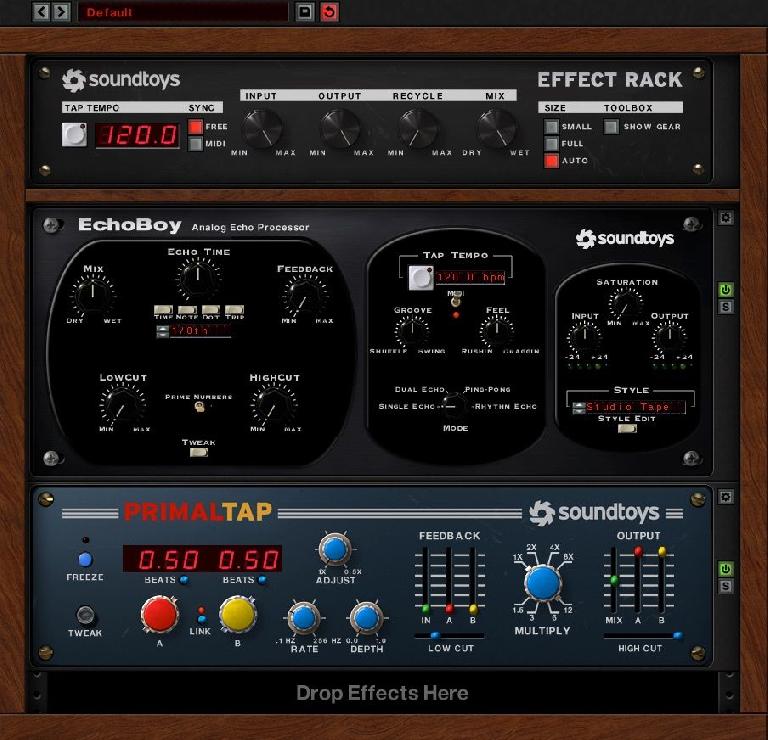 FilterFreak
FilterFreak comes in single and dual band versions. It's one of the best sounding filter plugins around. It can handle a number of applications from dynamic EQ effects to out and out rhythmic mayhem. The only filter you'll ever need? Again, probably!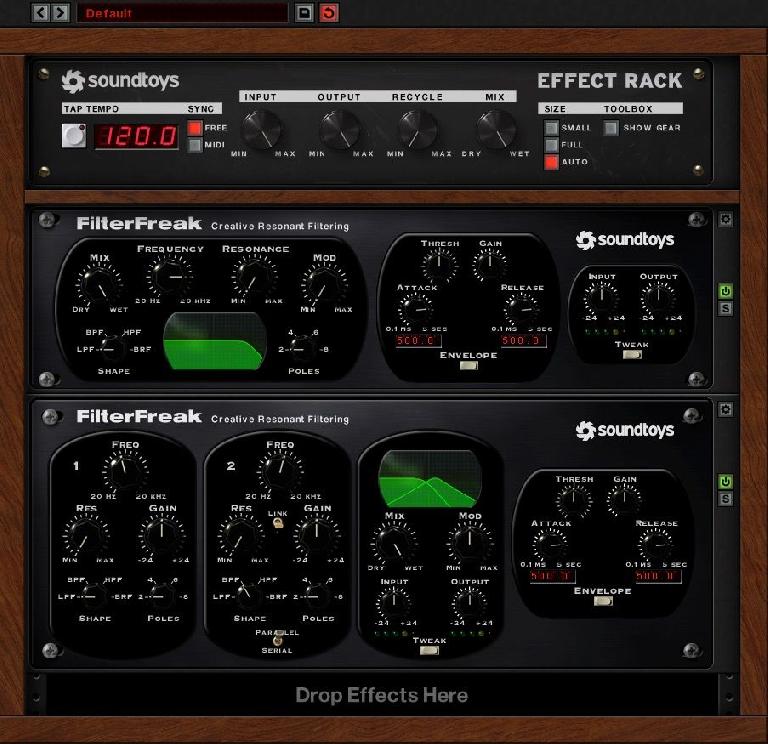 Pitch
When you consider that the founders of Soundtoys were responsible for the algorithms in Eventide's H3000 harmonizer you'd expect a decent pitch plugin. Well, there is!
Crystalizer is based on the 'Reverse-Shift' from the above hardware legend. It can do anything from pitch shifting, granular effects, pitched delays to reverse effects. A sound design monster!
MicroShift's subtle pitch shifting and delay is perfect for thickening and widening any sound. From chorus like effects to out and out detuning effects this is a very handy plugin to have in a mix.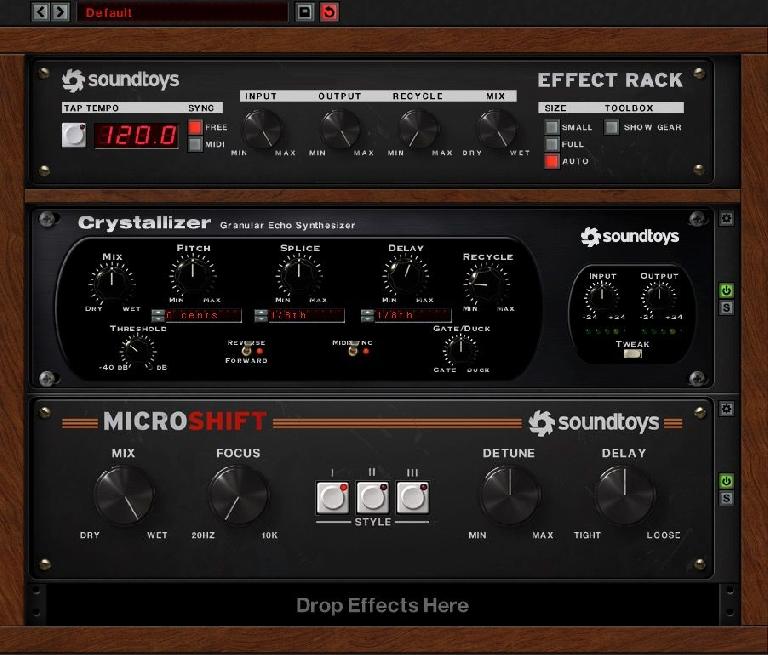 Modulation
There are three very useful and powerful modulation effect plugins in V5.
The first is PanMan which offers a wide range of panning effects. Now that may not sound all that exciting but PanMan has a few tricks up its sleeve. From LFO-style panning to programmable rhythmic patterns to Dynamically triggered effects, it's more useful than you might think!
PhaseMistress is a one stop shop for all your phasing needs. Tons of options and modulation types makes this a go-to plugin for any classic phaser tones!
Tremolator is a powerful amplitude modulation plugin with an insane amount of programability. Create anything from complex rhythmic gated effects to classic amp tremolo effects.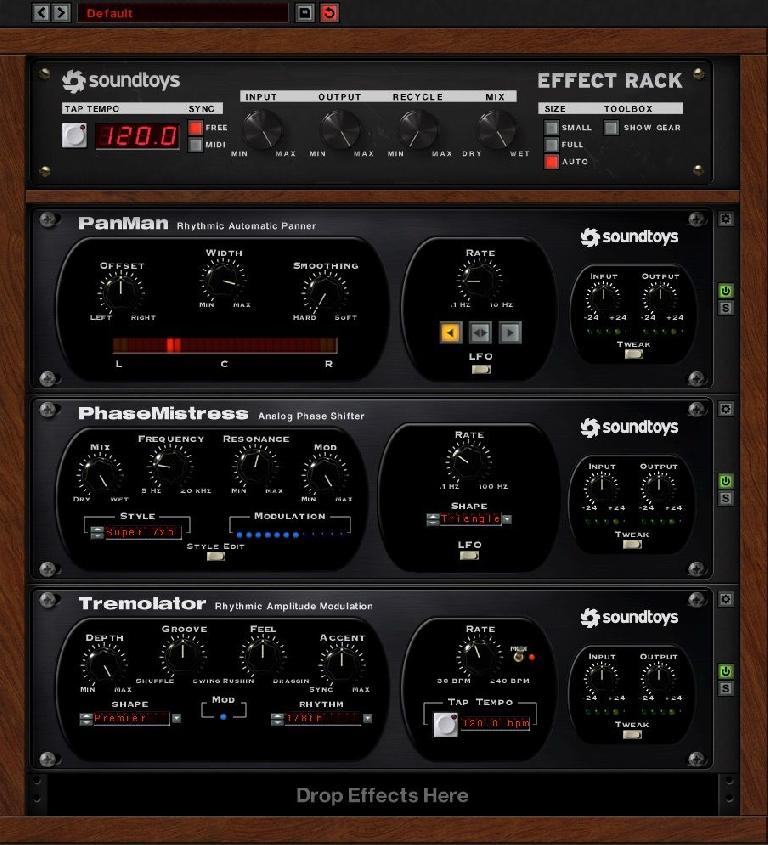 The 'Little' Ones!
It has been a recent custom of Soundtoys to release a 'little' version of a new product before the fully fledged plugin is released. These are often part of a coupon share and can be purchased at a reduced price and upgraded later at a small cost to the main version. There are five of these 'little' versions included in the V5 bundle.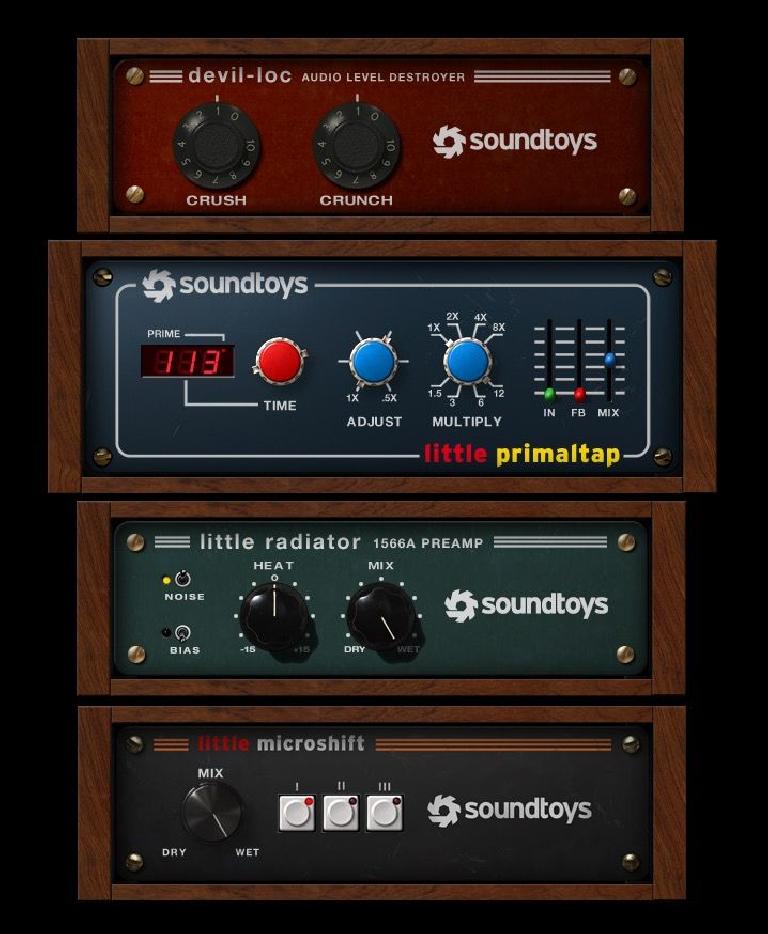 They include Devil-Loc, Little PrimalTap, Little Radiator, Little MicroShift and the last is Little Alterboy which is another pitch shifting plugin that can do a ton of pitch effects from vocoder to MIDI playable harmonies.

One thing to note is that the 'little' plugins are not accessible in the rack. Little Alterboy relies on lookahead to process the audio and would cause latency in the rack so it was specifically omitted for that reason.
What's Not Included?
The one product that isn't in V5 is Speed, Soundtoys pitch/time stretching algorithm which is used for offline use (Pitch And Time Machine in Logic9/10 and PT9). As of now Speed is no longer available to buy. After installing V5 upgrade Speed was still on my machine although a fresh install means you'll lose it. If you're a heavy user of this from V4 and have a compatible DAW you can request an installer from Soundtoys. New customers might not be so lucky.
This may have something to do with Soundtoys dropping RTAS support. The TDM version of Soundtoys is also gone as they have moved to AAX format for Pro Tools so check before upgrading if you're running a TDM rig.
If you already own the Soundtoys bundle, then you'll know just how great these plugins are and with potential upgrade prices so low it would be hard to resist the upgrade.
Conclusion
If you already own the Soundtoys bundle, then you'll know just how great these plugins are and with potential upgrade prices so low it would be hard to resist the upgrade. For me the best new feature is the new Tweak panel concept which makes working with the advanced option a whole lot easier.
Another reason to check out Soundtoys is the fact they sound awesome. At the time of writing there are a few little bugs but these should be gone by release time. Check with Soundtoys before upgrading (especially TDM owners) to ensure compatibility with old projects.
All in all this is a cool update. Maybe in the future we'll see more functionality added to the rack like routing options?
Price: $499 (Variable upgrade prices)
Pros: Quality effects from a quality company. Sonic awesomeness awaits you! No iLok dongle if you don't want it.
Cons: Check before you trade in any TDM bundle as there is no TDM version. No Speed plug-in which is a shame.