Perusing around SuperBooth16, I happened upon an incredible compact machine, chock-full of character, that quite impressed me… the Atmegatron: a revolutionary synthesizer built on the Arduino platform. Fascinatingly, this tabletop unit is more than meets the eye as it can transform into any one of seven different synth/drum machine variations.
The Odytron is a limited edition Atmegatron (only 150 units have been manufactured), pre-loaded with the brand new Odytron software and factory presets. The Odytron software simulates the specification of a classic analogue synth (something starting with Arp and ending in Odyssey) but in an 8-bit digital environment. The result is a fascinating combination of analogue warmth and 8-bit grit. Features include: 2 independent oscillators (duophonic), 2 filter algorithms + bypass, 2 envelopes, LFO, ring mod, wave sync and numerous modulation methods.
Odytron Vs Atmegatron
Apart from the unique Odytron paintwork, the hardware is identical. Both support additional software and factory presets. Transforming one into the other is as simple as hitting the upload button on the PC or Mac compatible 'Easy Uploader' app and waiting about 20–30 seconds for the transfer to complete.
While writing this, Soulsby added a convenient, salient feature to the uploader… patch management. Now, loading and saving patches is as effortless as hitting the save or load buttons, selecting a directory and typing in a name.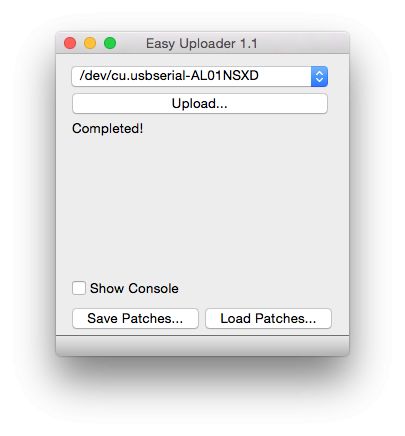 Note: You'll need a FTDI programmer cable which comes bundled with the Odytron but not with the Atmegatron (available in the web store) to upload new software to its micro-controller. Additionally, make sure to install the appropriate FTDI drivers as indicated in the detailed instructions on the Soulsby website.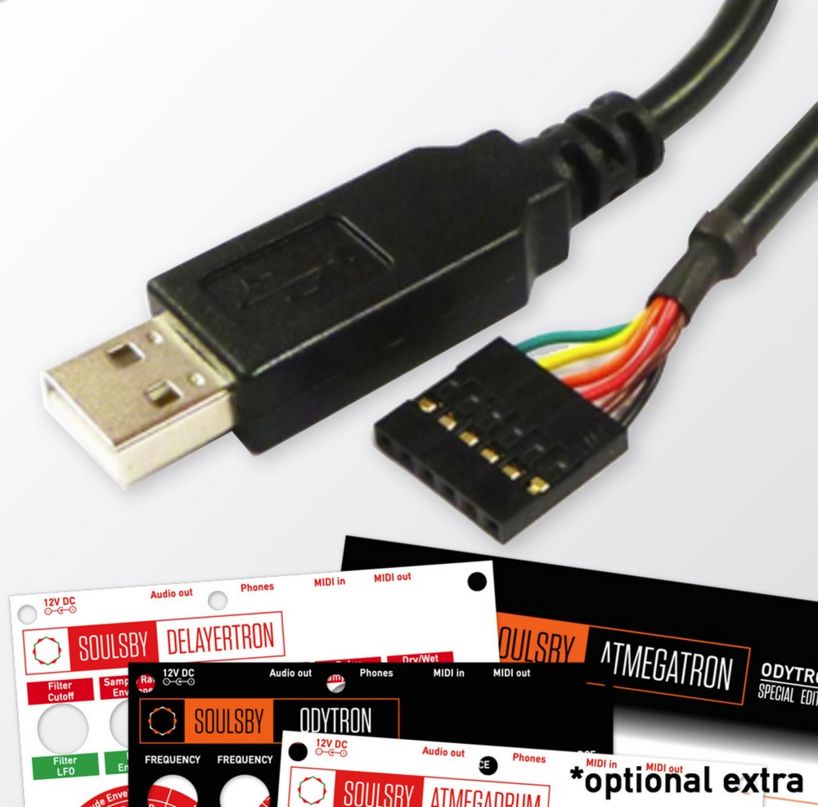 Visualize and Navigate
Visualizing the control layout of each synth variant is accomplished by downloading and printing out the overlays. The Odytron special edition includes professionally printed overlays for 3 of the software versions: Atmegatron, Atmegadrum and Delayertron. These are also available for purchase through the web store.
Alter Ego—Software Adaptations
Undoubtedly, I could write an article about each of the software adaptations as they are all deep in their own right. Due to time/space limitations, instead I'll provide a list with brief descriptions and discuss several specific aspects that I found most compelling in more detail.
Atmegatron—monophonic 8-bit synthesizer. Ideal for basses, leads, Chiptune sounds.
Odytron - duophonic analog modeling synthesizer. Think Arp Odyssey but 8-bit.
Atmegadrum - 16 part, 16 step, 8-bit sample drum machine.
Strings - 4-voice polyphonic synth. Featuring 16 different waveforms.
Delayertron - Atmegatron plus crunchy 8-bit delay effect for crazy sci-fi sound effects.
Atcyclotron - Wavetable cycling synthesizer. Similar to the PPG wave (4 wavetables in turn).
Duotron - Dual oscillator Atmegatron.
With this many options, it's a choice synth for those ADD types who enjoy bouncing from one alter ego to the next or for someone looking for a profusion of multi-functionality in a compact package.
Control
The controls of the Atmegatron are divided into 3 areas: the function and value dials, the analogue controls and the digital controls.
The two main glowing colored dials are for selecting functions and setting values. Depending on the software, pressing the function knob toggles between one of two colors. In the case of the Odytron, it varies from yellow to red which corresponds to selecting functions on either the inner or outer ring. I'm slightly color challenged (read somewhat color blind) but could still identify the difference luckily.
By way of illustration, use the function dial to navigate around the wheel of fortune to Audio Mixer DCO 1. Pressing the function knob toggles between sawtooth and square waves. Use the value knob to set the volume level of the oscillator.
Volume and Bass Boost make up the analog control section. The Volume knob adjusts the main 1/4" jack output as well as the mini-jack headphone output. Bass Boost is where the party is at!!! This control adds 6 dB of gain to a low‑shelf filter for extra pizazz. Want some dirty sturdy 8-bit bass in your face? This is the spot to go. Dialing in this patch, Bass Boost got my sub bumping.
Atmegatron—Amp LFO Bass:
The digital controls adjust the digital circuitry. They are located on the top on the hardware interface and provide continuous control over various parameters that change depending on the software variant in use. Some of the most common suspects are: Filter Cutoff, Filter Resonance, LFO Frequency, DCO adjustment and other miscellaneous controls for modulation mayhem.
It's worth noting that the digital controls receive MIDI but do not transmit data. Therefore, if you're keen to write/record automation or modulation envelopes via a DAW, users will need to either manually pencil it in or incorporate another controller.
Following the included MIDI Implementation chart, I quickly modified an existing Max for Live patch (8 CCs) to control the main Odytron digital controls. Using such I'm able to intuitively control the Odytron with PUSH or any other controller capable of control surface mapping. If control surface mapping is out of reach, users can still employ this patch by hard mapping via MIDI learn.
Download - Odytron Control Patch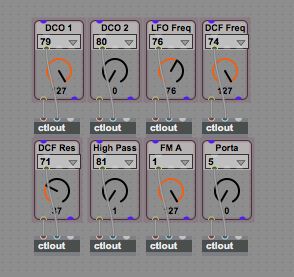 Odytron Max4Live
Filters
The Odytron's filter section features two different types of lowpass and a highpass filter. Regarding lowpass, Type I is smoother, less resonant and Type II is harsher and more resonant. Choose between the two depending on how much grit and bite you wish to add. The results of Type II combined with a heathy dose of pulse width modulation can result in nothing short of tear your face off.
Odytron Filt 1 Smooth.wav:
Odytron Filt 2 Harsher:
Atemegatron, on the other hand, offers 15 filter types which sound quite unique particularly at low cut off values. As noted in the manual, this is partially due to the sound being calculated in an 8-bit environment and partially the way the waveform is updated.
Atmegatron - Filt Arp:
Wave Cycle
One of my all-time favorite features is the wave cycle function that exploits the Strings software's 4-voice polyphonic audio engine. With a slight bit of detuning and some added outboard delay, I conjured some beguiling textures, shifting and rotating wave types for each voice over time.
Strings - Running Circles plus delay:
Atmegadrum
No drum kit is complete without its share of low-fi crunch. This is where Odytron transforms into Atmegadrum: a 16-part, 16-step, 8-bit sample drum machine. Soulsby provides 4 different .hex file uploads to choose from: 606 Glitch, Acoustic, Classic and Electro.
Here the digital controls run lean in terms of sound sculpting aptness. However, there's a global tune function, LFO amount/speed adjustment, individual instrument volumes and instrument delay. The function and value knobs vary between instrument selection and step sequencing.
It is possible to use your own short samples in the Atmegadrum. Use the Atmegadrum Wavetable Builder to do this. Unfortunately it is only for Windows at the moment and only a Beta version. Samples must be 8-bit and mono. 8 kHz is the recommended sample rate.
Atmegadrum receives MIDI clock and users can further sequence via their DAW of choice. Although the step sequencer is straightforward to program, I yearned to subsume it more directly into my workflow (Ableton Live setup). To accomplish such, I built a drum rack containing external instruments that I control using Push 2's step sequencer. With improved workflow in check, layering the Atmegadrum with an additional drum rack produced some appreciable textures.
Atmegadrum Classic:
Atmegadrum Layered:
Note: I've included my Atmegatron drum rack for downloa…. you'll need to set your audio and MIDI inputs accordingly. Audio inputs should only be set for one external instrument instance otherwise the incoming signal will be redundantly duplicated. By default, Atmegatron receives on MIDI channel 10.
Download Atmegadrum Rack_T-Ø.adg
Atmegatron Librarian Software
The Atmegatron Librarian software allows users to visually identify and adjust multiple parameters simultaneously via the editor. Here one can hand-draw or generate user waveforms that can then be uploaded to the synth via MIDI. It's also an efficient way to manage banks and patches. I wasn't able to test this myself though as it's only available for Window's users at this time. Reassuringly, however, I spoke to Paul Soulsby and he divulged that he's currently working on building something similar for the Mac platform.
Hackable
Yes, that's right… The Odytron is completely open source which allows programmers to change or add new features and upload them to the Atmegatron. The software should be simple to comprehend for anyone with a basic understanding of C and the Arduino platform.
Note: Atmegatron source code can be found on GitHub.
A Little 8-Bit That Goes a Long Way
Certainly, I had a blast reviewing this powerful quirky little synth. If you're into '80s 8-bit computer sounds, it's a perfect fit. At the same time, it's not limited to such as it can be much more. Akin to creating artwork using different mediums, rather than just distinct colors, layering the Atmegatron 8-bit grit over warm analog impressions made textures pop like a journey to the 4th dimension.
Price - Odytron: £225, Atmegatron £199 (incl. VAT) GBP
Pros:
Super versatile. Transforms into any of 7 synth/drum machine variants
Compact, lightweight, portable
Unique sounds and functionality
Affordable considering the amount of versatility
Open source and hackable for anyone with a basic understanding of C and Arduino
Cons:
Librarian Software and Wavetable builder are only for Windows at this time.