In theory, this is exactly the kind of library I have traditionally had little interest in. It has pre-cooked combinations of instruments, arpeggiators and the like that I do not usually enjoy composing with, as I am pretty old school that way. However, a few people whose opinions I respect suggested I check it out and do you want to know the truth? For the orchestral simulation work I actually get hired to write, if I had to, I could accomplish it decently using nothing but The Orchestra.
What Is It?
The Orchestra is a Kontakt 5 library that works with both the full version and the free player. While it has individual instruments and individual articulations for them (three octaves, except for the harp, which has seven), the unique feature is its Ensemble Engine, which is really powerful.
Included in the library are violin 1, violin 2, viola, cello, and basses; 4 horns, 3 trumpets, three trombones, and low brass (tuba and bass trombone) ;solo flute, oboe, clarinet, bassoon, and contrabassoon; plucked harp, timpani, tubular bells, suspended cymbals, gran casse, snare drum, tam tam, drum ensemble, and taikos; men and women's choir, with sustain staccato and even eleven syllables. All of them have at least three of the most common articulations, most have four, and the strings all have six.
Getting Started
What was immediately apparent to me was that while its main raison d'etre is the power of its Ensemble Engine, they do give you the ability to mix orchestrating more traditionally as well, or in tandem with it. Where you slice the salami is up to the user.
Perhaps because I was told that the individual instruments did not sound that great, I had low expectations. But while certainly not the best I have heard, they aren't awful either. Their main limitation is the range of the instruments, where you might really want more than three octaves and one mic position, which has a rather in your face sound. Also, dynamics are controlled by the mod wheel and seemingly cannot be reassigned or mapped to a controller. But it is with the multis that it really starts to shine. There are three categories.

I decided to start with the Orchestral Colors and was presented with twenty choices.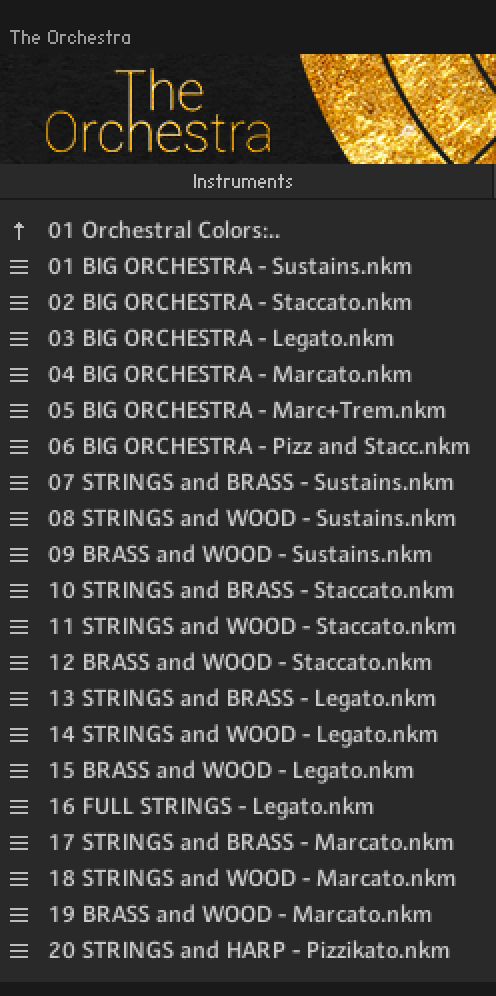 I decided totally arbitrarily to load the Big Orchestra Marc & Trem multi. What this actually loads is three instruments: STRINGS Full Tremolo, Brass Full Marcato, and WOOD Full Marcato. Each has three pages: Main, Engine and Mixer.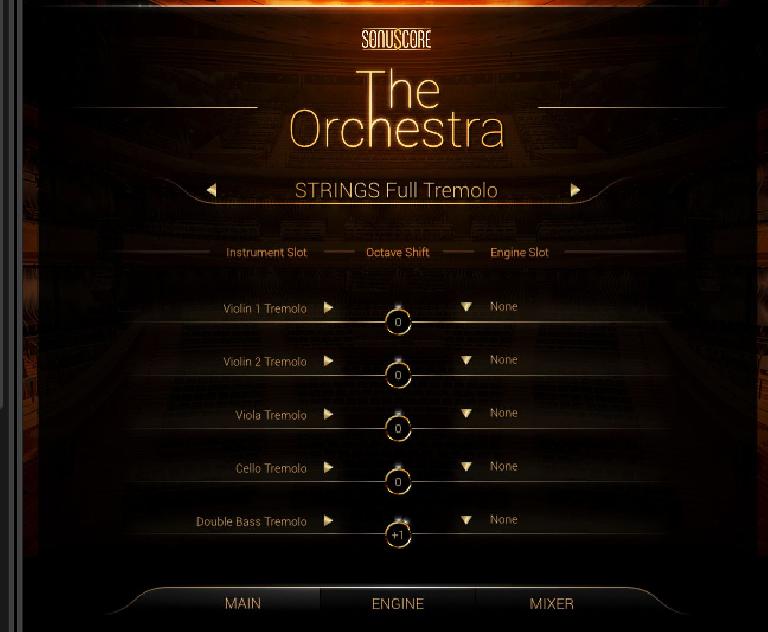 That said, I am unlikely to ever use a full orchestra colors multi. That is just not for me. Some of the other multis however sound quite nice, but again, probably not what I am mostly looking for from this.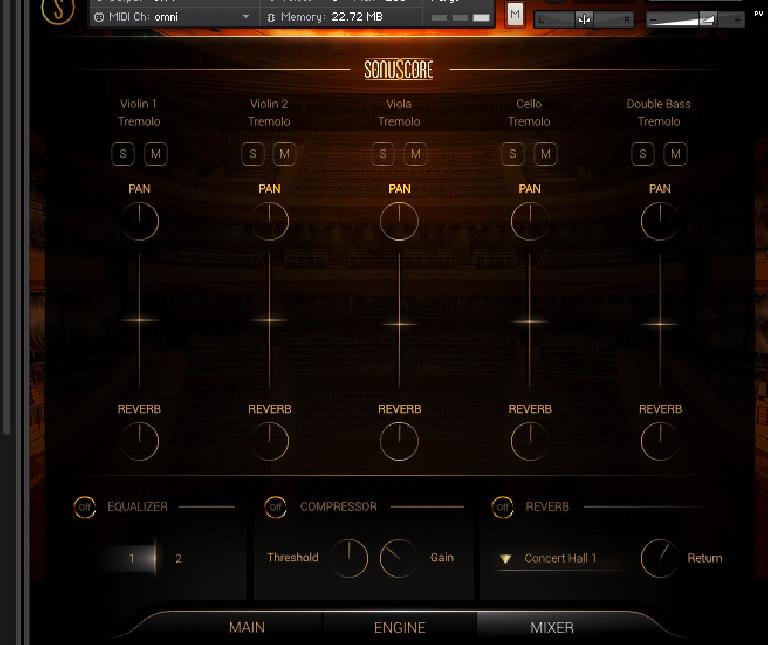 The Ensemble Engine
I then decided to load something I actually might use. I switch to the Orchestral Rhythms multis so that I could explore the Ensemble Engine. I load the very big Orchestra Basic 16ths 01 and now I start to see what this is really all about. It loads an arpeggiated strings section playing a 16th note rhythm; mixed horns with violins & violas marcato and brass playing an 8th note rhythm. Wow, now that is some sound when I hold a chord below middle C and play a melody above it. And when I change my Logic Pro projects tempo, it adjusts immediately.
I solo each one to hear what is going on. In the Main page of each, I can change the instruments that are in the five instrument slots and their octaves, and also the engine slots for the three arpeggiators, or switch the instrument to "none." In the Engine page I can totally manipulate the various arpeggiators, changing their note order, rhythm, transposition, octave, note selection ranging from off to lowest, and varying degrees up to the top, as well as the amount of swing and repeats. And I can do these with three distinct arpeggiators and even adjust two envelopes!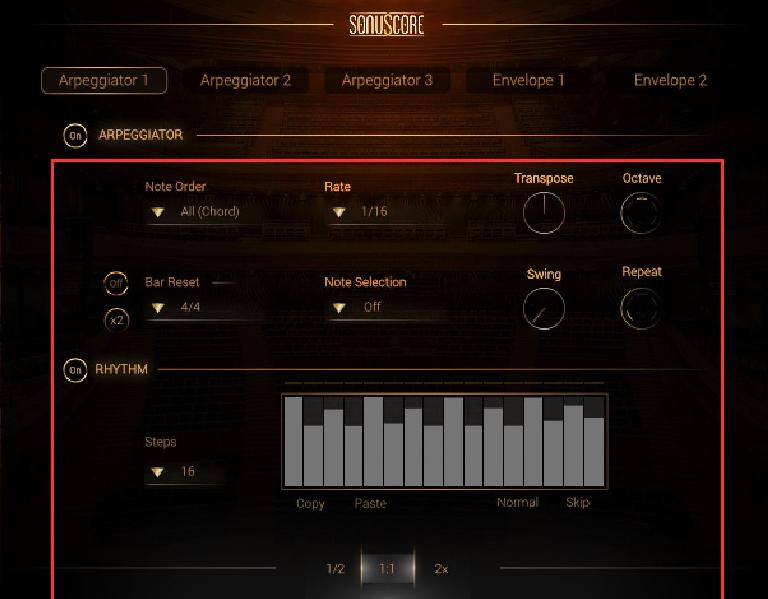 Finally, each instrument has its Mixer page where I can solo or mute parts, adjust their volume and panning, the amount and type of reverb (concert halls, scoring stages, medium halls, a cathedral and a plate) and even an EQ and a Compressor. The downside is that you have to do so for each section, so I probably will turn off the reverbs in each and re-save them to use my own. And I can change these for each of the included sections. I can also go back to the Orchestral colors and add the Strings and Wood Legato and now a wealth of new sonic options are available to me.
Finally, there are the Animated Orchestra multis. These are similar to the kind of "soundscapes" you find in other libraries like Fluffy Audio's Aurora, Sample Logic's Cinemorphx and Morphestra, and the best Service libraries like Era-Medieval Legends, and many others. They sound quite good, but for me fall into the category of "well, nice to have." There are very good video tutorials and walkthroughs available, by Sonuscore and others as well as a downloadable pdf manual.
Conclusion
If you are a busy professional composer who needs to create fairly complex-sounding music in a hurry, or want a good sketching library, or you are an enthusiast who just wants to have a lot of fun creating music without the fussiness of employing traditional orchestration techniques while working with sample libraries, this is well worth your consideration.
Price: $399.
Pros: It is infinitely customizable. There is no reason your compositions utilizing it have to sound like everybody else's. If you turn off or down the built in reverb, it is not hard to layer other libraries with it. If you want something that sounds big and busy in a hurry, it is hard to beat. Finally, darn it, it is FUN !!
Cons: Individual instrument sounds are not spectacular and have a limited number of articulations and octave range. Only one mic position, sound is in your face. Text could be easier to read.