As a TV composer, I use everything at my disposal to create rhythm. From loops to live drummers and percussion, it all has its place in the production chain. With Sonoma Wire Works DrumCore 4 Virtual Instrument Plug-in, you get a flexible combination of those elements in a package where live meets loops, all inside your DAW.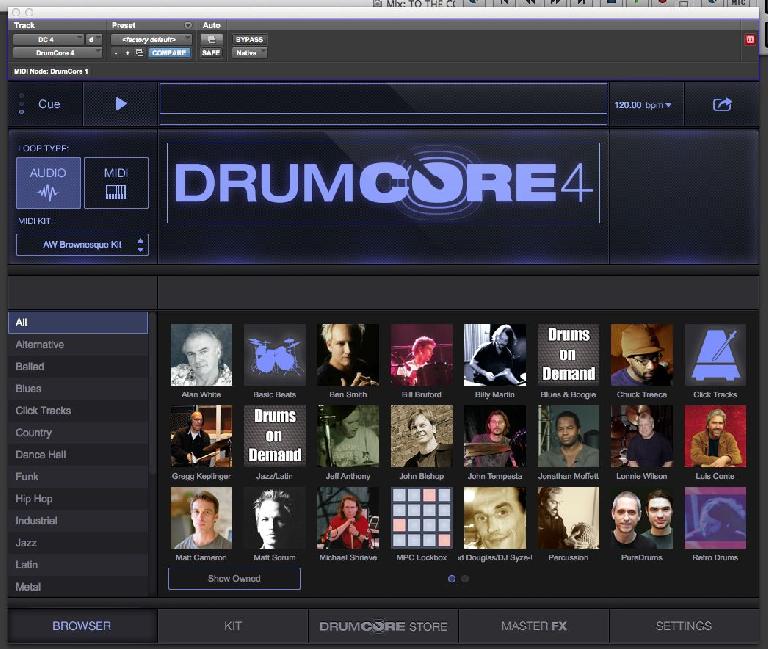 I've used DrumCore since its first release years back when it was a standalone program. What I liked about it was that it gave me access to performance loops from real drummers that I could quickly drag onto the screen and write music over. With the recent update to DrumCore4 Ultra, they've upped the game in many ways to include 50GB of content on a 120GB USB SSD drive that includes tempo-stretchable 24-bit audio loops from 18 well known drummers, 139 multi-velocity sampled drum kits, fully editable MIDI loops and the ability to expand by purchasing more content. It runs at 64-bit on AAX, VST3 and AU formats and Mac users need OS X 10.8.5 or later and PC users need Windows 7 SP1 or later.
Interface
I particularly welcome the newly designed interface that lets you easily search for the included drummers on the panel of photos, or by style on the left panel. Once you click on a drummer, you can then choose some of the various performances and audition them with the player on top of the screen, where you see the BPM of the currently selected track (locked to your DAW) and its waveform.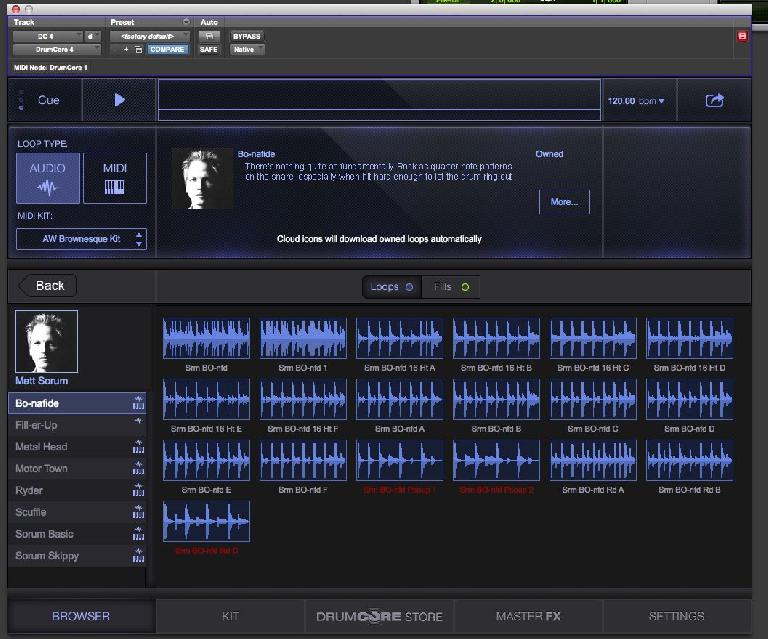 If you select the MIDI tab instead of AUDIO, you'll see the associated MIDI files in the top window. These can be quickly dragged into a session and played back. These can be freely edited to modify the performances or just use them as samples with other MIDI grooves - as they are mapped in General MIDI Level 1 Percussion Key Map.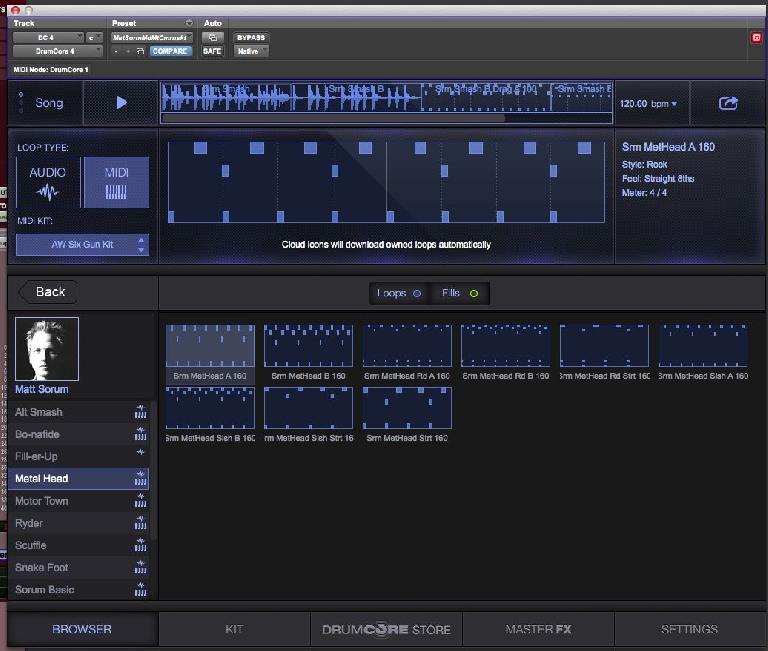 Or if you prefer, you can click the Audio tab and drag the audio file right into your track as well. I often work in both ways with DrumCore. I will audition and drag the audio loops right into a stereo audio file (I happen to use Pro Tools 12). Then I will leave the plug-in up on an Instrument track and use MIDI notes to trigger additional cymbal hits and kick hits on stings or breaks.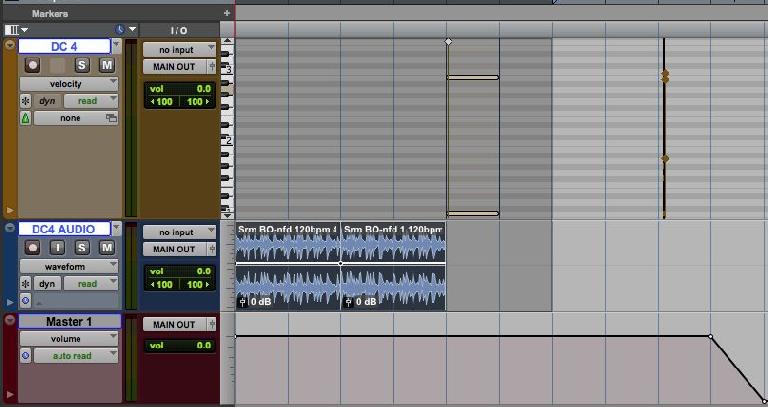 Tabs
At the bottom of the plug-in are tabs for Browser, Kit, DrumCore Store, Master FX and Settings. Browser is the default screen that lets you find the drummer, style and sounds you want. Kit features a 7 channel mixer to adjust the sound of the MIDI drum kits and also features 48 pads with the sample laid out within them.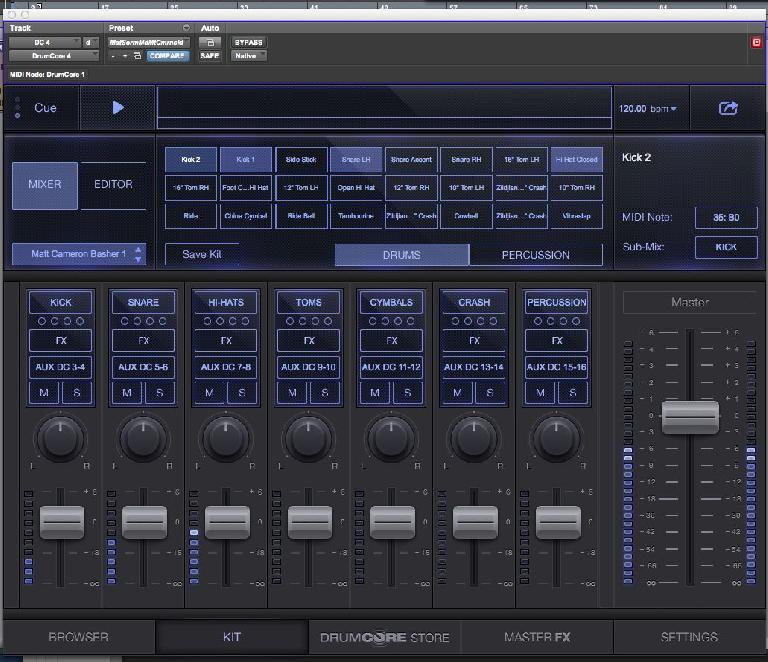 Here you can customize your kits and sounds with the Editor button by adjusting pitch, velocity, gain etc. DrumCore Store allows you to go online and buy additional drummers' performances and the relevant MIDI loops and samples. Master FX features new Compressor, EQ and Delay pages to process the sounds within the plug-in itself (or you can choose of course to process in your DAW).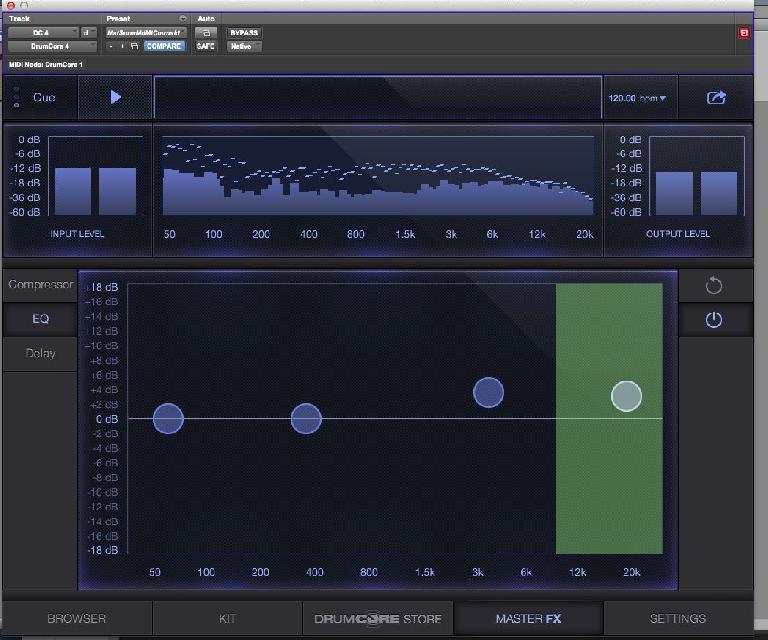 Audio examples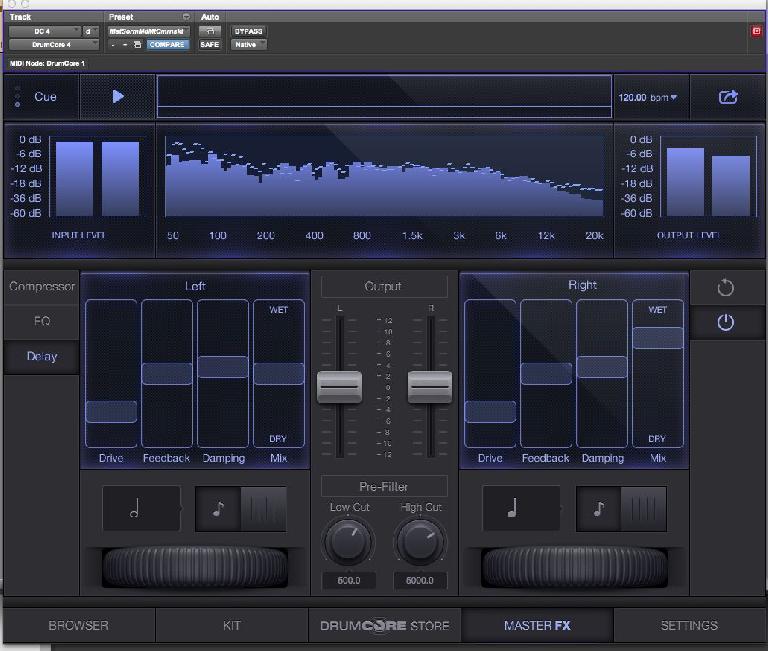 Sounds
I use DrumCore because it's quick and easy to get tracks working and most importantly, the sound, samples and performances are top notch. One of the reasons it sounds so good is that the drummers recorded their tracks in world class studios using their own kits at varying velocities and tempos. Simply put, the tracks just work!
Afterwards in DC 'production land', the MIDI loops were also created, allowing you access to either the audio or MIDI. With the MIDI tracks, I like that you can mix and match other drummers' kits with the chosen loop, for example, use Matt Sorums drums with Alan White's MIDI loops.
DrumCore 4 Prime Includes Content by These 17 Drummers:
WIth regards to the new effects, I didn't think I would use the delays in drum production, but I found myself having fun experimenting with them and sure enough, I ended up creating some new rhythmic patterns which is always great for TV work. The compression and EQ allow for quick ways to get a bit more top or bottom on a drum sound, and give it a bit of squash if need be.
Flexible Package
DrumCore4 Ultra is the top of the line package, coming in at $639. At that point, you get all the content mentioned above, all on a 120GB USB 3.0 Solid State Drive. You can also start with DrumCore4 Lite, which has 4GB of content including 24 GrooveSets and 800 MIDI loops by 13 drummers, at $49. DrumCore 4 Prime jumps up a bit to $249, but included 20GB of content, 160 GrooveSets by 17 drummers and is available as a download or a 32GB USB 3.0 flash drive. Additional GrooveSets and Drum Kits can be previewed and purchased as needed, allowing you to grow the set slowly. Upgrade paths are available for previous DC owners, so check their website for specifics.
Another nice feature is the ability to authorize the product via iLok, which means you can travel with the files for mobile productions. With the upcoming release of DrumCore 4.3, there will be new filters available for finding grooves, and even cooler, a set of grooves and samples from the legendary Bernard Purdie.
Conclusion
Well, I'm honestly biased only because I've used and loved DrumCore since it first came out. How can you not want to have Matt Sorum playing on your rock tracks, Steve Gadd on your groove sessions, Luis Conte on percussion, Lonnie Wilson on your country songs or Sly Dunbar on your reggae? The point is, DC4 delivers more of a good thing and allows me to get even deeper into the production path with its new MasterFX options and ability to use MIDI, audio or both. If you want to breathe some new rhythmic life into your own tracks, take a look at DrumCore4.
Price: Lite version $49. Prime verison $249. Ultra version $639
Pros: Lets you have real drummers in your sessions, easy to use, expandable, sounds great.
Cons: Ultra is not cheap, but to put it into perspective, how much would it cost you to have any of these drummers play on your tracks?