Film and media composers are going to love the latest offering from Sonokinetic. Grosso is an orchestral and choral phrase generator that is both extensive and realistic. Filling a very specific need, Sonokinetic Grosso promises high-quality samples, huge amounts of customizable phrases and scoring flexibility.

The Vitals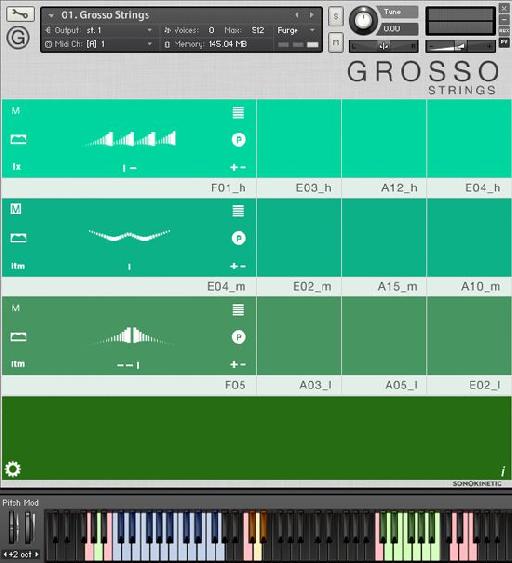 Grosso sports over 36,000 samples in both 16- and 24-bit formats and requires about 35 GB to install both bit depths. It runs in Kontakt as a library for either the full version or free player. There are 6 different instruments including strings, brass, percussion, choir and woodwinds. The 6th instrument is a dynamic builder tool for composing transitions which works quite well.

The Sound
Grosso's sound is as realistic as it gets. Using a phrase sampler allows for the maximum amount of authenticity, as you're not dealing with a single sampled note spread across multiple instruments. When using Grosso and selecting a phrase, you're getting an actual recording of an orchestral section playing the specific selected phrase.
When using Grosso and selecting a phrase, you're getting an actual recording of an orchestral section playing the specific selected phrase.
A combination of Native Instruments' Time Machine Pro 2 engine and Sonokinetic's own intelligent tempo mapping allow for the phrases to be manipulated and transposed to match any major or minor tonality. There is no way to play phrases outside of the standard major/minor tonal center, short of adding in your own orchestral VI and superimposing Grosso's phrases over that (something I tried that worked quite well).
The Interface
If you haven't used any of Sonokinetic's Kontakt instruments before, the interface is going to be a bit of a shock to the system. Grosso is based on the 'Minimal' engine and is not an instrument that you'll be able to skip reading the documentation. There really isn't any interface out there that looks like Grosso, and you should learn their phrase sampling system from the ground up if you plan on using Grosso.
Grosso makes extensive use of keyswitch regions to trigger and vary the included phrases. There is a region dedicated specifically to phrase preset switching, an area dedicated to muting the various sections, a chord recognition area, a section designated for harmonic shifting and various single switches for enabling and disabling Grosso's major features.
The interface is well documented and easy enough to figure out once you've read the documentation, but I do wish they had labeled each area a little more clearly inside the instrument's user interface itself. Fortunately, there is a built-in help feature that gives quick access meanings for all the UI elements.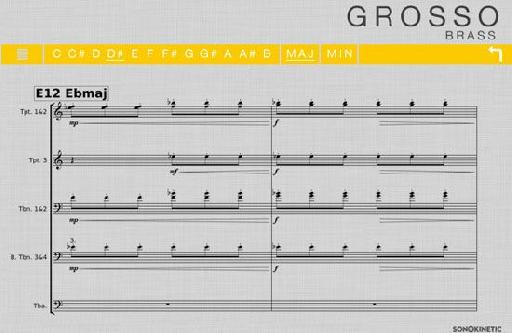 One of the things that makes Grosso unique is that you have access to the notation of every single phrase generated. Rather than just listen to the phrase, you can bring up the notation to see it'"as well as have access to the full conductor's score!
Conclusion
There's a lot to like about Grosso. Phrase samplers and generators are just now starting to come into their own. With time-stretching and pitch-stretching technology advancing to the point of real usability, we're seeing a lot more instruments like Grosso pop up. For film composers and other creators who need to be able to generate high-quality orchestral scores in a short amount of time, Grosso is definitely worth a look.
Price: $421.99
Pros:
Phrases are extremely high-quality and very upbeat

Large selection of phrases available

Time and Pitch stretching make customizing the phrases extremely simple

Sounds very authentic

Cons:
The user interface can be a bit daunting to look at'"but quick access built-in help feature makes this easier.

Phrases are limited to major and minor chords

Website: http://www.sonokinetic.net/products/classical/grosso/