Sonokinetic's new orchestral phrase-based library, Espressivo is labelled by Sonokinetic as 'capturing the sound of shock and awe' and I must say that it DOES just do that. It's filled with amazing phrases that will definitely impart these emotions and feelings into your compositions. And this library works in a slightly different way to your conventional orchestral libraries. It is completely atonal. So it's not here to write amazing melodies for you. It's here to arouse emotions and give your compositions their own color. And it also fills a gap that missing in the orchestral market for something that can give you this. Let's take a look at how this library works and how it can fit into your sample library collection.
What does it Include?
As mentioned Espressivo is an atonal phrase sampled. The library is built on the following orchestral sections:
60 Strings players
19 Woodwind players
22 Brass players
3 Percussionists
It includes four mic positions, where two mic postions can be blended together.
There are two patches, the Espressivo patch, and then the lite patch that has a proprietary 'Tutti' mic positioning. So this patch just helps save on CPU if your machine can't handle the bigger patch.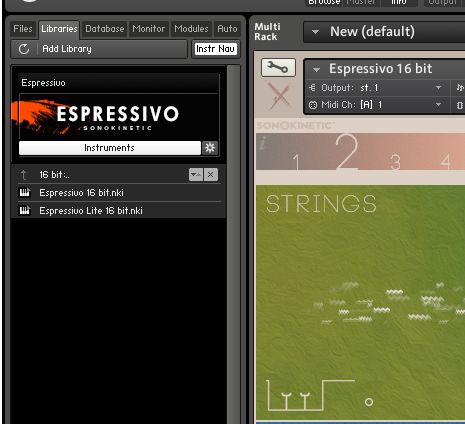 It requires Kontakt 5.1 to run, plus the Kontakt Player can be used if you don't have the full Kontakt version. With the content you can use the 16-bit or 24 bit samples which are 6,9GB and 13,9GB respectively. And the phrasing of the patches will sync up to the tempo of your host DAW.
What is Espressivo?
What does 'Espressivo' mean? Well, its Italian for 'with expression of feeling' And this library definitely evokes this when used in compositions. It has its own character and it adds a unique color with its atonal phrases. And also the key mapping is very different because of these atonal phrases. If you play across the keys on your controller, you're not going to get pitched phrases that match the key played. The different orchestral sections have been split up across the keyboard range and by playing different areas you get different orchestral sections with different phrases.
These types of phrases or articulations can't be achieved easily if at all in other sample libraries. They have been sampled together really well and have been recorded in the same room as their other libraries. So you can work seamlessly between the products. But can it work as well with other libraries. I'll get to that a bit later in this review.
Who is this Library for?
This library is for composers that wish to add some color and drama into their compositions. And it's especially great if you are working in the TV, Film and Game audio genres as you can get really ominous types of pieces of music using this product. If I had to say what type of genres it covers, well then it can cover anything in Action, Horror and Thriller styles, to even Adventure pieces. So it's great to use to create tension and buildups because of the atonal phrasing and quality of the content.
How to use the Library
It has a nice clean looking Kontakt interface, like all Sonokinetic's products. When you first open the library you see color coded orchestral sections. You have Strings, Brass, Woodwinds, and Percussion sections. And the colors for these sections relate to the key range areas on the keyboard. Each phrase of a section has a low, mid and high range.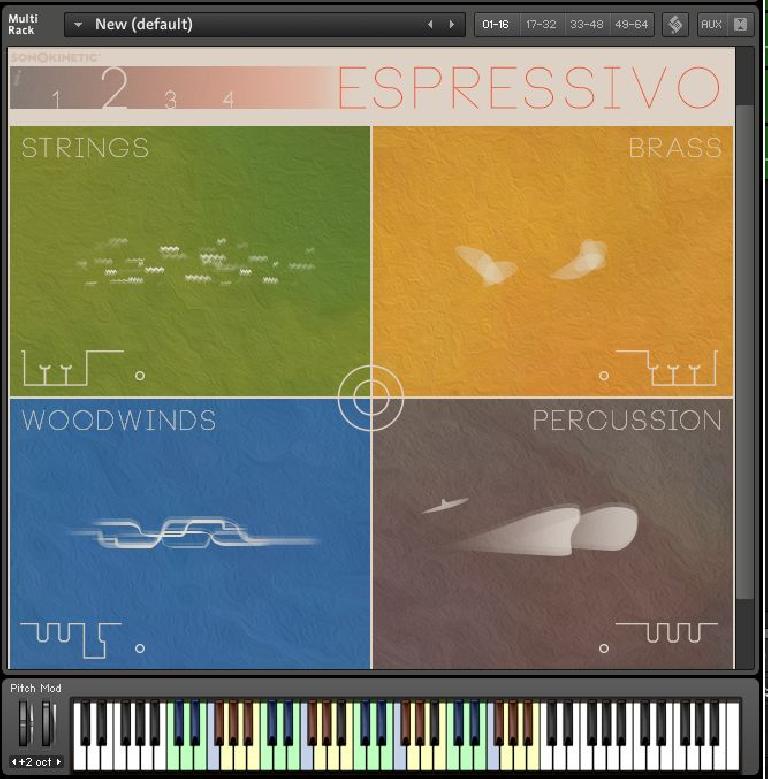 So for example the keys for the strings are C, D, and E. Then you have 4 variations of these 3 phrases giving you a total of 12 switchable phrases per section across the keyboard range. And these aren't your typical instruments. Like when you play a percussion key, it's actually a combination of strings and other instruments playing percussive styles. But generally the section will cover mostly that type of instrument.
Editing Sections
To change a phrase, you click the section phrase graphic and you have some options you can alter to change the way the phrase is played. For example, Strings are broken down into Pads, Rhythmic, and Melodic, and then each of these sections has sub sections to further tailor how you want the phrase to sound.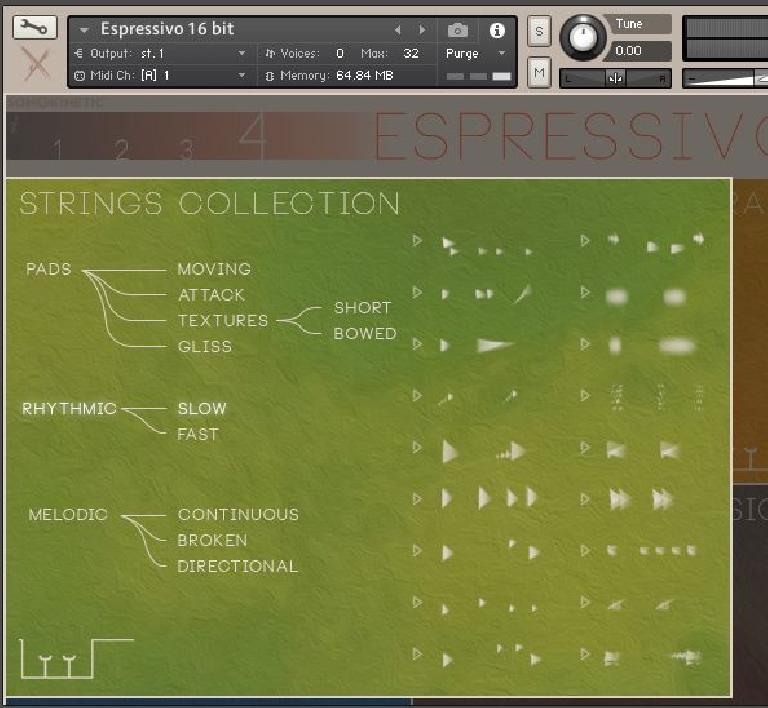 A cool sneaky feature is if you click the O in the Espressivo name on the plugin it randomizes the settings so you can quickly find a patch. With these phrases if you want to get more details on what the phrase is actually playing you can open the score view to see what the part is playing.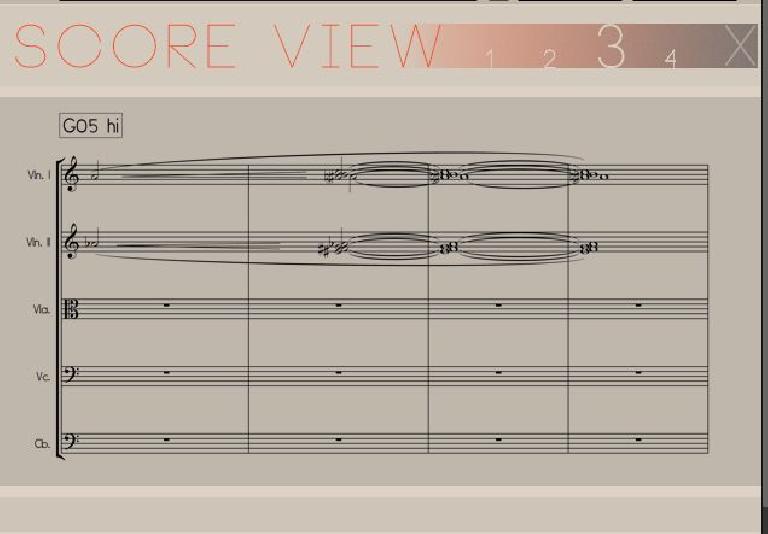 You can't go in and edit the exact notes in this score but this view gives you a good indication of how the part is being played. With the mic positioning you can blend two positions together. So when you bring up the mic positioning window you choose one position on the left, and then another on the right and you can use the dial to blend between the two.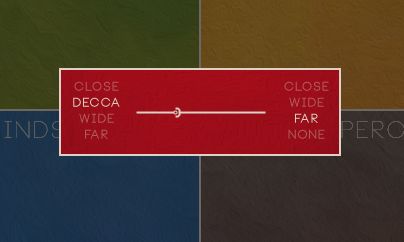 You always have the choice of using the Lite patch which has a 'Tutti' position, so you can take a load off your machine on what this instrument uses. There is also the Quick Controls menu where you can fine-tune the patch even more by editing the Mod, Volume, Pan, Tuning, Fading, and Tail parameters, giving you some extra control on how the sound plays.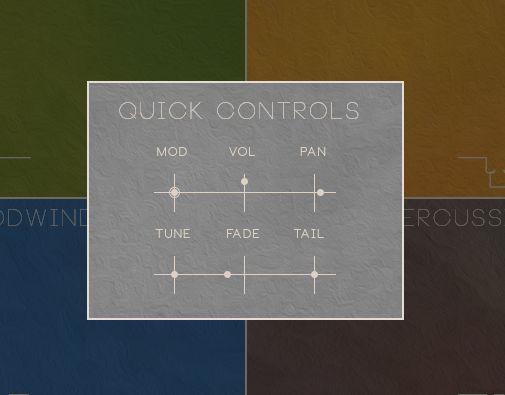 Opinions on the Library
Obviously this product covers a niche market that not everyone will need, but what it does it achieves it very well. It's very hard to write and program parts like these with a standard orchestral instrument. Some instruments do have FX patches where they have tried to capture these types of sounds. But most of the time their selection is pretty limited. So I do think Sonokinetic have covered this very deeply with this instrument and they have achieved great results with it.
You can get some really ominous and scary pieces with this library and I found it worked pretty well with other orchestral libraries as well. Even though they're recorded in different rooms and have different tonal qualities, when you switch between them since the one is tonal focused and Espressivo is atonal, you hardly notice the quality changes between the two. And if you blend a bit of bus reverb across both libraries it helps blend them together.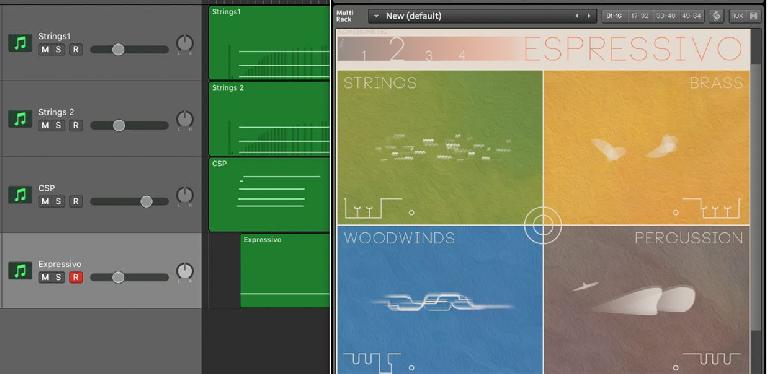 Conclusion
So that's the lowdown on Espressivo. It's an interesting library that can really spice up your orchestral sections, especially if you're writing cinematic, action, thriller based pieces. This will definitely come to your rescue and make your compositions stand out with unique articulations and phrasing. So if this is something that might be missing from your quiver, definitely check it out. I was really surprised with the realism of the phrases and how well they played together with my other orchestral libraries.
Price: 249 Euros
Pros: This library has great orchestral articulations and effects that you just can't achieve with a standard orchestral library. It's a great addition to your current orchestral libraries to really add some flavor to them.
Cons: Because it is phrase based you don't have much control over exactly what the part is playing. So hopefully the phrases it generates work in the piece you are composing.
Web: https://www.sonokinetic.net/products/instruments/espressivo/