Sonnox is no newcomer to the audio plugin game. The Oxford EQ and Oxford Dynamic plugins are a staple of getting a clean and refined sound in many a recording studio. Sonnox has been branching out for some time from the EQ and dynamic area, and their latest addition to an already diverse lineup is the Sonnox Restore suite. Sonnox Restore is a trio of plugins that include a DeClicker, DeBuzzer, and a DeNoiser. I used them for a few weeks on a variety of projects and here's what I found out.
In Theory
The DeNoiser plugin separates the DeHisser, Detect, and Remove sections for a user interface that is uncluttered and easy to use. A very usable 'warmth' control is placed at the end of the chain for reclaiming any lost frequencies that you might notice with some aggressive settings. Finally, the make-up gain knob helps you put the volume back into a track after processing to help you A/B the source and make smart choices.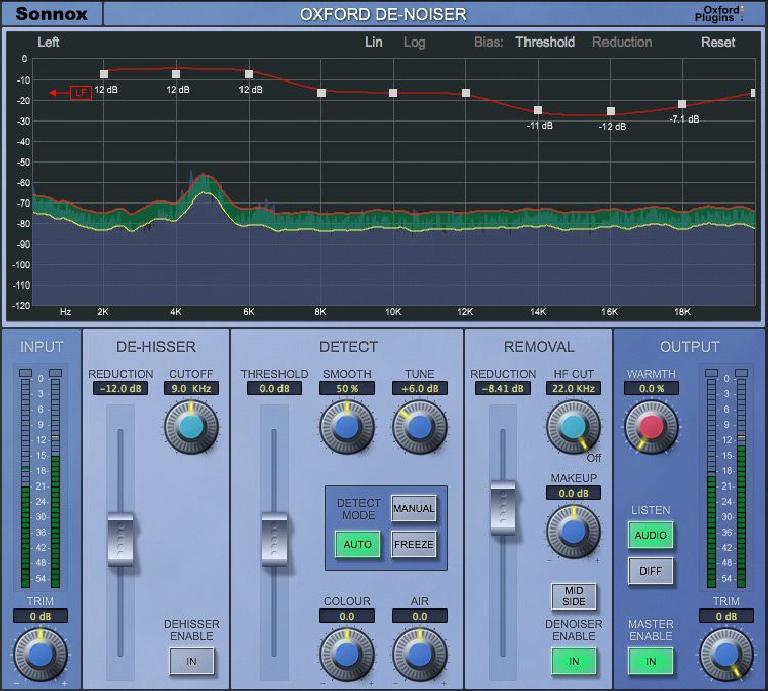 DeBuzzer is very clearly laid out, and the high-resolution display shows the strongest harmonics and exactly what you're removing. You have 3 frequency ranges to choose from when selecting fundamental problem areas, and you also have several removal filters to attack your buzz from a variety of places. You can use comb filtering for general purpose narrowing, or a parametric EQ for a more 'musical' (surgical) approach for eliminating unwanted sounds at various harmonic levels.
The DeClicker has 3 separate areas to address pops, clicks, and crackles. You can exclude events that you don't wish to be repaired, and there are precise threshold controls with excitation displays that can be set with ease. The visual feedback in this plugin allows you to dial in your repairs with ease.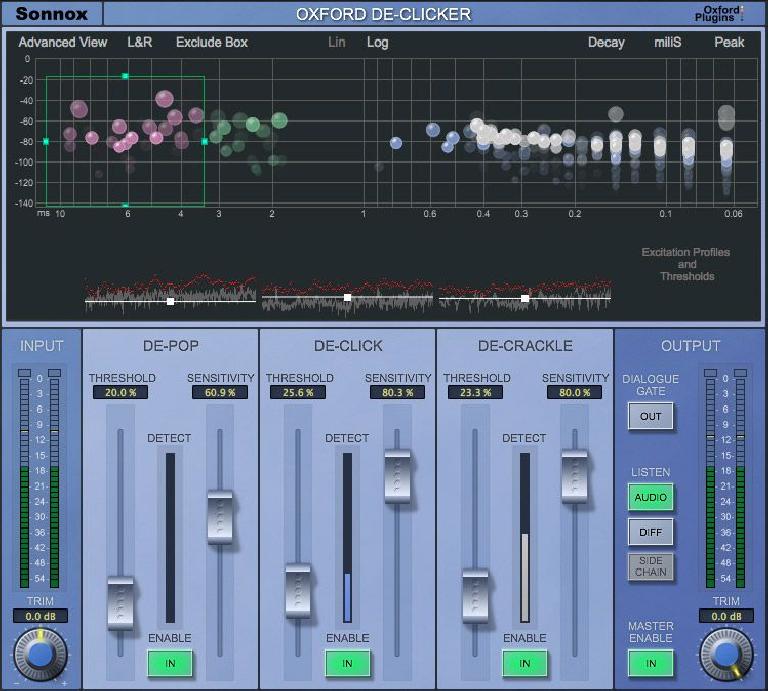 In Practice
I was incredibly impressed with the responsiveness of the entire restore suite. Noise detection and removal is a processor-intensive business, and many noise reduction plugins can induce quite a bit of delay with the large buffer required to get the job done. Whatever is in the 'secret sauce' of this plugin is working some serious magic, because the restore suite works without major delay and everything feels snappy and immediate. This is important for plugins of this nature, as you're really trying to dial in a specific fix for a specific problem, and you need to be very precise.
I also noticed that while the DeNoiser had the potential to make drastic changes, this isn't a really 'heavy-handed' plugin. This is a good thing. I was able to dial in quite a bit of noise suppression to a problem track without affecting the frequencies too much. The 'warmth' knob within the DeNoiser in particular was incredibly useful in fixing a noisy voice over track from an 'on camera' video mic. Not only did it remove the dreaded 'DSLR hum', but it actually warmed up the otherwise thin camera mic to a point where it was actually usable.
Conclusion
The Sonnox Restore suite is a decent value, and is an incredibly responsive set of tools. It feels like a high-quality audio scalpel that will allow you to excise what shouldn't be there and leave alone what should. I wish it came with a standalone app, but perhaps that's just the way I'm used to working since many other noise reduction plugins eat up too much power as a plugin to even effectively be used that way. That isn't so with Sonnox. This plugin is wonderfully efficient and incredibly easy to use.
Price : $615
Pros : Highly responsive, wonderful audio quality, precise adjustments, easy to use.
Cons : A standalone plugin at this price point would be nice and on par with other similar tools in this price range.
Website : http://www.sonnox.com/pub/plugins/products/restore.htm