Sonnox is well known for their Oxford plug-in series that includes, among others, a great compressor, limiter, eq and reverb. They also offer the ability to create your own bundles. One of their new offerings is the Codec Toolbox, a plug-in and standalone application for encoding your audio files for the web. Sonnox worked closely with codec developer, Fraunhofer IIS to offer the most widely used web compression codecs on a variety of streaming and digital delivery platforms while at the same time creating an intuitive interface for auditioning and printing files quickly. At GBP 35 ($59), the Codec Toolbox is an inexpensive but valuable tool to have in your mastering chain as you prepare your releases for the web.

The Codec Toolbox Plug-In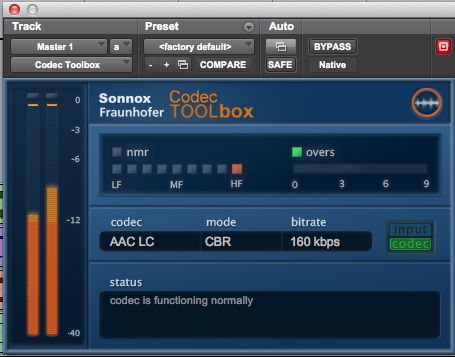 Figure 1 - Codec Tool Box Plug-in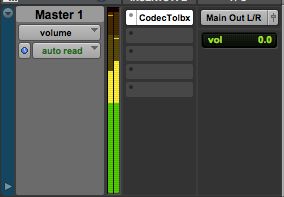 Figure 2 – Codec Tool Box Plug-in on Master Channel in Pro Tools
The main purpose of the Codec Toolbox Plug-in is to audition files with different codecs without having to print them first. This real-time monitoring is really handy and a great time saver. Sonnox provides a well-written manual with the product so you can learn about the codecs offered and step-by-step instructions on how to get the most out of this tool. The Codec Tool box Plug-in is inserted in the Master Channel in your DAW. In my case, I used Pro Tools to listen to some of my mastered music files. Besides listening to the different codecs and bit rates within those, it's important to notice the NMR and Over meters when auditioning. Also keep in mind that the Codec ToolBox handles files up to 48 kHz. If you require encoding at a higher sample rate (up to 96 kHz), use their Pro-Codec plug-in.
Noise to Mask Ratio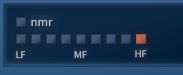 Figure 3 – Noise to Mask Ratio
The NMR or Noise to Mask Ratio shows the frequency areas where the difference between the codec output and the original input signal might be audible. While listening through the codecs, I could see some loss in the high frequencies in the NMR meter, but not necessarily hear them until I down sampled further. I swapped between codecs and listened to hear the difference between them. I was also able to hear more detail in the various codecs by switching between the 'input' and 'codec' buttons while listening. Regardless if you can hear this detail, it's great to know how the original signal is affected by watching the NMR meter indicator.
Bit-stream OVERS Meter

Figure 4 – Bit-stream OVERS Meter
Whenever an audio file is down sampled or filtered, there is the potential for the peak levels of the signal to increase. The more you do this, the more likely you will overload or clip the file. The OVERS meter indicates in DBFS how much this is occurring and at what level. The indicator light turns red if there is an overload. You can reset it back to green by pressing the red button again. Some of my tracks triggered the OVERS meter, even though they were not especially hot or overly compressed. This got me thinking about how over-compressed a lot music releases are today. It's no wonder we get fatigued listening to mp3s and satellite radio streams. Sonnox suggests lowering the overall mix level to prepare files better for encoding and more important, for the end users listening experience.
The Codec ToolBox Manager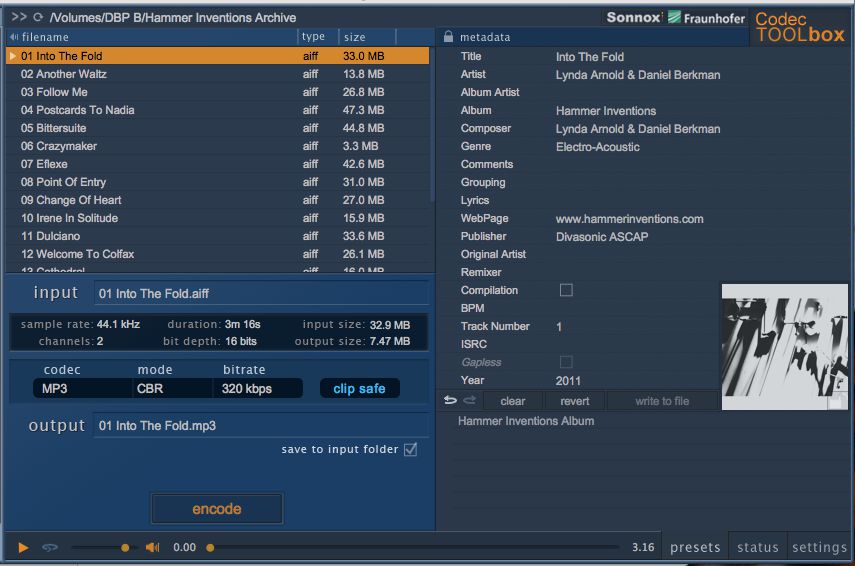 Figure 5 – Codec Tool Box Manager
The Codec Toolbox Manager is the standalone application that comes with your purchase of Codec Toolbox. The layout and operation of the Codec Toolbox Manager is very straightforward as using a tool of this kind should be. There are five main areas:
File Browser – To choose the files you want to encode/decode

File List – The choosen files for encoding/decoding are ready for auditioning and processing here

Encode-Decode Section – This is where you choose your codec, mode and bit rate as well as set your destination folder

Audition section – hear what the encoded file will sound like

Metadata Editor – Tag the encoded file with important song information

Metadata Editor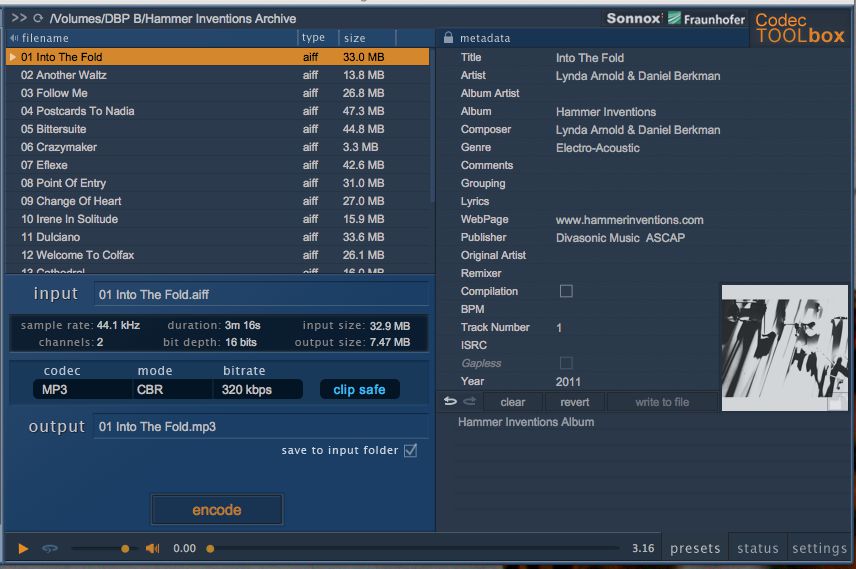 Figure 6 – Metadata Editor On the Right
The Metadata Editor is one of my favorite parts of this software. All the important information and some extra details about the music can be attached to a file, including the album or single artwork. One preset can be made for an entire album, so you don't have to type in the same information over and over as I have experienced in the past. You can see in the screenshot below that I created a preset called 'Hammer Inventions Album' that I can select every time I am ready to encode the next track on the release. I'm just relieved to be able to do this work outside of iTunes from now on.
Batch Encoding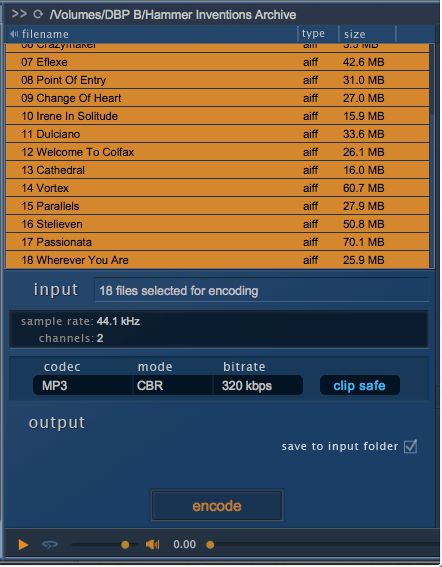 Figure 7 – Selecting Files for Batch Encoding
Sonnox made batch encoding a breeze with the Codec ToolBox Manager. If you have an album or more to encode to a certain codec, say satellite radio or just the same MP3 kbps, you can convert them all at once. The status window on the bottom right will keep you updated on the encoding process and notify you when it is completed. When you have all your files in the files list, it's as easy as 'selecting all' and hitting the encode button.
Decoding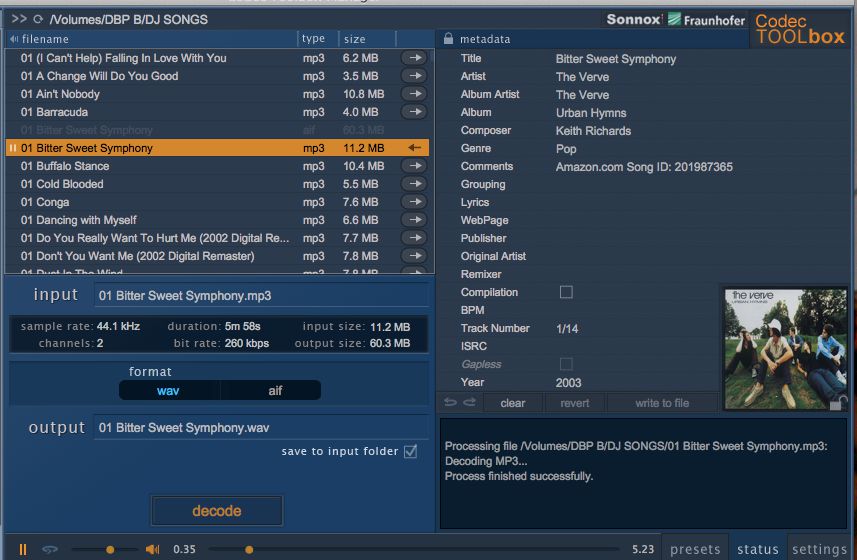 Figure 8 – Decoding Files
The Codec Toolbox Manager does a great job of decoding MP3 files back to higher resolution .wav or .aif. The program will recognize the MP3 file automatically and change the encode/decode section to reflect this giving you a choice of either output. As you can see from the screenshot below, the metadata already attached to the file came up automatically and the decoding process was quick and easy.
Using Clip Safe when Encoding
The Encode – Decode section comes with a Clip Safe button. This is located next to the code, mode and bitrate selectors. The Clip Safe button enables a level correction feature and will come in handy as a last failsafe mechanism to prevent audio overloads or clipping during the encoding process. Of course, you can also use the Toolbox Plug-in to prepare your files before encoding as well so you do not need the Clip Safe later.
Final Thoughts
Codec Toolbox is an audio software tool I didn't know I needed in my studio until I started using it. I was reminded of all the times I used iTunes to render mp3s of my releases for streaming, creating many copies of songs all over the place with different bit rates. Or, situations when I had to open up my DAW to bounce different version of files, a more time consuming way of doing things. Codec Toolbox is a powerful way to audition, manage and encode files all in one place to ensure that your music is delivered at the highest possible quality.