Sonic Faction, known for some incredible Ableton Live packs, have really outdone themselves with Hypermorph. I was blown away with how great everything coming out of this device sounded, how easy it was to customize or make completely new patches, and just the overall aesthetic of the GUI, not to mention the unique workflow approach.
Unique design
Once you launch the instrument you will be mesmerized by the smooth GUI and your eyes will be immediately drawn to the X-Y "Morph Matrix" grid in the center. This is where you can control the mixing levels and balance of the 4 independent sound source modules, but more on those in a bit. There are a number of ways to automate the modulation of the matrix as well.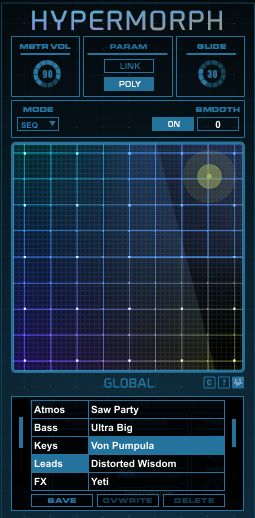 Gravity Mode: This allows the X Y morph parameter to float freely and somewhat randomly after reacting to your mouse movements.
The Modes
Click Mode: For this mode, you click the "Learn" button which allows you to click any X Y points in any sequence. Then the pattern will be remembered and cycled through on a loop.
Draw: This mode is like Click mode, but after you click "Learn" you click and draw the Morph parameter in any pattern you want. This will allow for smoother transitions.
Sequence Mode: This is really cool. You can use this like any other step sequencer to control where the Morph parameter is at any given step. There is also a "Smooth" button that changes how the morphing transitions of the sounds happen – from jumpy to smooth.

Each of the 4 sound source modules are identical. However, the fact that they are stacked with so much and you can combine the 4 of them together means the range of output is outstanding.
Each module has its own controls:
Sound source options:

OSC (FM Synth)
Wavetable Synth
Noise / Texture Generator
Extensive Sample Library

Filter System
Envelope Options
Shape Options
LFO
FX

Saturation
Chorus
Bit Crusher
Ring Modulator
Then there are the Global Parameters to put the polish on the final output. There is the oh-so-nice sub generator, the final envelope, an arpeggiator, FX (delay & reverb) and an LFO.
I suggested going here to the global presets to get started to hear and see this beast in action!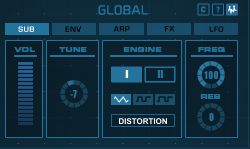 Conclusion
I stand by my opening paragraph. I am more than impressed with this instrument. I love the sound. The unique approach with the Morphing Grid in combination with incredible presets on all levels (sound source & global) helps keep the creative juices flowing. It's almost difficult to get a bad sound!!
SoundCloud DEMO via Ableton: https://soundcloud.com/ableton/sets/hypermorph-by-sonic-faction
Requirements:
Live 9 Suite (version 9.7 or higher)
Max for Live (version 7.3.1 or higher)
Pros: Incredible range of sounds and possibilities. Unique production Environment. Wide range of individual sound source presets and global presets for inspiration.
Cons: Quite heavy on CPU, but it's to be expected for an instrument of this size. Also, stability issues inherent in any Max patch.
Price: Eur 49