It feels like a generation ago when the first musical instrument apps arrived on the iPhone. They were on the whole fairly rudimentary and unsophisticated "tap to make a sound" apps. Fast forward four years and some developers now use inspiring interfaces and expressive controls to blur the boundaries between smart phone and instrument.
When Songbird Ocarina (the makers of ceramic flutes) brought their app to the table, I was curious as to whether the experience would feel like an instrument or a toy. It didn't take me very long to realize exactly how good this app is. In fact, I could refer to it as an instrument, not an app, especially when using TooT - a separate accessory mouthpiece that plugs into an iPhone 4 or 4S's dock port.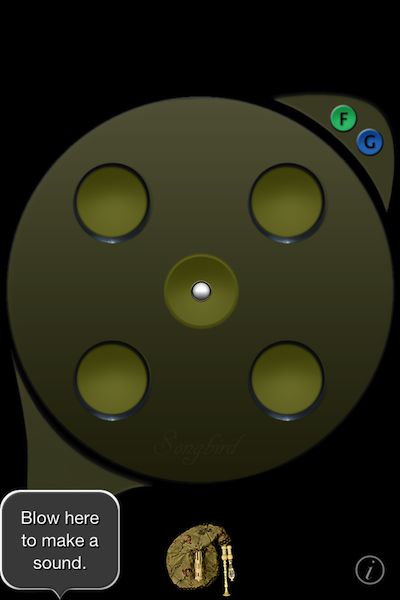 The simple interface of Songbird Ocarina belies its functionality.
Starting Out
As you'd expect, downloading Songbird from the iTunes App store is seamless. It's free (for a limited time only), and I was pleasantly surprised to find that all of the features are accessible with, or without, the TooT connected. If you wish you can add to the included sound sets through in-app purchases. I decided to purchase all the additional instruments as the quality and use of the included ones were top notch. There is also a useful in-app help area with tips and full instructions on how to play the app if you need it.
The TooT mouthpiece.
The interface of the app is simple, beautiful and informative. Everything, I feel, a good instrument needs to be. The main circle design is your ocarina which you tap to block one of the four virtual holes. The microphone (located at the bottom of the iPhone 4, 4s and 5) is your mouthpiece. I discovered that touch input would work if you prefer not to blow into the microphone. Personally, there's something about blowing into the mic which adds to the level of realism and interaction, and in no time at all, I found myself playing the flute!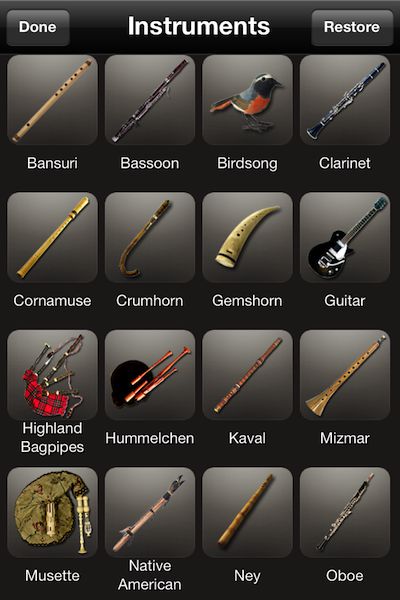 There are a wide range of instruments for Songbird through in-app purchases.
Expression is Everything
The actual playing aspect is extremely addictive. Once plugged in, the smooth TooT mouthpiece transformed my iPhone into a bona fide ocarina. I can't express how enjoyable it is to play. I've had little to no experience with ocarinas before now, but playing Songbird reminded me of the time I learned how to play recorder at school... except the sounds you can create with this app are so much more pleasant and varied!
What really hooked me is the level of expression Songbird utilizes. Not only can you tap and blow, but sliding can create pitch bends, shaking your phone produces a vibrato effect, and tilting can take you up or down the octaves respectively
Also included, are a selection of reverb and delay effect settings. Being an unorthodox musician, I'd be interested to see more left field effects too, but the included ones do the job if you're using this live.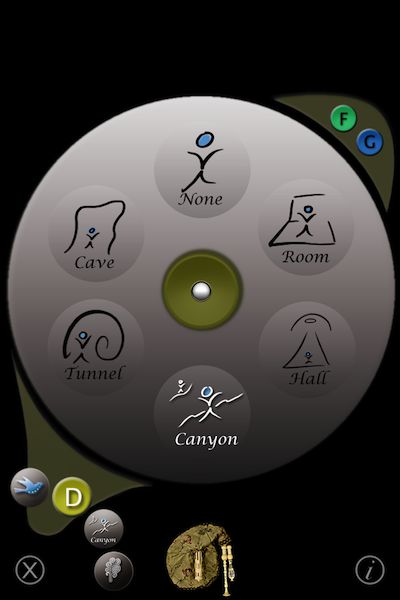 The included effects.
Play Along
If this was everything that Songbird could do, I'd already be giving this a highly recommended stamp of approval. But there's more!
You can choose to play along with any song from your iTunes library which is cool. But I quickly realised that my skills would need some help before I could play along to Arcade Fire! And this is where Songbird really shines: interactive onboard song tabs. You can download tabs for a decent range of transcribed popular and classical pieces and then play them back at different speeds. The tab displays which holes need to be pressed as you listen and play. Very useful.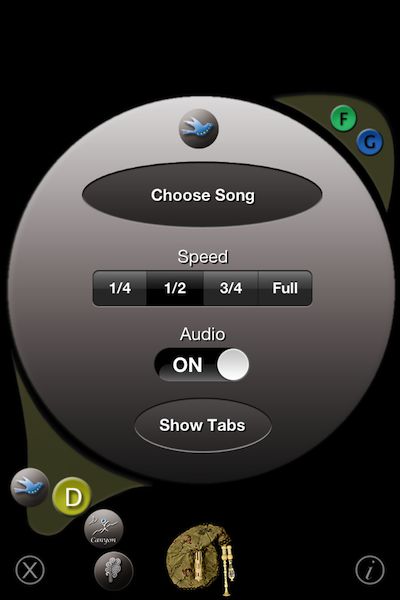 The slow-down features for song playback is very useful!
After trying out some classical pieces I chose to play along to the X-files theme and was impressed at the ease with which I was able to follow the animated tabs and their backing tracks. I'm sure there'll be user requests for more songs to be added to the tablature library and I'd certainly like to see it grow some more too.
Conclusion
There are many good musical instrument apps on the App Store, but it's been a long while since I've come across one so polished, well thought out and enjoyable to use. Rather than just tapping the screen, staring face down (which I'm happy to do 90% of the time), playing Songbird was an entire body experience, which makes this app fun to use by yourself or in a social context. I'd also recommend the TooT which comes in a sweet little pouch with a beautiful paper songbook and Legend of Zelda songs booklet.
Songbird Ocarina is free on the App store now, so downloading this instrument is a no-brainer. What are you waiting for?
Download Songbird on the iTunes App Store here.
Discover more about TooT here.