Sennheiser has picked up on not only our need for individuality, but also our need for portability and high-quality sound in an exciting new model of headphones known simply as Momentum. Recently, I got a chance to spend some time building up my momentum for being on the go with these awesome little headsets.
Over Ear, Under Weight...
This was a really exciting review for me, as the Momentums are both an audio experience and a fashion experience. I was thrilled when I got the email from Rachel, over at Sennheiser, asking me which color of the Momentum On Ear Heaphones I'd like to try. This is not a question I get asked as a reviewer, ever! So, feeling like I was getting to drive a new Cadillac, or something, in the sixties, I asked for the candy apple red color, that I saw from the obscenely large array of colors, the Momentums come in.
And, let me tell you, I anxiously awaited the moment for my red headphones to show up. When I finally picked up the delivered box on my front porch, I was excited, as they look amazing. And, while sporting a lot of red, there's a lot of brushed, silver aluminum, as well as red, dyed, leather, too. They look awesome...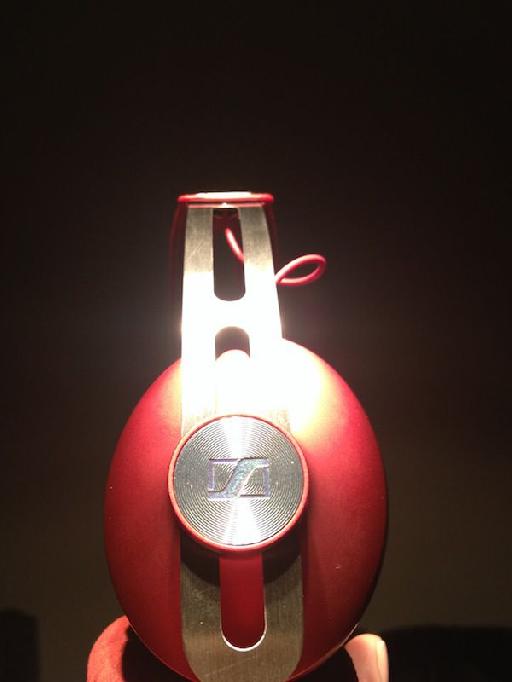 In a flash, I was pulling my red Momentums out of the very cool, leather-ish case that they come in. The timing was perfect, as I was on my way out of the house. What a great opportunity to try them on the fly.
On the Road Again...
Now, here's a scenario, I have taken headphones with me on drives, and have forgotten that they are not iPhone microphone equipped. This of course leads to the spastic dance of flailing arms, cords and some other drivers beginning to worry for their safety around you.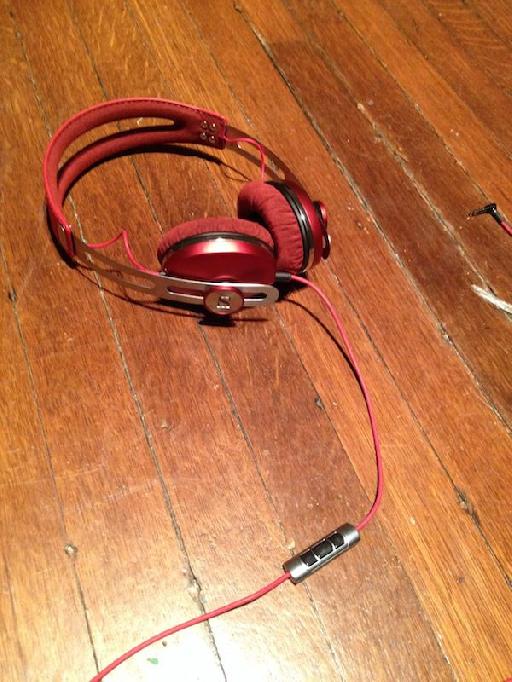 This was not one of those cases. I was relieved to see that the Momentums have a small volume and answer control strip on the cord. The buttons are bigger than norm, and feel extremely sturdy, in comparison to Apple's version. The cord is also red, or whatever your chosen color is for your set. And, to make things even better, there are two cords that attach to the main headset. One version with mic and volume controls, one without. These headphones were very thoughtfully designed.
Sound...
The sound is actually extremely nice. They are full, and at the same time, flat. And, as I'm someone that goes from being on the road to being in the studio quite frequently, it was nice to go from the car, directly to the studio, without having to take these headphones off. This really intrigued me, as I've always had different headphones for different purposes. I've never thought of having a pair that is both stylish, and studio worthy at the same time. Even though they don't fully enclose the ears, they still do an extremely good job sealing around your ears. Yes, there's some audio bleeding in from outside. But, even as I write this on the Momentums in a coffee shop, I'm more than pleased with performance. Did I mention that they are extremely comfortable, too?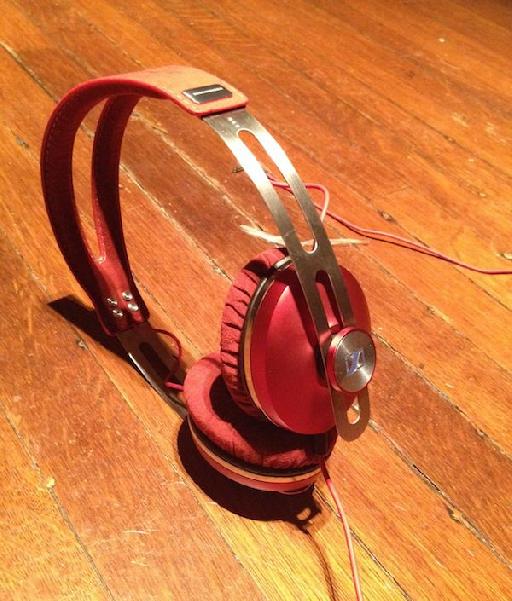 Conclusion
It's easy to see what the hype is about after trying the Momentums. As they really do morph seamlessly between the studio, car and coffee shop, I can't even begin to tell you how surprised I was to have a lifestyle boost from a pair of headphones that are $200. I actually thought that this quality would be worth more. As more people discover these compact, beautiful sounding, colorful headphones and realize that they can't live without these, perhaps Sennheiser will re-evaluate the price.
Cost: $229

Pros: Amazing sound quality in a portable, comfortable, stylish enclosure.

Cons: Price might not suit every consumer budget.