sE continues to adapt its much-loved X1 mic to suit different target audiences and its latest is the X1 USB, a large diaphragm cardioid condenser mic that uses the same mic element as the X1 but adds USB connectivity and onboard monitoring. The company identifies a problem whereby many USB mics sound like USB mics due to lower quality electronics and converters, but claims to have got around this by using superior components and of course by basing the model on the X1.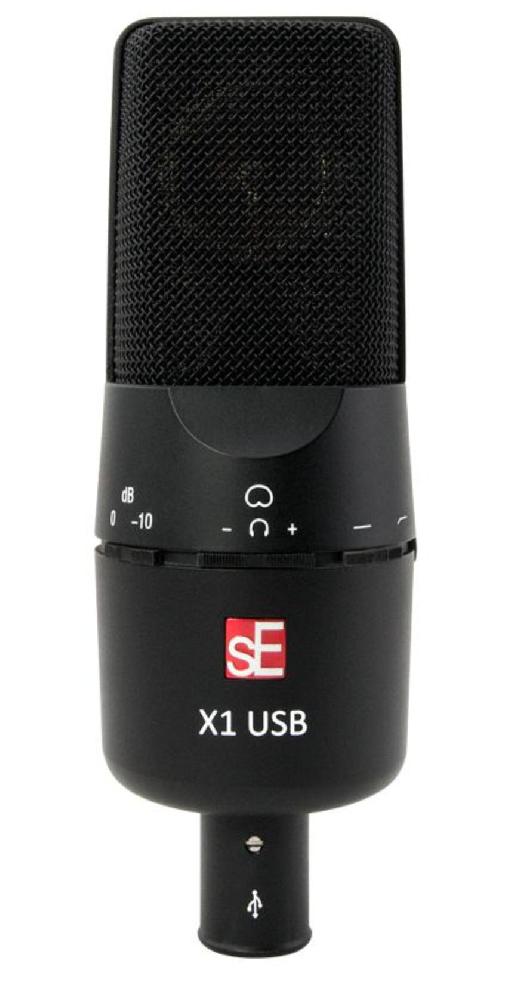 Look and feel
It's solidly built, hand finished in sturdy metal and it comes with a mic clip for attachment to a stand. The USB port is at the base of the stem and the bundled cable plugs in securely to connect directly to your Mac or PC where it will appear as an input device. Somewhat surprisingly given the increasing popularity of iPad recording, the mic isn't yet iOS compatible though this is perhaps something that could be added at a later date.
Monitoring is done using the mini headphone jack located on the side of the mic and there's a variable volume control in the center of the front area of the mic's body. Direct monitoring is supported so you will be able to hear your vocal or acoustic playing with no latency, and it's also possible to monitor through effects from your DAW though as ever this may introduce some latency into the signal. I'm always a little wary of mic-mounted mini headphone jacks because they rather unavoidably stick out at 90 degrees and you have to be extra careful not to accidentally pull the mic while moving the headphone cable. Still, it's fine as long as you take care.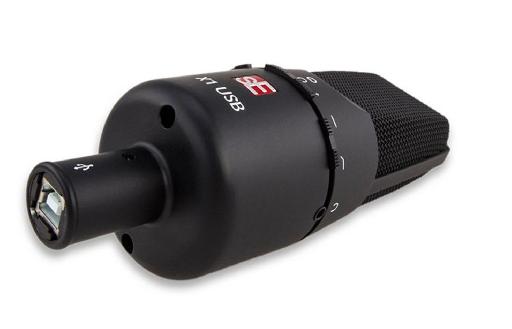 The mic also has a 10 dB pad and a low cut (60 Hz) switch on the front so you can adapt it to different recording situations. It's really aimed at vocal and acoustic tasks, since it has a relatively limited SPL range, and USB cables are shorter than XLR and so by definition you tend to be closer to the computer than you would be when recording a drum kit, for example.
Sound idea?
In use, the X1 USB is clear and fairly neutral, working well on a range of vocal sources from voiceover through to full-on singing and also on acoustic guitars. The headphone amp onboard seems to work as intended and offered a good, solid signal with zero latency when that mode was engaged. We seemed to be able to get quite up close and personal (while using a popshield of course) without troubling the mic too much, and even when driven relatively hard there was only minimal noise to contend with.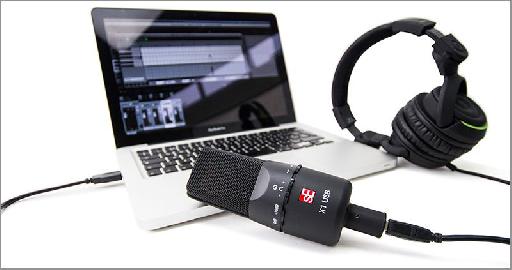 USB microphones are increasingly popular and the X1 USB is certainly an excellent choice for anyone recording on the move or who doesn't want the additional cost of an audio interface and the associated cabling. Adding iOS compatibility in future would be the icing on the cake, especially with so many mobile apps now capable of proper recording and a fair few other manufacturers making a point of adding iOS support.
Price: £199 GBP Ex VAT
Pros: Very well built. Extremely easy setup. Excellent sound. Sensible pricing. Onboard, zero latency monitoring.
Cons: No iOS support.