If you follow the music technology world, you will see a lot of people talking at great length about various types of high-end microphones. And while these are often amazing for recording, they are also usually out of the price range of all but the most serious producers, or those with very deep pockets. In the last couple of decades however, the quality and performance of much more entry-level condenser mics has improved dramatically. In fact we're at a point now where there is absolutely no excuse for producers on even the smallest budget not to get a good sound from their mics, provided of course they follow some tried and tested advice regarding placement, the use of popshields and so on.
Enter sE
sE has always aimed to bring quality to the entry level of the production market, as well as producing some premium products. Magneto is the company's new entry level studio condenser microphone and with a street price of around £79 it shouldn't represent a huge chunk of anyone's budget. A cardioid condenser, it offers a very linear frequency response of 20 Hz to 20 kHz and sE says it's ideal for use on vocals and acoustic instruments. It has an XLR connection (though you supply your own cable) and comes with a swivel mic clip and thread adaptor, and requires 48v phantom power. With a 34 dB sensitivity and 140 dB maximum SPL, it is probably better suited to less deafening sources and has a 200 ohm impedance.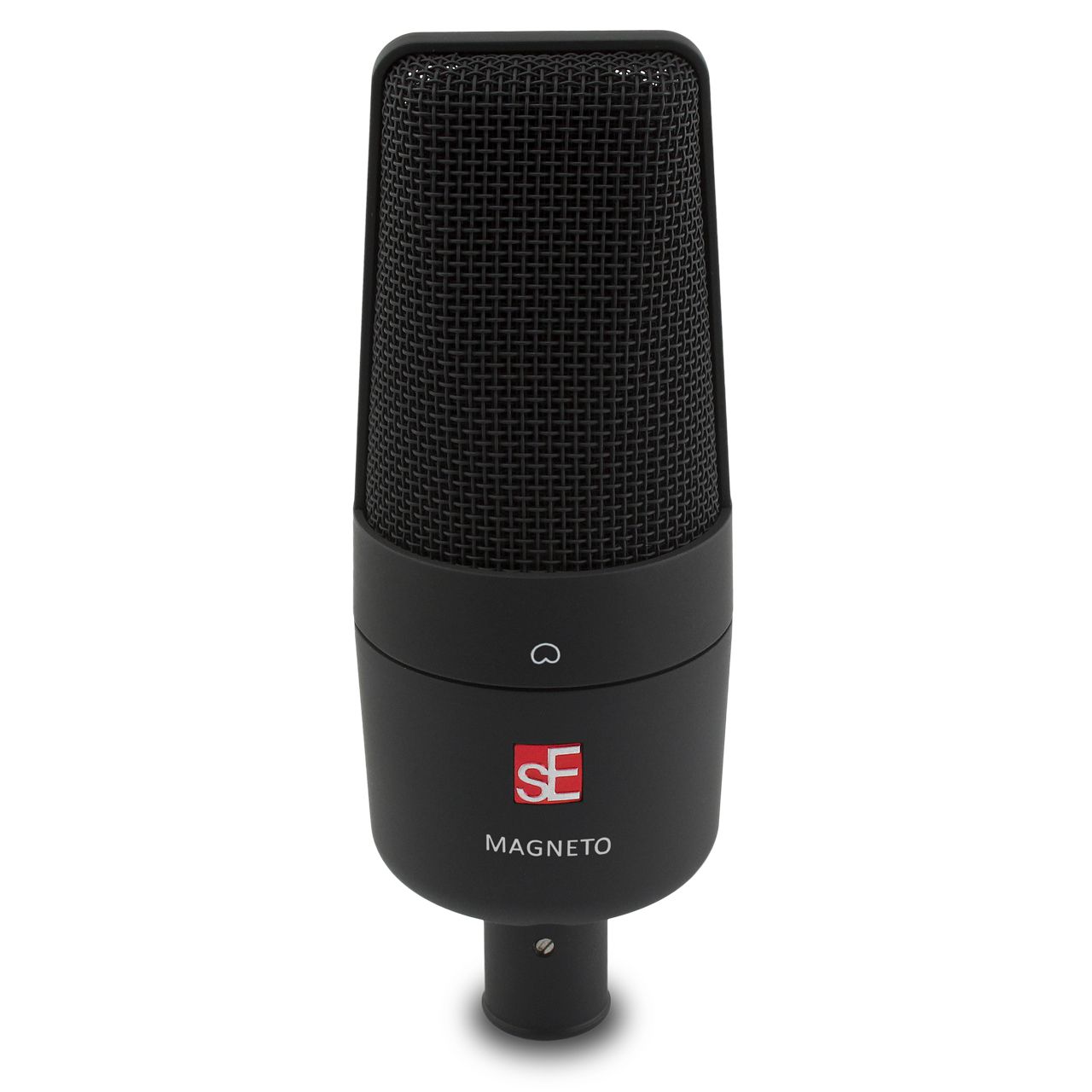 I have often extolled the virtues of using a relatively inexpensive studio condenser mic for a variety of recording applications. Especially if you don't record using a mic a lot—perhaps your music is mostly generated using software instruments but you need to occasionally lay down vocals or real percussion—then spending hundreds on something that might sit under the bed for months on end can be a tough sell. Equally you don't want to skimp on quality and get a bad sound.
Sound results
Luckily Magneto acquits itself admirably. I recorded a variety of vocals and voice-over (using a popshield as always) and the results were great, smooth and crisp. There's no onboard low cut switch so you do have to watch out a little for proximity effect when your vocal is very close to the mic, but this can be remedied by standing at a more appropriate distance and also using EQ post-recording to back off the boomy bottom end. I tried it on some acoustic guitar as well and again the results were good, though I needed to boost the gain a little higher than I did with the vocals.
Overall this is an excellent entry level studio condenser mic that performs well and punches above its weight. If you have been putting off buying a "proper" mic for any reason it will exceed your expectations of what is possible for a microphone at this price point.
Price: $119/£79 GBP Ex. VAT
Pros: Very affordable. Great recording results. Solidly built. Good for vocals and acoustic instruments.
Cons: No onboard low cut switch