When I was writing
a tutorial about ribbon microphones
, I had hoped to include the
sE Electronics RNR1
. sE did send their 1XR and Voodoo VR1 mics, but the RNR1 (Rupert Neve Ribbon 1) came a little too late to include in the tutorial. (Demand is high and inventory can get sparse.) Now that I've had some time to record with and listen to the RNR1, it deserves of a full review of its own.
主页,主页上的范围
丝带microphonesfor所有giftshave总是有一个缺点:频率范围。当然,它的缺点是否真的取决于听者,生产真正的自然声音的反应是什么铝带话筒一直做得最好。对于很多唱片,你只是不需要达到一路20千赫。例如,硒的Voodoo VR1和铁三角AT4080都有20 Hz18 kHz的高频响应,并都出色动听的麦克风。不过,虽然这两种声音奇妙的自然,即减少高endespecially对谁历来记录冷凝器microphonescan有点令人吃惊的人。
输入鲁珀特尼夫:在音响界的名字就等同于高品质的声音的传奇。 Neve先生硒合作,创建一个带麦克风,可以实现一路20 kHz和超越。通过结合内维斯定制电子与一个SE 2.5微米的丝带,这两家公司的伙伴关系所产生的RNR1:第一铝带话筒与20 Hz25 kHz的频率范围。但是,高保真本身并不大冠冕堂皇传感器化妆,所以让我们更深入探索这个独特的麦克风。
乍一看
该RNR1船在两种情况下:飞行情况和硬木麦克风的情况下(前者后者适合),并带有异国情调的前瞻性防震架。麦克风螺丝拧入安装,所以世界上没有安装角度的RNR1不能这么做。麦克风本身就是一个精致的设计,清晰的边缘和底气与谁设计它的人的签名大胆的化妆品。种素(sE电子鲁珀特尼夫的四维邹)。它就像一个超大的单簧管笛头,每边保护图--8的元素紧密的金属网屏蔽。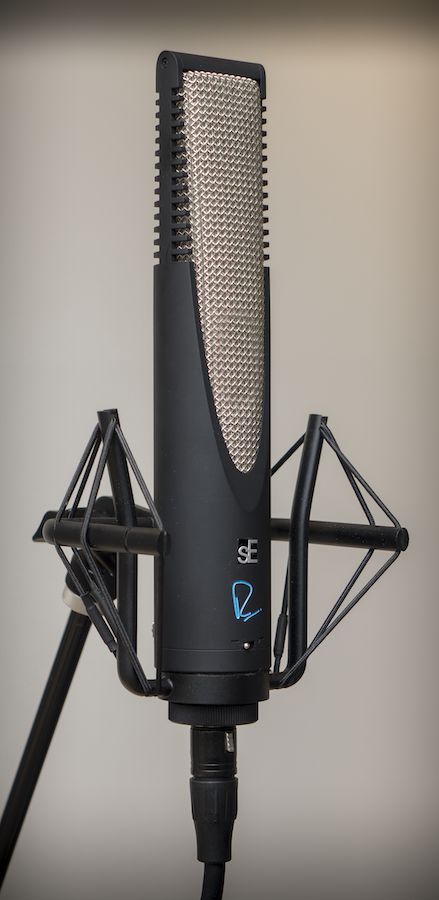 东南RNR1使用随附的防震架。
When I first inspected the RNR1, I noticed that whoever had it before me had grasped the mic around the mesh too hard and it left a noticeable dent in the center. That's something to keep in mind when you're positioning this microphone in front of the source, for care should be taken not to damage the screen. That's not to say that the RNR1 screens are delicate, but like most microphones (especially ribbons), one should not handle them roughly. (If the performer you're recording is nearby, you may want to instruct him or her that you will be the only one positioning the mic.)
保持活跃
Since the RNR1 is an active ribbon microphone, you'll need to supply it with +48V phantom power. While neither the enclosed literature nor information on the website makes mention of the minimum phantom power voltage, I would presume that the caliber of the electronics in this microphone will demand higher voltage for optimal sonic results. With that in mind, you may want to determine how much phantom power your microphone preamp is able to supply. And if you find that it's lower than 48V, you may want to invest in an external phantom power supply with a more robust voltage.
怎么听起来
Because ribbon mics sound so remarkably natural, many recording engineers (myself included) occasionally add a condenser or dynamic microphone in conjunction with a ribbon to capture the entire high frequency range. Sometimes I'll use that technique simply to appease a performer who's used to the 'in your face' response of a condenser. But the first thing you'll notice about the RNR1 is how the high-midrange and high frequencies are captured with ease. In fact, when I first auditioned the playback, I thought I'd confused the track for the Audio-Technica AT4050: a condenser mic with a figure-8 pattern I'd used for comparison. If you look at the frequency chart of the RNR1, you'll see why.
注意到增加5千赫和20千赫之间的频率响应。由于RNR1能够捕捉那些上层的频率,无疑你会惊喜于你的消息来源是如何闪亮发声。但是,如果您是在寻找一个更传统的带声音,响应的平滑的曲线,可以很容易地驯服了参数5分贝削减为13千赫。不过,我真的很喜欢的丝带温暖和冷凝器类定义婚姻。也Theres低切开关,开始于大约400赫兹的工作,并推出了为-20 dB,在20赫兹。
我在RNR1包括男性和女性主唱,电吉他功放音箱,和一把木吉他记录的几个来源。我也记录那些轨道与铁三角AT4080铝带话筒和AT4050电容麦克风进行比较。该RNR1积极的确有从带低端温暖你几乎预期,但AT4080听起来有点进账。那部分是由于4080的典型又赏心悦目的丝带响应,但也因为4080是异常丰富的100Hz以下的低频。相比于AT4050,这是在自己的权利优良的电容式麦克风,在RNR1低端肯定是比较中性的,自然。
但正如你几乎预期,高中频和高频响应,其中RNR1真正的亮点。的AT4080只是不必须的RNR1的清晰度,并且AT4050只是没有声音自然。不要误会我的意思;林从来没有卖我的任何4080s或4050S,因为他们仍然是两个我最喜欢的麦克风。但RNR1是少有的麦克风,简单地听起来不可思议,不论其来源之一。
是不是适合你?
所有的魔法确实是有代价的。该RNR1成本的两倍之多,AT4080,而且比AT4050或SE的Voodoo VR1的近三倍。如果您选择跟我一样,你总是成对购买麦克风。由于一对RNR1s的就花了将近$ 4,000.00,它可能是你自己唯一的麦克风不匹配的双立体声或多声道录音。
结论
我很少感到兴奋的新的麦克风。这就是主要是因为我自己的66话筒在27个品种,而且因为处理不当受到了很多令人兴奋的后期麦克风的创新。因此,当像RNR1麦克风走来,我的心脏跳了一拍,因为它真正代表了经典的高性能电子设计技术的巧思。由于这些原因,而RNR1可以花大钱购买,这也代表了巨大的价值,将随着时间的推移支付本身。如果你需要一个麦克风上的几乎任何来源的声音太棒了,在SE电子RNR1一定会符合要求。你一定要被那些人,他们的理念及/或专业要求需要的价值胜过一个低成本的妥协之一。
Pros: Immaculate sound quality and character. Ribbon neutrality with high-end clarity. Striking design aesthetic. Shock mount and mic cases included.
Cons: Significant initial investment. Please don't squeeze the screens. You'll surely want more than one RNR1.

Street Price: $1,999.00