When I was writing
a tutorial about ribbon microphones
, I had hoped to include the
sE Electronics RNR1
. sE did send their 1XR and Voodoo VR1 mics, but the RNR1 (Rupert Neve Ribbon 1) came a little too late to include in the tutorial. (Demand is high and inventory can get sparse.) Now that I've had some time to record with and listen to the RNR1, it deserves of a full review of its own.
Casa, Home on the Range
Fita microphonesfor toda sua giftshave sempre teve uma lacuna: faixa de freqüência. Com certeza, se deve ou não sua uma lacuna realmente depende do ouvinte, para a produção de uma resposta sonora verdadeiramente natural é o que os microfones ribbon sempre fizeram melhor. Para muitas gravações, você só não precisa atingir todo o caminho até 20 kHz. Por exemplo, o SE Voodoo VR1 e Audio-Technica AT4080 ambos têm 20 Hz18 kHz resposta de alta freqüência e são ambos os microfones som excepcionais. Mas enquanto ambos soar maravilhosamente naturais, que diminuiu alta endespecially para as pessoas que têm tradicionalmente gravados com condensador microphonescan ser um pouco surpreendente.
Digite Rupert Neve: Uma lenda na indústria de áudio, cujo nome é sinônimo de som de alta qualidade. Mr. Neve parceria com a SE para criar um microfone de fita que pode chegar a todo o caminho até 20 kHz e além. Ao combinar eletrônicos personalizados Neves com uma fita de 2,5 micron SE, a parceria das duas empresas tem produzido o RNR1: o primeiro microfone de fita com 20 faixa de freqüência Hz25 kHz. Mas de alta fidelidade por si só não faz um grande transdutor som, então vamos explorar este microfone único mais a fundo.
First Glance
Os navios RNR1 em dois casos: uma mala e uma caixa do microfone de madeira (os últimos ajustes na antiga), e vem com um de aparência exótica choque montagem. Os parafusos de microfone no suporte, então não há nenhuma ângulo de montagem do RNR1 não posso obrigar. O microfone em si é um design requintado com bordas nítidas e cosméticos ousados ​​encorajados com as assinaturas dos homens que o projetou. (Siwei Zou de SE Electronics e Rupert Neve.) É o tipo de se assemelha a uma boquilha clarinete de grandes dimensões, cada um dos lados protegidos por uma malha de metal apertado que protege o elemento figura-8.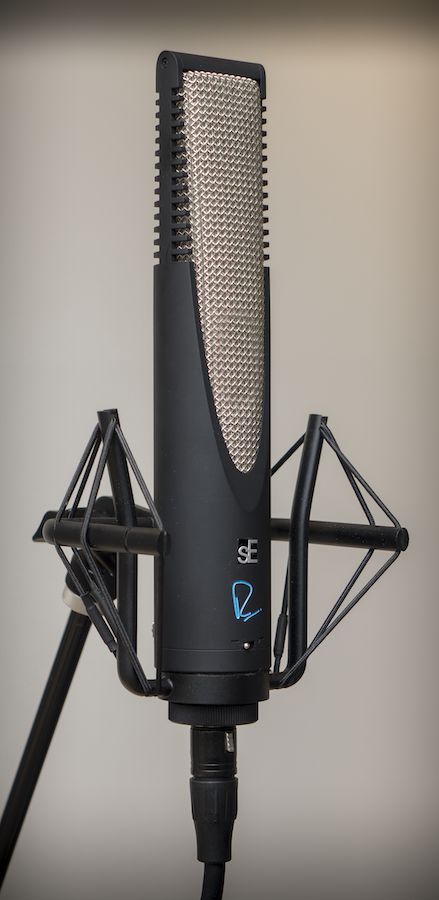 O sE RNR1 com choque incluído montagem.
When I first inspected the RNR1, I noticed that whoever had it before me had grasped the mic around the mesh too hard and it left a noticeable dent in the center. That's something to keep in mind when you're positioning this microphone in front of the source, for care should be taken not to damage the screen. That's not to say that the RNR1 screens are delicate, but like most microphones (especially ribbons), one should not handle them roughly. (If the performer you're recording is nearby, you may want to instruct him or her that you will be the only one positioning the mic.)
Manter-se ativo
Since the RNR1 is an active ribbon microphone, you'll need to supply it with +48V phantom power. While neither the enclosed literature nor information on the website makes mention of the minimum phantom power voltage, I would presume that the caliber of the electronics in this microphone will demand higher voltage for optimal sonic results. With that in mind, you may want to determine how much phantom power your microphone preamp is able to supply. And if you find that it's lower than 48V, you may want to invest in an external phantom power supply with a more robust voltage.
Como soa
Because ribbon mics sound so remarkably natural, many recording engineers (myself included) occasionally add a condenser or dynamic microphone in conjunction with a ribbon to capture the entire high frequency range. Sometimes I'll use that technique simply to appease a performer who's used to the 'in your face' response of a condenser. But the first thing you'll notice about the RNR1 is how the high-midrange and high frequencies are captured with ease. In fact, when I first auditioned the playback, I thought I'd confused the track for the Audio-Technica AT4050: a condenser mic with a figure-8 pattern I'd used for comparison. If you look at the frequency chart of the RNR1, you'll see why.
Observe o aumento da frequência de resposta entre 5 kHz e 20 kHz. Porque o RNR1 é capaz de capturar as frequências superiores, você vai, sem dúvida, ser agradavelmente surpreendido com a forma como brilhante suas fontes soará. Mas se você está procurando um som mais tradicional fita, a curva suave da resposta pode ser facilmente domesticado com um paramétrico corte de 5 dB a 13 kHz. No entanto, eu realmente gostei do casamento da fita calor e definição condensador-like. Há também um interruptor de corte baixo que começa a trabalhar em cerca de 400 Hz e rola até -20 dB a 20 Hz.
Eu gravei várias fontes através do RNR1 incluindo vocais masculinos e femininos, uma guitarra elétrica caixa de som de amp e uma guitarra acústica. Eu também gravei essas faixas com um microfone de fita AT4080 Audio-Technica e um microfone condensador AT4050 para comparação. O RNR1 faz positivamente têm o baixo calor youd final de esperar de uma fita, mas o AT4080 soava um pouco mais rico. Isso é parcialmente devido à resposta fita ainda agradável típico da 4080, mas foi também porque o 4080 é excepcionalmente rico em baixas freqüências abaixo de 100 Hz. Quando comparado com o AT4050, que é um excelente microfone de condensador na sua própria direita, a extremidade inferior da RNR1 foi certamente mais neutro e natural.
Mas, como você esperaria, a resposta de alta-média e alta frequência é onde o RNR1 realmente brilha. O AT4080 simplesmente doesnt ter a clareza do RNR1, eo AT4050 apenas som não funcionavam como natural. Não me interpretem mal; Im nunca vender qualquer um dos meus 4080s ou 4050s, pois eles ainda são dois dos meus favoritos microfones. Mas o RNR1 é um daqueles microfones raros que simplesmente soam mágico, independentemente da fonte.
É direito para você?
Tudo o que a magia vem com um preço. O RNR1 custa duas vezes mais que o AT4080, e quase três vezes mais do que o AT4050 ou sE Voodoo VR1. E se você for como eu, você sempre comprar microfones em pares. Desde um par de RNR1s custaria cerca de US $ 4.000,00, pode ser o único microfone sem você possui um irmão gêmeo pareados por gravações em estéreo ou multi-canal.
Conclusões
Eu raramente fico animado sobre novos microfones. Isso é principalmente porque eu possuo 66 microfones em 27 variedades, mas também porque não has not havido muita inovação microfone emocionante da tarde. Assim, quando um microfone como o RNR1 vem junto, meu coração pula uma batida, para que verdadeiramente representa engenhosidade tecnológica com design clássico eletrônico de alta performance. Por essas razões, enquanto o RNR1 pode custar muito para comprar, também representa um enorme valor que vai pagar por si mesmo ao longo do tempo. Se você precisa de um microfone que soa fantástico em praticamente qualquer fonte, o SE Electronics RNR1 certamente irá caber a conta. Você apenas tem que ser uma daquelas pessoas cuja filosofia e / ou requisitos profissionais exigem que o valor supera um compromisso de baixo custo.
Pros: Immaculate sound quality and character. Ribbon neutrality with high-end clarity. Striking design aesthetic. Shock mount and mic cases included.
Cons: Significant initial investment. Please don't squeeze the screens. You'll surely want more than one RNR1.

Street Price: $1,999.00