When I was writing
a tutorial about ribbon microphones
, I had hoped to include the
sE Electronics RNR1
. sE did send their 1XR and Voodoo VR1 mics, but the RNR1 (Rupert Neve Ribbon 1) came a little too late to include in the tutorial. (Demand is high and inventory can get sparse.) Now that I've had some time to record with and listen to the RNR1, it deserves of a full review of its own.
Accueil, Home on the Range
Ruban microphonesfor toute leur giftshave toujours eu une lacune: gamme de fréquence. Accordée, si oui ou non c'est une lacune dépend vraiment de l'auditeur, pour produire une réponse sonore vraiment naturel est ce que les micros à ruban ont toujours fait mieux. Pour de nombreux enregistrements, il vous suffit n'avez pas besoin d'atteindre tout le chemin à 20 kHz. Par exemple, le sE Voodoo VR1 et Audio-Technica AT4080 ont tous les deux 20 kHz Hz18 réponse à haute fréquence et sont tous les deux micros de sondage exceptionnelles. Mais alors que les deux sonnent merveilleusement naturelle, qui a diminué de haute endespecially pour les personnes qui ont traditionnellement enregistrées avec condenseur microphonescan être un peu surprenante.
Entrez Rupert Neve: Une légende dans l'industrie audio dont le nom est synonyme de haute qualité sonore. M. Neve partenariat avec sE pour créer un microphone à ruban qui pourraient atteindre tout le chemin à 20 kHz et au-delà. En combinant l'électronique sur mesure Neves avec un ruban de 2,5 micron sE, le partenariat de ces deux sociétés a produit le RNR1: le premier micro à ruban avec 20 Hz25 kHz gamme de fréquences. Mais la haute fidélité ne suffit pas à un grand transducteur de sondage marque, permet donc d'explorer ce seul micro de manière plus approfondie.
First Glance
Les navires RNR1 dans deux cas: un cas de vol et un cas de feuillus du microphone (les derniers des crises dans l'ex), et est livré avec un choc aspect exotique de montage. Les vis micro dans la montagne, il n'ya donc pas d'angle de montage de la RNR1 ne peux pas obliger. Le microphone est lui-même un design exquis avec des bords nets et des cosmétiques gras enhardis avec les signatures des hommes qui l'ont conçue. (Siwei Zou de sE Electronics et Rupert Neve.) Il sorte de ressemble à un bec de clarinette surdimensionné, de chaque côté protégé par une grille métallique étanche qui protège l'élément figure-de-huit.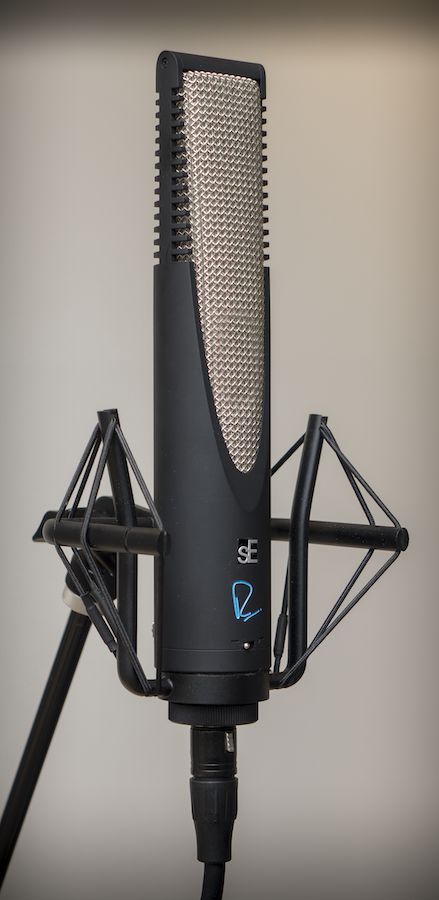 Le sE RNR1 le choc se trouve le mont.
When I first inspected the RNR1, I noticed that whoever had it before me had grasped the mic around the mesh too hard and it left a noticeable dent in the center. That's something to keep in mind when you're positioning this microphone in front of the source, for care should be taken not to damage the screen. That's not to say that the RNR1 screens are delicate, but like most microphones (especially ribbons), one should not handle them roughly. (If the performer you're recording is nearby, you may want to instruct him or her that you will be the only one positioning the mic.)
Rester actif
Since the RNR1 is an active ribbon microphone, you'll need to supply it with +48V phantom power. While neither the enclosed literature nor information on the website makes mention of the minimum phantom power voltage, I would presume that the caliber of the electronics in this microphone will demand higher voltage for optimal sonic results. With that in mind, you may want to determine how much phantom power your microphone preamp is able to supply. And if you find that it's lower than 48V, you may want to invest in an external phantom power supply with a more robust voltage.
Comment ça sonne
Because ribbon mics sound so remarkably natural, many recording engineers (myself included) occasionally add a condenser or dynamic microphone in conjunction with a ribbon to capture the entire high frequency range. Sometimes I'll use that technique simply to appease a performer who's used to the 'in your face' response of a condenser. But the first thing you'll notice about the RNR1 is how the high-midrange and high frequencies are captured with ease. In fact, when I first auditioned the playback, I thought I'd confused the track for the Audio-Technica AT4050: a condenser mic with a figure-8 pattern I'd used for comparison. If you look at the frequency chart of the RNR1, you'll see why.
Notez l'augmentation de la réponse en fréquence comprise entre 5 kHz et 20 kHz. Parce que le RNR1 est capable de capturer les fréquences supérieures, vous aurez sans doute agréablement surpris par la brillante vos sources sonores sont émis. Mais si vous êtes à la recherche d'un son plus traditionnel ruban, la courbe lisse de la réponse se laisse facilement apprivoiser avec un paramétrique réduction de 5 dB à 13 kHz. Cependant, j'ai vraiment apprécié le mariage de ruban la chaleur et la définition de condenseur-like. Theres également un commutateur coupe-bas qui commence à travailler à environ 400 Hz et roule hors de -20 dB à 20 Hz.
J'ai enregistré plusieurs sources à travers le RNR1 y compris les voix masculines et féminines, un ampli baffle de guitare électrique et une guitare acoustique. J'ai aussi enregistré les pistes avec un Audio-Technica AT4080 ruban de micro et un micro à condensateur AT4050 pour la comparaison. Le RNR1 fait positive ont la faible chaleur youd fin s'attendre à un ruban, mais l'AT4080 ne sembler un peu plus riche. Cest en partie en raison de la réponse de ruban encore agréable typique de la 4080, mais aussi parce que la 4080 est exceptionnellement riche dans les basses fréquences inférieures à 100 Hz. Par rapport à l'AT4050, qui est un excellent microphone à condensateur dans son propre droit, le bas de la RNR1 était certainement plus neutre et naturel.
Mais comme youd attendre, la réponse de haute moyenne et haute fréquence est où le RNR1 brille vraiment. L'AT4080 ne marche tout simplement avoir la clarté de la RNR1, et l'AT4050 juste son na pas aussi naturel. Ne vous méprenez pas; Im jamais vend aucun de mes 4080s ou 4050S, car ils sont encore deux de mes micros préférés. Mais la RNR1 est un de ces rares micros qui sonnent tout simplement magique, indépendamment de la source.
Est-il pour vous?
Tout ce que la magie ne vient à un prix. Coûte RNR1 deux fois plus que le AT4080, et près de trois fois plus que le AT4050 ou sE Voodoo VR1. Et si vous êtes comme moi, vous achetez toujours des micros par paires. Depuis une paire de RNR1s coûterait près de $ 4,000.00, il pourrait être le seul micro que vous possédez sans double assortie pour les enregistrements stéréo ou multi-canal.
Conclusions
J'ai rarement heureux de nouveaux microphones. Des thats la plupart du temps parce que je possède 66 micros dans 27 variétés, mais aussi parce qu'il hasnt eu beaucoup d'exciter l'innovation du microphone de la fin. Alors, quand un microphone comme le RNR1 arrive, mon cœur bat la chamade, car il représente vraiment l'ingéniosité technologique avec la conception électronique haute performance classique. Pour ces raisons, tandis que le RNR1 peut coûter beaucoup à l'achat, elle représente aussi une valeur énorme qui va payer pour lui-même au fil du temps. Si vous avez besoin d'un microphone qui semble fantastique sur pratiquement n'importe quelle source, le sE Electronics RNR1 va sûrement faire l'affaire. Vous avez juste à être une de ces personnes dont la philosophie et / ou des exigences professionnelles exiger que valeur l'emporte sur un compromis à faible coût.
Pros: Immaculate sound quality and character. Ribbon neutrality with high-end clarity. Striking design aesthetic. Shock mount and mic cases included.
Cons: Significant initial investment. Please don't squeeze the screens. You'll surely want more than one RNR1.

Street Price: $1,999.00