When I was writing
a tutorial about ribbon microphones
, I had hoped to include the
sE Electronics RNR1
. sE did send their 1XR and Voodoo VR1 mics, but the RNR1 (Rupert Neve Ribbon 1) came a little too late to include in the tutorial. (Demand is high and inventory can get sparse.) Now that I've had some time to record with and listen to the RNR1, it deserves of a full review of its own.
Inicio, Zafarrancho en el rancho
Cinta microphonesfor toda su giftshave siempre tenían un defecto: rango de frecuencia. Concedido, si es o no es un defecto realmente depende del oyente, para producir una respuesta sonora verdaderamente natural es lo que los micrófonos de cinta siempre lo han hecho mejor. Para muchas grabaciones, sólo te tienes que llegar hasta el final a 20 kHz. Por ejemplo, el sE Voodoo VR1 y Audio-Technica AT4080 ambos tienen respuesta de alta frecuencia de 20 kHz HZ18 y son ambos micrófonos que suenan excepcionales. Pero mientras tanto suena maravillosamente natural, que disminuyó alta endespecially para las personas que han registrado tradicionalmente con condensador microphonescan ser un poco sorprendente.
Ingrese Rupert Neve: Una leyenda en la industria del audio cuyo nombre es sinónimo de sonido de alta calidad. Sr. Neve asoció con sE para crear un micrófono de cinta que podría llegar hasta el final a 20 kHz y más allá. Combinando Neves electrónica personalizada con una cinta de 2,5 micrones se, la asociación de estas dos empresas ha producido el RNR1: el primer micrófono de cinta con rango de frecuencia de 20 kHz Hz25. Pero la alta fidelidad por sí sola no es una gran marca transductor sonar, por lo que permite explorar este micrófono único más a fondo.
Primer Vistazo
Las naves RNR1 en dos casos: un caso de vuelo y una caja del micrófono de madera (los últimos ataques en la primera), y viene con un aspecto exótico montaje de choque. Los tornillos de micrófono en el monte, así theres ningún ángulo de montaje del RNR1 puedo obligar. El micrófono en sí es un exquisito diseño con bordes nítidos y cosméticos audaces envalentonados con las firmas de los hombres que lo diseñaron. (Siwei Zou de sE Electronics y Rupert Neve.) En cierto modo se asemeja a una boquilla de clarinete de gran tamaño, cada lado protegido por una malla metálica apretada que protege el elemento de figura-de-8.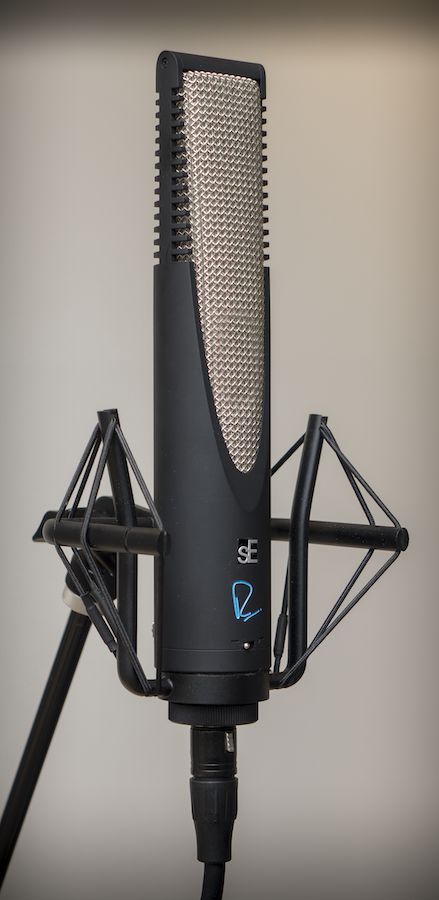 El sE RNR1 con choque incluido montaje.
When I first inspected the RNR1, I noticed that whoever had it before me had grasped the mic around the mesh too hard and it left a noticeable dent in the center. That's something to keep in mind when you're positioning this microphone in front of the source, for care should be taken not to damage the screen. That's not to say that the RNR1 screens are delicate, but like most microphones (especially ribbons), one should not handle them roughly. (If the performer you're recording is nearby, you may want to instruct him or her that you will be the only one positioning the mic.)
Mantenerse activo
Since the RNR1 is an active ribbon microphone, you'll need to supply it with +48V phantom power. While neither the enclosed literature nor information on the website makes mention of the minimum phantom power voltage, I would presume that the caliber of the electronics in this microphone will demand higher voltage for optimal sonic results. With that in mind, you may want to determine how much phantom power your microphone preamp is able to supply. And if you find that it's lower than 48V, you may want to invest in an external phantom power supply with a more robust voltage.
¿Cómo suena
Because ribbon mics sound so remarkably natural, many recording engineers (myself included) occasionally add a condenser or dynamic microphone in conjunction with a ribbon to capture the entire high frequency range. Sometimes I'll use that technique simply to appease a performer who's used to the 'in your face' response of a condenser. But the first thing you'll notice about the RNR1 is how the high-midrange and high frequencies are captured with ease. In fact, when I first auditioned the playback, I thought I'd confused the track for the Audio-Technica AT4050: a condenser mic with a figure-8 pattern I'd used for comparison. If you look at the frequency chart of the RNR1, you'll see why.
Observe el aumento en la respuesta de frecuencia entre 5 kHz y 20 kHz. Debido a que el RNR1 es capaz de capturar esas frecuencias superiores, interminables, sin duda, quedará gratamente sorprendido por lo brillante sonarán sus fuentes. Pero si usted está buscando un sonido más tradicional de la cinta, la suave curva de la respuesta puede ser fácilmente domado con un corte paramétrico de 5 dB a 13 kHz. Sin embargo, me gustó mucho el matrimonio de calidez cinta y definición-como condensador. Theres también un interruptor de corte bajo que comienza a actuar aproximadamente a 400 Hz y rollos de hasta -20 dB a 20 Hz.
Grabé varias fuentes a través de la RNR1 incluyendo voces masculinas y femeninas, un altavoz amplificador de guitarra eléctrica y una guitarra acústica. También grabé esas pistas con un micrófono de cinta AT4080 de Audio-Technica y un micrófono de condensador AT4050 para la comparación. El RNR1 hace positivamente tiene el extremo inferior calidez lo que espera de una cinta, pero el AT4080 hizo sonar un poco más rico. Eso es debido en parte a la típica respuesta de la cinta pero agradable del 4080, pero también fue porque el 4080 es excepcionalmente rica en las bajas frecuencias por debajo de 100 Hz. En comparación con el AT4050, que es un micrófono de condensador excelente en su propio derecho, el extremo inferior de la RNR1 era ciertamente más neutral y natural.
Pero a medida que usted esperaría, la respuesta de alta frecuencia media y alta es donde el RNR1 realmente brilla. El AT4080 simplemente doesnt tiene la claridad de la RNR1, y el AT4050 sonido sólo didnt como natural. No me malinterpretéis; Im nunca vendiendo alguno de mis 4080s o 4050S, porque son todavía dos de mis micrófonos favoritos. Pero el RNR1 es uno de esos raros micrófonos que suenan simplemente mágico, independientemente de la fuente.
¿Es adecuado para usted?
Todo lo que la magia viene a un precio. El RNR1 cuesta dos veces más que el AT4080, y casi tres veces más que el AT4050 o sE Voodoo VR1. Y si eres como yo, que siempre compra micrófonos en parejas. Desde un par de RNR1s costaría cerca de $ 4,000.00, que podría ser el único micrófono que el propietario sin un gemelo emparejados para grabaciones estéreo o multicanal.
Conclusiones
Yo rara vez me entusiasmo con nuevos micrófonos. Eso es todo porque soy dueño de 66 micrófonos en 27 variedades, sino también porque no ya no haya sido una gran cantidad de emocionantes innovaciones micrófono en los últimos tiempos. Así que cuando un micrófono como el RNR1 llega, mi corazón da un vuelco, ya que verdaderamente representa el ingenio tecnológico con diseño electrónico de alto rendimiento clásico. Por estas razones, mientras que el RNR1 puede costar mucho para comprar, sino que también representa un enorme valor que se pagará por sí mismo en el tiempo. Si usted necesita un micrófono que suena fantástico en prácticamente cualquier fuente, la sE Electronics RNR1 cabrá duda el proyecto de ley. Sólo tienes que ser una de esas personas cuya filosofía y / o requisitos profesionales exigir ese valor supera a un compromiso bajo costo.
Pros: Immaculate sound quality and character. Ribbon neutrality with high-end clarity. Striking design aesthetic. Shock mount and mic cases included.
Cons: Significant initial investment. Please don't squeeze the screens. You'll surely want more than one RNR1.

Street Price: $1,999.00