When I was writing
a tutorial about ribbon microphones
, I had hoped to include the
sE Electronics RNR1
. sE did send their 1XR and Voodoo VR1 mics, but the RNR1 (Rupert Neve Ribbon 1) came a little too late to include in the tutorial. (Demand is high and inventory can get sparse.) Now that I've had some time to record with and listen to the RNR1, it deserves of a full review of its own.
Heim, Haus auf der Strecke
Band microphonesfor alle giftshave hatte immer ein Manko: Frequenzbereich. Zugegeben, ob seine ein Manko hängt wirklich von der Zuhörer, zur Herstellung eines wirklich natürliche Klang Antwort ist, was Bändchenmikrofone immer am besten getan. Für viele Aufnahmen, die Sie gerade brauchen nicht den ganzen Weg bis 20 kHz zu erreichen. Zum Beispiel der SE Voodoo VR1 und Audio-Technica AT4080 haben beide 20 kHz HZ18 Hochfrequenzgang und sind beide außergewöhnlich klingende Mikrofone. Doch während beide klingen wunderbar natürlich, die eine hohe endespecially für Menschen, die traditionell mit Kondensator aufgenommen haben microphonescan ein wenig überraschende vermindert.
Geben Sie Rupert Neve: eine Legende in der Audio-Industrie, deren Name ist ein Synonym für hohe Klangqualität. Herr Neve Partnerschaft mit SE an ein Band Mikrofon, das bis hin zu 20 kHz und darüber hinaus erreichen könnte. Den ersten Bändchenmikrofon mit 20 kHz Frequenzbereich Hz25: Durch die Kombination von Elektronik mit kunden Neves eine SE 2,5-Mikrometer-Band, hat die Partnerschaft der beiden Unternehmen die RNR1 produziert. Aber High-Fidelity allein nicht ein gut klingendes Wandler zu machen, so können erkunden Sie diese einzigartige Mikrofon gründlicher.
Den ersten Blick
Die RNR1 Schiffe in zwei Fällen: ein Flug Gehäuse und einem Hartholz-Mikrofon Fall (letztere passt in der ehemaligen), und kommt mit einem exotischen schau Shock Mount. Die MIC-Schrauben in die Halterung, so theres keine Montagewinkel der RNR1 kann nicht verpflichten. Das Mikrofon selbst ist ein exquisites Design mit klaren Kanten und fett Kosmetik mit den Unterschriften der Männer, die es entworfen ermutigt. (Siwei Zou von sE Electronics und Rupert Neve.) Es Art von erinnert an einen übergroßen Klarinetten-Mundstück, jeder Seite von einer engen Metallgitter, die die Figur-8-Element schützt abgeschirmt.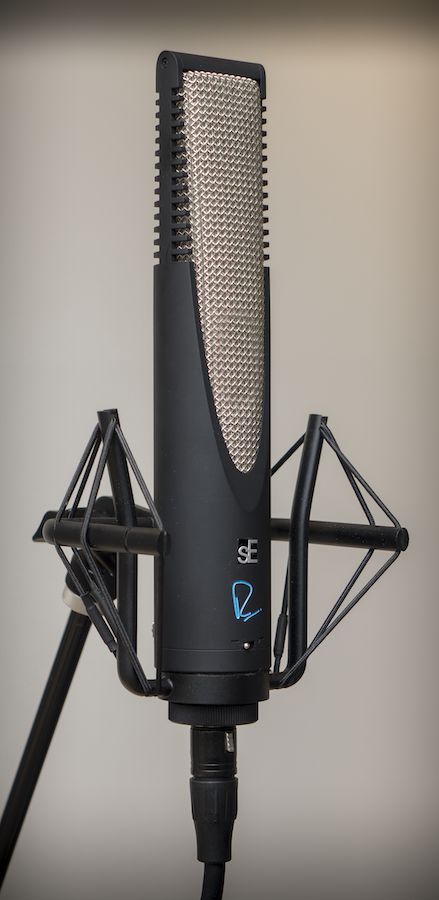 Die SE RNR1 mit eingebautem Schock zu montieren.
When I first inspected the RNR1, I noticed that whoever had it before me had grasped the mic around the mesh too hard and it left a noticeable dent in the center. That's something to keep in mind when you're positioning this microphone in front of the source, for care should be taken not to damage the screen. That's not to say that the RNR1 screens are delicate, but like most microphones (especially ribbons), one should not handle them roughly. (If the performer you're recording is nearby, you may want to instruct him or her that you will be the only one positioning the mic.)
Aktiv bleiben
Since the RNR1 is an active ribbon microphone, you'll need to supply it with +48V phantom power. While neither the enclosed literature nor information on the website makes mention of the minimum phantom power voltage, I would presume that the caliber of the electronics in this microphone will demand higher voltage for optimal sonic results. With that in mind, you may want to determine how much phantom power your microphone preamp is able to supply. And if you find that it's lower than 48V, you may want to invest in an external phantom power supply with a more robust voltage.
Wie es klingt
Because ribbon mics sound so remarkably natural, many recording engineers (myself included) occasionally add a condenser or dynamic microphone in conjunction with a ribbon to capture the entire high frequency range. Sometimes I'll use that technique simply to appease a performer who's used to the 'in your face' response of a condenser. But the first thing you'll notice about the RNR1 is how the high-midrange and high frequencies are captured with ease. In fact, when I first auditioned the playback, I thought I'd confused the track for the Audio-Technica AT4050: a condenser mic with a figure-8 pattern I'd used for comparison. If you look at the frequency chart of the RNR1, you'll see why.
Man beachte die Zunahme des Frequenzgangs zwischen 5 kHz und 20 kHz. Weil die RNR1 der Lage ist, die Erfassung dieser oberen Frequenzen, werden Sie zweifellos angenehm überrascht, wie glänzende Ihre Quellen ist zu hören sein. Aber wenn du der Suche nach einem eher traditionellen Band-Sound, die glatte Kurve der Reaktion kann leicht mit einem parametrischen 5-dB-Schnitt bei 13 kHz gezähmt werden. Aber ich habe es wirklich genossen die Ehe von Band Wärme und Kondensator-wie-Definition. Theres auch ein Low-Cut-Schalter, der bei etwa 400 Hz arbeiten beginnt und rollt bis -20 dB bei 20 Hz.
Ich nahm mehrere Quellen durch die RNR1 einschließlich der männlichen und weiblichen Gesang, E-Gitarre Amp-Lautsprechergehäuse und einer akustischen Gitarre. Ich habe auch die Tracks mit einem Audio-Technica AT4080 Bändchenmikrofon und ein Kondensatormikrofon AT4050 für den Vergleich aufgenommen. Die RNR1 positiv hat zwar das untere Ende Wärme youd von einer Band erwarten, aber das AT4080 habe klingen ein bisschen reicher. Das ist teilweise auf die typischen noch erfreulich Band Reaktion des 4080, war aber auch, weil die 4080 ist außergewöhnlich reich an tiefen Frequenzen unterhalb von 100 Hz. Im Vergleich zu dem AT4050, die eine hervorragende Kondensatormikrofon in seinem eigenen Recht ist, das untere Ende des RNR1 war sicherlich mehr neutral und natürlich.
Aber wie youd erwarten, ist die High-mittleren und hohen Frequenzbereich, wo die RNR1 wirklich glänzt. Das AT4080 einfach tut die Klarheit der RNR1 und der AT4050 nur knapp sein Ziel Klang als natürlich. Verstehen Sie mich nicht falsch; Im nie Verkaufs von meinem 4080s oder 4050, denn sie sind immer noch zwei meiner Lieblings Mikrofone. Aber die RNR1 ist einer jener seltenen Mikrofone, die klingen einfach magisch, unabhängig von der Quelle.
Es ist die richtige für Sie?
Alle, die Magie hat ihren Preis. Die RNR1 kostet doppelt so viel wie der AT4080, und fast drei Mal mehr als der AT4050 oder Se Voodoo VR1. Und wenn youre so wie ich, man immer kaufen Mikrofone in Paaren. Seit ein Paar RNR1s kosten würde fast $ 4,000.00, könnte es das einzige Mikrofon Sie besitzen ohne eine abgestimmte Doppel für Stereo-oder Mehrkanal-Aufnahmen sein.
Schlussfolgerungen
Ich habe selten aufgeregt über neue Mikrofone. Das ist, vor allem, weil ich selbst 66 Mikrofone in 27 Sorten, aber auch, weil es has not eine Menge spannende Mikrofon Innovation der letzten Zeit. Also, wenn ein Mikrofon wie der RNR1 kommt, springt mein Herz höher schlagen, denn es ist wirklich repräsentiert technologischen Einfallsreichtum mit klassischen elektronischen Hochleistungsdesign. Aus diesen Gründen, während die RNR1 kann eine Menge zu Anschaffungskosten, sondern stellt auch einen enormen Wert, der für sich im Laufe der Zeit auszahlen wird. Wenn Sie ein Mikrofon, das auf praktisch jeder Quelle fantastisch klingt benötigen, wird der SE Electronics RNR1 sicherlich genau das Richtige. Sie müssen nur eine dieser Menschen, deren Philosophie und / oder berufliche Anforderungen verlangen diesen Wert übertrumpft eine kostengünstige Kompromiss.
Pros: Immaculate sound quality and character. Ribbon neutrality with high-end clarity. Striking design aesthetic. Shock mount and mic cases included.
Cons: Significant initial investment. Please don't squeeze the screens. You'll surely want more than one RNR1.

Street Price: $1,999.00