La consapevolezza che un microfono a buon mercato solo vi darà una registrazione a buon mercato è un passo importante in qualsiasi percorso ai produttori di illuminazione sonora. Dove il sentiero diventa roccioso è quando la realizzazione colpisce che ci sono migliaia di grandi microfoni che costano migliaia di dollari. Samson ha un offerta con il MTR201 che è perfetto per una simile scenario, pur dandoci un microfono che anche il livello pro vorrà prendere un po 'di tempo con.
Incontra il MTR201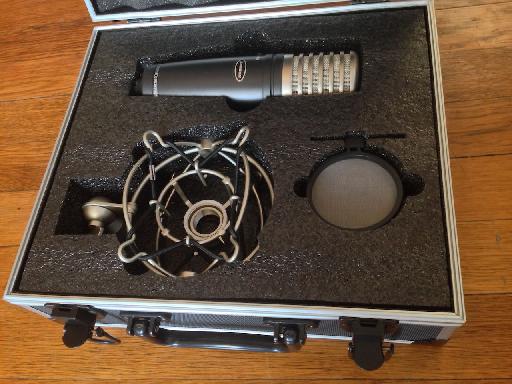 Cosa c'è nella scatola?
Samsons rilascio del MTR201 è a dir poco ambizioso. Dopo l'unboxing e quindi aprire l'involucro impressionante, è stato un piacere vedere non solo un microfono che ha una corporatura molto robusta, ma anche un microfono che è stato fornito con tutti gli accessori, oltre a un cavo e un supporto microfono, che si farebbe bisogno. Un piccolo, ma pratico attacco pop-filtro è incluso, insieme a una scossa molto impressionante monte.
"What makes the whole package more than just a little mind-blowing is the price."
Ciò che rende l'intero pacchetto di più di una piccola mente-blowing è il prezzo. Di solito, quando sei parlando di un grande microfono a condensatore a diaframma, shock mount e filtro anti-pop, youre parlando dei soldi. Infatti, con microfoni dollaro alto, il monte scossa non ha nemmeno accompagnare il microfono, e lo shock stessa montaggio è di un paio di centinaia di dollari.
Samson ha contrastato questa tendenza con più di una vendetta. Intervenendo con un prezzo al pubblico di 149 dollari, con un caso di malattia, con un pop-filtro con uno shock-mount Parole difficilmente può esprimere quello che un ottimo affare questo microfono è!
Opzioni e Patterns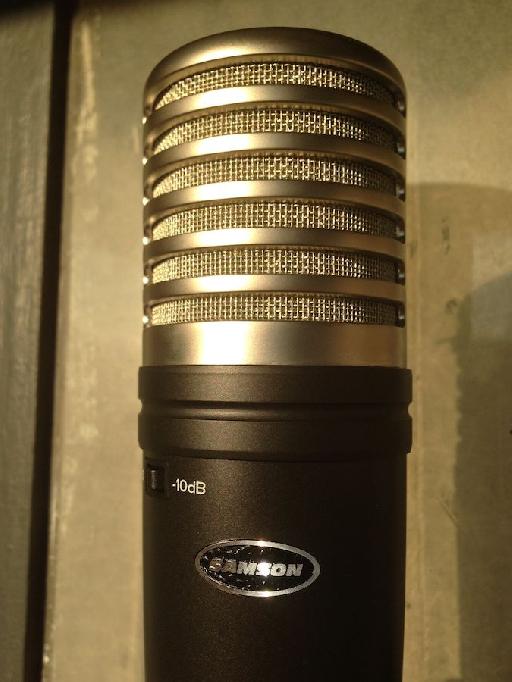 MTR201 alzato.
A differenza di alcuni dei microfoni che il MTR201 cerca di emulare, c'è solo un -10 dB emulazione interruttore di attenuazione che può essere attivata per ridurre ingresso per i grandi livelli di ingresso per questo microfono uni-directional/cardioid. E questo va bene, soprattutto se si considera il valore di ciò che stai ricevendo. Io andrei dispiaciuto vedere un interruttore per modificare il modello di pickup. Per 199 dollari si può prendere il multi-pattern MTR 231 .. ma, ancora una volta, il MTR201 è un $ 149 microfono e, quando si sente parlare il suono ...
Prestazione
"In other words, this microphone sounds really, really good."
La prima cosa che ho fatto è stato A / B tra le registrazioni che ho da studio, con la U87. Sorprendentemente, il Sansone regge. Anche quando saturare l'microfono un po ', ho scoperto che ero in grado di ottenere un modello di distorsione molto simile a quello Im utilizzato per l'. Anche se 87, ci sono alcune differenze. Il corpo è leggermente differente, così come gli alti. Tuttavia, si sta andando ad avere per ascoltare vicino. Da lontano, e con le orecchie di uomini e donne non-audiofili in generale, youll ancora trovare che si ottiene, a patto che le prestazioni sono effettivamente un bene, lo stesso tipo di feedback. In altre parole, questo microfono suona davvero, davvero buono.
Conclusione

Sarò acquistare uno di questi. Quello è solo un fatto, dopo aver usato la MTR201. La sua ha un suono meravigliosamente croccante che fa grandi cose per voce, pur avendo il corpo e la chiarezza di ottenere qualche grande chitarra, pianoforte e tutto ciò che si trova di fronte a esso. Mi piacerebbe vedere Sansone continuare ad esplorare le future revisioni di questo microfono con modelli di pick-up aggiuntivi. Ma, come per questo particolare microfono, è molto buono. Ottimo lavoro Sansone!

Prezzo: 149 $

Pro: Un grande microfono per un ottimo prezzo che soddisfi i principianti, così come i professionisti in un pizzico.
Contro: sarebbe ancora maggiore se si potrebbe modificare il modello di pickup. (Anche se per $ 50 più il MTR231 ti dà la possibilità).
Web: