La prise de conscience d'un micro pas cher ne vous donnera un enregistrement pas cher est une étape importante dans n'importe quel chemin de producteurs à l'illumination sonore. Lorsque le sentier devient plus rocheux, c'est quand la réalisation frappe qu'il ya des milliers de grands micros qui coûtent des milliers de dollars. Samson dispose d'une offre avec le MTR201 qui est parfait pour un tel scénario, tout en nous donnant un micro que même le niveau pro voudra prendre un certain temps.
Rencontrez le MTR201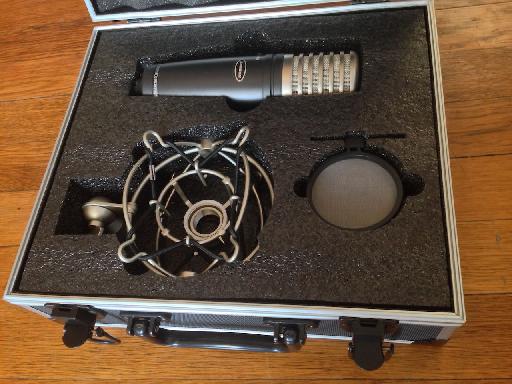 Ce qui est dans la boîte?
Samsons libération du MTR201 est rien de moins ambitieux. Après déballage, puis en ouvrant le boîtier impressionnant, c'était un plaisir de voir non seulement un micro qui a une construction extrêmement robuste, mais également un micro qui a été fourni avec tous les accessoires, en plus d'un câble et d'un pied de micro, que l'on besoin. Une petite, mais pratique attachement pop-filtre est inclus, avec un choc très impressionnant montage.
"What makes the whole package more than just a little mind-blowing is the price."
Ce qui rend l'ensemble du paquet plus que juste un peu hallucinant est le prix. Habituellement, lorsque vous êtes parler d'un grand micro condensateur à membrane, avec un montage de choc et pop-filtre, vous êtes parler un peu d'argent. En fait, avec des micros élevée du dollar, la monture de choc n'a même pas accompagner le micro, et le choc lui-même est un montage de quelques centaines de dollars.
Samson a résisté à cette tendance avec plus d'une vengeance. Stepping avec un prix public de 149 $, avec un cas de maladie, avec un pop-filtre, avec les mots-choc de montage ne peut guère exprimer ce que beaucoup ce micro est!
Options et Patterns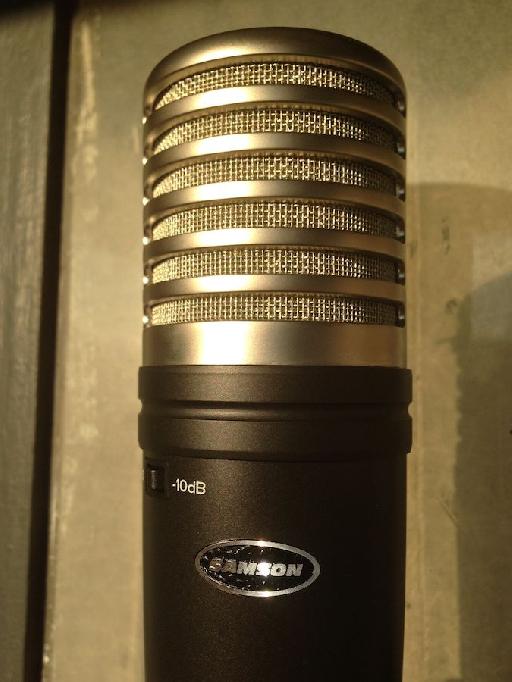 MTR201 gros plan.
Contrairement à certains des microphones que le MTR201 cherche à imiter, il ya seulement un dB émulation commutateur -10 atténuation qui peut être activé pour réduire l'apport de grands niveaux d'intervention pour ce microphone uni-directional/cardioid. Et, c'est très bien, surtout quand on considère la valeur de ce que vous êtes obtenir. Je n'aurais pas minded voir un commutateur pour modifier le motif de l'enlèvement. Pour 199 $ vous pouvez choisir le modèle multi-MTR 231 .. mais, encore une fois, le MTR201 est un micro 149 $ et, quand vous entendez parler du son ...
Performance
"In other words, this microphone sounds really, really good."
La première chose que j'ai faite était A / B entre les enregistrements que j'ai du studio, avec le U87. Étonnamment, le Samson tient la route. Même lorsque le micro sature un peu, j'ai trouvé que j'étais en mesure d'obtenir un modèle de distorsion très similaire à ce que Im utilisé pour le. Bien que 87, il ya quelques différences. Le corps est légèrement différente, ainsi que les sommets. Cependant, vous allez avoir à écouter près. De loin, et avec les oreilles des hommes et des femmes non-audiophile au sens large, vous pourrez admirer encore que vous obtenez, aussi longtemps que les performances sont vraiment bon, le même genre de commentaires. En d'autres termes, ce micro sonne vraiment, vraiment bon.
Conclusion

J'achèterai un d'eux. C'est juste un fait, après avoir utilisé le MTR201. Son obtenu un son très croustillante qui fait de grandes choses pour la voix, tout en ayant le corps et la clarté d'obtenir une certaine grande guitare, piano et tout ce que vous définissez en face d'elle. Je serais ravi de voir Samson continuer à explorer de futures révisions de ce micro avec des motifs supplémentaires de ramassage. Mais, comme pour ce micro particulier, il est très bon. Great job Samson!

Prix: $ 149

Avantages: Un grand microphone pour un grand prix qui conviendrait débutants, ainsi que des avantages dans un pincement.
Moins: serait encore plus grand si vous pouvez modifier le modèle de pick-up. (Bien que pour 50 $ de plus la MTR231 vous donne la possibilité).
Web: