Wizdom Music, the app developer founded by Jordan Rudess which released the highly successful MorphWiz performance synth not too long ago, has just released SampleWiz, a polyphonic multi-touch performance sampler for iPad and iPhone that lets you capture live audio on the fly and perform with it, either by playing it straight or mangling it to death with the built-in processing tools with one of three performance interfaces. And like MorphWiz, its polyphonic multi-dimensional keyboard has pitch snapping to help the player stay in tune, while allowing for expressive vibrato and dynamics techniques in the X and Y dimensions. At $9.99, is it worth investigating? Let's take a look.

First Impressions
After an amusing audio-visual splash screen, you'll see the default sound, Hendrix Wiz (shown here at somewhat reduced size):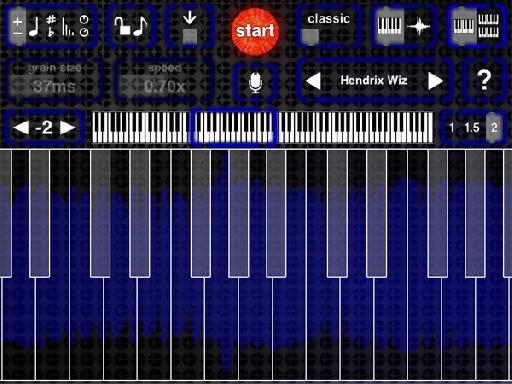 You'll want to check this one out, and you'll definitely want to listen to it with decent headphone or beefy speakers - it's a killer sound:
You can attack and slide the sound around in some impressive ways here, as well as quickly jump octaves - be sure to hold the note long enough for it to develop, and slide vertically along the key to change it further.
The Waveform window, which you can get to by tapping the waveform icon in the upper left of the main screen, next to the keyboard icon, lets you edit the sample directly: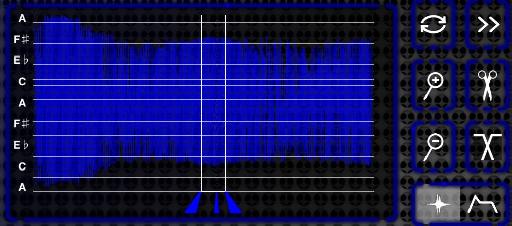 You can still play the sound in this window by dragging horizontally and vertically in the waveform, but you can also radically alter your basic sound by dragging the sample handles in from the edges to create short loops, as shown above, for aggressive glitchy digital sounds (warning - this one is noisy):
Recording Your Own Samples
You can record your own samples from the mic or the line input just by tapping the Start button at the top of the screen - record few seconds (up to 10) of your singing voice or some other sound, then click Stop. The recorded sample will replace the current sample (you can save a modified preset under your own name so you don't overwrite any of the 40 factory presets, of course), and you can immediately play it (here's a sample I recorded of a single vibes stroke):
And, even cooler, you can click the Mic button under the Start button to put the sampler into Resample mode:

Now you can record what you're playing, as I did here, and play that as an all new sample, ad infinitum. These two examples use the same resampled vibes loop, played a fifth apart and an octave apart - it's easy to get radical changes in your basic sound with simple transformations.
And you have three different synthesis modes to work with, the ability to email presets directly to others (in fact, there's already a free third-party sample library, some lovely flutes and whistles, available here: http://musicapps.com.br), the ability to play in specific scales and modes, so you can't play a wrong note....
Conclusion
I think SampleWiz is a lot of fun, and an excellent performance synth as well - I plan to use it in some upcoming performances. Moreover, I think SampleWiz, with its great expressivity and interactivity (and despite its somewhat unfortunate name), is an important step on the road to truly expressive multi-touch instruments.
[Find an exclusive interview here on The MPV Hub with the creator of SampleWiz and key member of Dream Theater, Jordan Rudess. -Ed]
You can check out Jordan giving an overview of SampleWiz below:
Here's RnL & Jordan Rudess performing "Avenger " - watch out for Jordan playing with SampleWiz throughout the video!