iOS devices are getting more and more powerful by the day. With each hardware and software update, keyboardists everywhere remain poised to seize the day where our iOS devices can become full-fledged sound modules in a professional and convenient workflow. Many apps bring us close to the standard laptop/keyboard controller/MainStage-type host setup that is popular on endless amounts of tours these days; but most iOS music apps are laser-like in their focus. They can emulate a certain instrument or sample set well, but IK Multimedia is the first of the larger desktop samplers to successfully port over their engine and samples to iOS in a way that is comparable to their desktop offering. I've had a chance to check out the latest iteration in SampleTank 2 for iOS, and the future for iOS samplers is bright, indeed!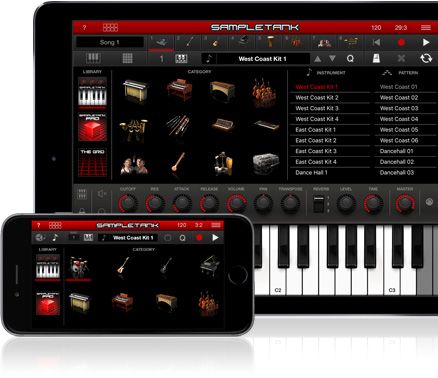 What's in the App
Sampletank 2 for iOS is a big upgrade, sound-wise, from the previous version. The sound engine is ported directly from the desktop version of SampleTank 3. The sound quality is noticeably higher resolution than the previous version, and the preset offerings are far more diverse.
Sounds can be 8-part multi-timbral, and can include the grooves and 'construction kits' from the desktop app. This is great news for folks who like to utilize 'Live Mode' from the desktop version—it's included in the iOS app and works flawlessly. Between the two main environments, song mode and live mode, you can really compose and perform live in front of an audience and make some pretty complex and involved grooves! You can do this in a pretty natural way with note triggers on a MIDI controller and touch pads on the screen of the iOS device. The combination of MIDI and touch workflow works really well, and it allows you to trigger the grooves in a very natural way.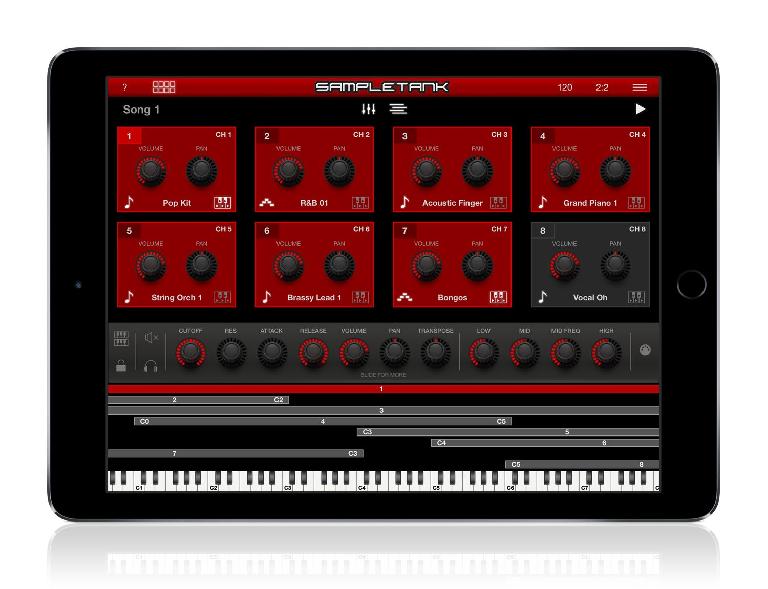 Control Freak
Using the touch screen keyboard is fun for setting up sounds and tweaking, but it's when you pair up SampleTank with a MIDI controller that things really start to come alive. There's an ultra-low latency mode that allows for a wonderfully desktop-class response from when you press a note to when you hear the sound. You can play using the Apple Camera USB kit and any class-compliant MIDI controller, or you can pair up a Bluetooth MIDI controller (although you'll need to use another app to make the initial pairing, SampleTank does not handle this in-app).
Deck it Out
One of the best features of SampleTank is that it just comes with so… many… sounds. It's a great 'scattershot' sampler engine that comes with an incredibly diverse library of sounds from every instrument category you might need. As if that weren't enough, SampleTank can be expanded with sound sets like Miroslav Philharmonik, SonikSynth, SampleMoog, and more. Be warned, once you start integrating SampleTank into your workflow, it's maddeningly addictive and you'll want to check out all the rest of the sounds. I picked up the Miroslav expansion immediately and haven't looked back!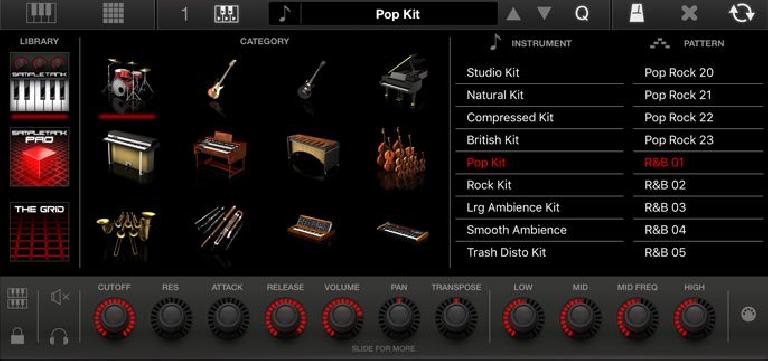 The Verdict
There's quite a lot to love about SampleTank 2 for iOS. The new layout is much more conducive to a live workflow, the sounds are far more expressive and high-quality, and the selection of instruments is really fantastic. There are a couple of quirks—if you sustain certain sounds while switching from one to the next you can get a stuck MIDI note on occasion, and Bluetooth MIDI still has to be configured outside of the app.
Utilizing an iOS device as your primary sound source just became a more realistic option for keyboardists everywhere. Pair it up with a MIDI controller and you can't go wrong here.
Price: $19.99
Pros: Upgraded sound set, tweaked UI and layout, integrated grooves and 'live mode', 8 part multi-timbral, screen controls assignable to MIDI, lots of expansion available.
Cons: Some stuck MIDI notes when switching between parts and holding down notes from a previous patch, no in-app Bluetooth MIDI configuration (both easily fixable with software updates, and I'm sure they're on the way)
Web: http://www.ikmultimedia.com/products/sampletankios