The good folks at Sample Logic continue to pull out every stop they can to make scoring for film, television, games, and other media as efficient and creative as possible. With the release of Trailer Xpressions 2, they may have just given everyone the tools they need to add modern cinematic components to their compositions.
In The Box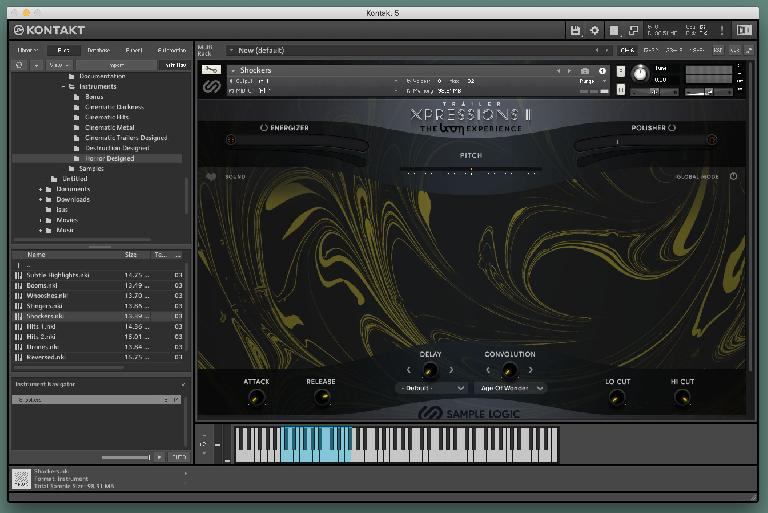 With Trailer Xpressions 2, Sample Logic has done something really interesting. First of all, they've given you a collection of ready-to-go cinematic elements like whooshes, rises, falls, hits and impacts. I'm talking completely designed bits of sonic drama that bring action and impact to a composition.
The second part of TX2 is what really gets me excited though. In addition to the finished product, there is a simply HUGE library of individual sonic elements that you can use to create your own stingers and impacts. That's right, there are individual elements that make up the soundscapes all available individually. You can punch one single sample up in Kontakt and you've already got it mapped across the keyboard. Punch up a few, and you're designing your own soundscapes of excitement.
We've seen rise and impact libraries for Kontakt, and we've seen prefabbed cinematic atmospheres, but it's very rare that we get both in the same library, with all the tools you need to assemble them together.
Start The Engine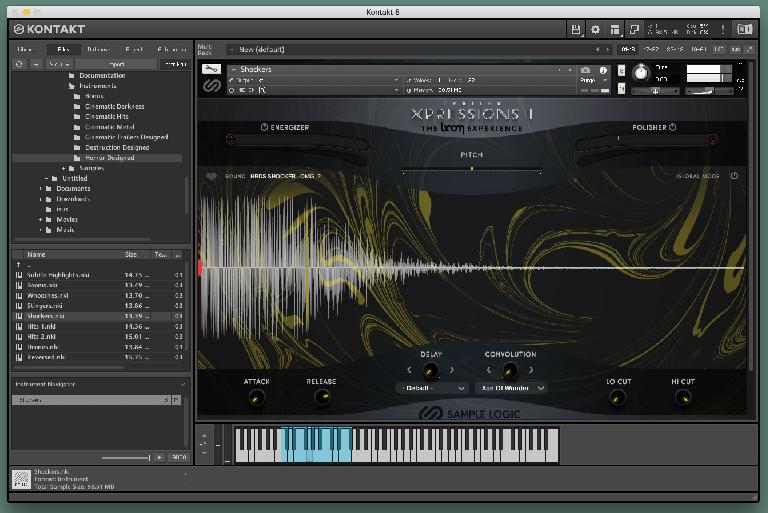 The engine that powers all of this sonic madness is well polished. There's a live visual representation of the soundscape, along with an instant rolling start point that allows you to decide exactly where you want the beginning of the sound to be. This is a significant step better than many other cinematic libraries that have you working in beats or with a time knob. The ability to see the waveform and simply drag the start point is tremendously convenient.
We've also got access to an 'energizer' and a 'polisher'. Both of these are simple 'one knob' mastering type controls that will excite, limit, and/or apply some sonic secret sauce to your sound to give it that finished product quality. I found them to work as advertised, but to be honest - the sounds are fairly well polished as they are. They all sound quite exciting!
You can tweak the attack and release of any sound, as well as add delay and convolution reverb. Finally there's a hi cut and low cut filter thrown in at the end of the chain for good measure.
I haven't even gotten to the kicker yet - each of these additions to the sound (energizer, delay, reverb, etc…) are all available on a PER SAMPLE basis and TX2 automatically remembers the changes you made to any key. That means if you add delay to one of the impacts, it doesn't necessarily mean you have to add delay to ALL of them. Hallelujah, I hope other companies stand up and take notice of this. Of course, there is a 'global' button that allows you to apply these effects and changes to the entire instance.
Conclusion
If you're a cinematic sound designer and you haven't heard of Sample Logic, you've been living under a rock, I suppose. Once again, this produce delivers the excellence we've come to expect from the Sample Logic team. Trailer Xpressions 2 is a must-have for anyone that designs cinematic sounds for a living.
Price: $199.99
Pros: Simple design, per-sample effect and envelope engine, access to finished soundscapes and individual elements.
Cons: The library is 'unwrapped' for Kontakt, meaning you'll need to load it up manually.
Web: https://www.samplelogic.com/products/trailer-expressions-2-the-boom-experience