When the good folks at Sample Logic sent over a review copy of Modern Animated Percussion, I really didn't know what to think from the title. Was it going to be just a bunch of well-organized loops? Coming from the folks that brought us Cinematic Guitars and Morphestra I should have known better. Modern Animated Percussion (we'll call it MAP from now on) was completely unexpected and unique, and composer/producers everywhere are going to love this.
The Animator's Palette
MAP is anything but a collection of loops. This engine is extremely well constructed and thought out. You have 4 tracks or, 'cores', to work with. These cores contain percussion sounds that can be sequenced somewhat traditionally in steps (although the length of each step is variable, something that I'd LOVE to see come to other instruments). Each core has an FX chain that you can completely customize and make your own.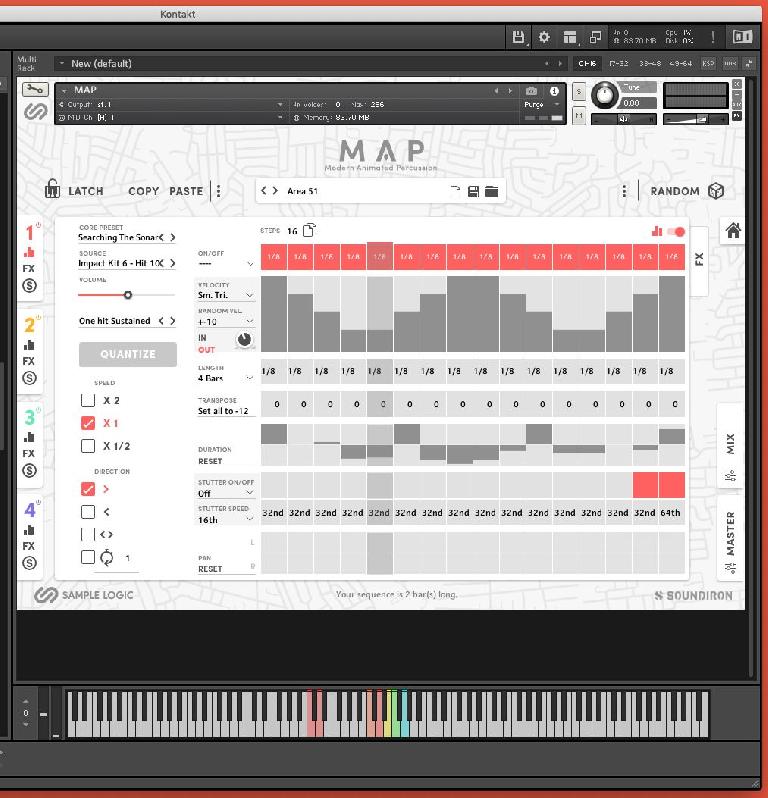 Each core's sequence contains a level of customization that is just staggering. You can adjust the note value of each individual step (which means you're not locked in at an 8th or 16th note resolution). You can adjust the velocity, direction, stutter, transposition, and just about anything you can think of on the FX side. Samples can easily be rendered completely unrecognizable with a few clicks of a mouse on the effect window.
In the end, the sounds of MAP are wonderfully cinematic, rhythmically driving, and extremely useful. I was able to utilize several presets as 'beds' for the background of some other harmonic content, and I easily found a TON more that were interesting enough to simply be used on their own as is. They've got a great trailer video (below) that can give you a good idea of the sounds and after using MAP for a few days I can certify that each different 'scene' of that video could easily be generated by a single preset. They are that involved!
Come Together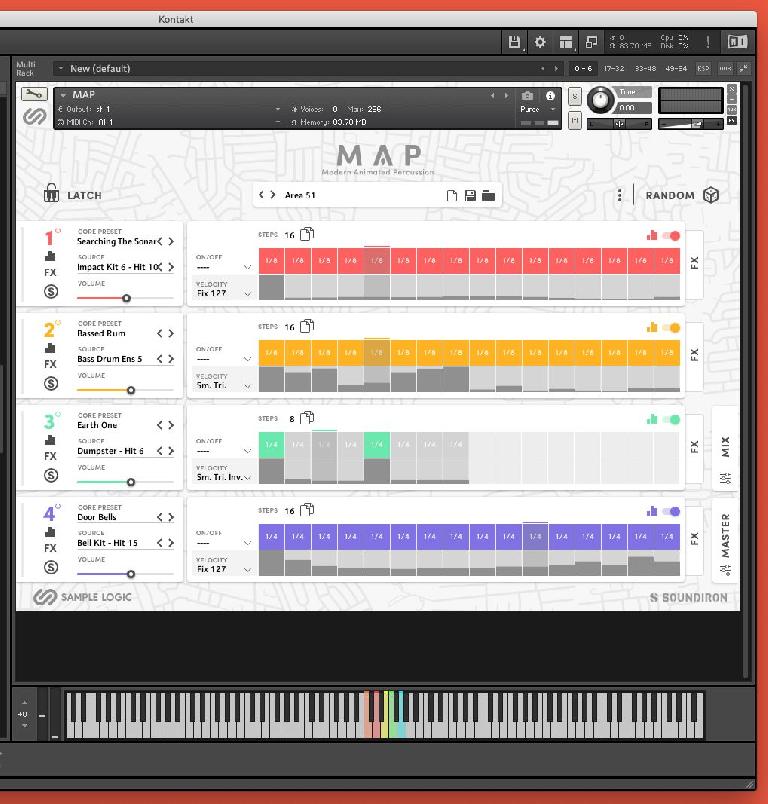 It all pulls together quite nicely on the engine side. You've got a master trigger note that plays back all 4 cores, but you've also got 4 individual notes that will trigger each core or lane by itself. This helps you to use only one bit at a time, bring in individual layers via your DAW or sequencer, or just to 'test out' the cores by themselves as you're working on them without having to solo or mute anything.
The system works in an incredibly efficient and ergonomic fashion. The 'random' function can completely randomize every parameter from sample to sequence, giving you and endless supply of presets (although they provide a ton, and they are extremely well organized with keywords and such). During the review process alone I saved 3 different presets that were randomly generated because I was just so impressed with the result.
Conclusion
If you do any kind of composition at all, you absolutely owe it to yourself to give MAP a hard look. From gaming to media, MAP can generate cues at astonishing speed. There is enough customization here to allow you to create an entire section of music on its own, or to create something that subtlety lives in the background of some other melodic/harmonic content you create. Paired up with Cinematic Guitars, this instrument is an absolute unit.
Price: $249 Intro Price / $349 regular
Pros: Clean design, *ground breaking* rhythmic sequencing concept, cinematic sounds, polished FX, innovative multi-resolution sequencer
Cons: Absolutely none. If you do anything even remotely connected to music composition and production, this is a fantastic tool to have in your toolbox.
Web: www.samplelogic.com
Learn beat-making and scoring: https://ask.audio/academy?nleloc=new-releases