Sample Logic's Impakt library for Kontakt 5 is like most of their libraries, a Jekyll and Hyde affair. On the one hand you get a very straight laced set of concert percussion, and on the other you get a mangled and twisted version of the same library which tells a completely different and darker story! I've always liked this about Sample Logic.
Impakt ships with over 850 patches and multis that are split into two distinct categories, these are Traditional and Morphed.

Traditional Instruments
'Traditional' features a full set of 'Concert' orchestral percussion recorded at the Skywalker sound stage. You'll find all the usual suspects here like bass drums, timpani, gongs and cymbals as well as a useful array of tuned instruments like crotales, marimba, vibraphone, xylophone and glockenspiel. There's also a set of 'World' percussion that includes things like triangles, blocks, tambourine, bongos etc.
All the instruments here are lovingly sampled and very playable and will work well in any orchestral-based music score. You also have all the tools to shape these sounds into new and exciting variations via the built-in features and effects.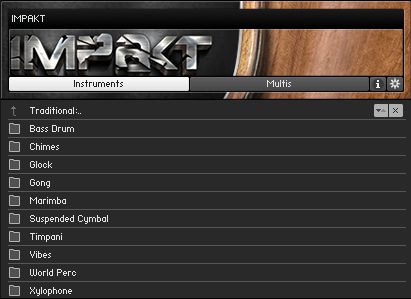 The patch interface is similar to their other libraries in the fact that there is a lot going on under the hood! Each instrument comes with a full set of effects. Like previous libraries, all of the effects parameters can be sequenced via the 'Arpeggigator' allowing for serious sound mangling fun.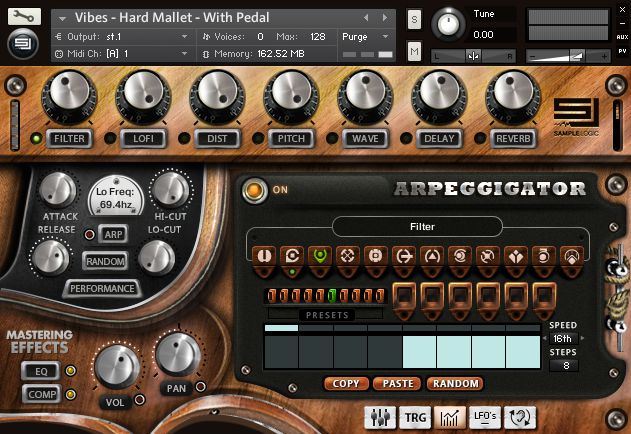 There's also a bunch of LFOs to keep you busy that are mapped to all the useful main parameters!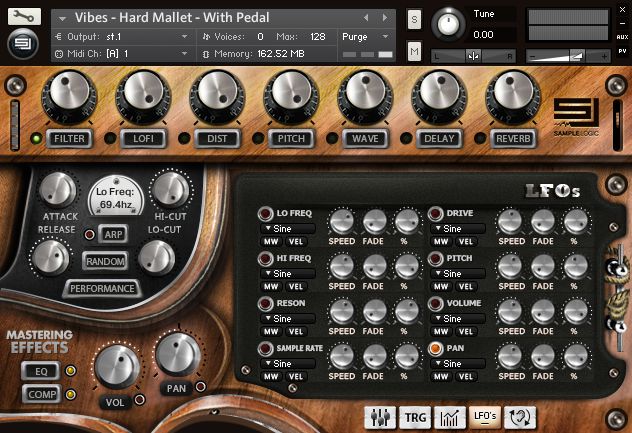 There's also a cool 3D mix page for placing your sound Front/Rear/Left/Right. This is done using a friendly grid system and very useful too.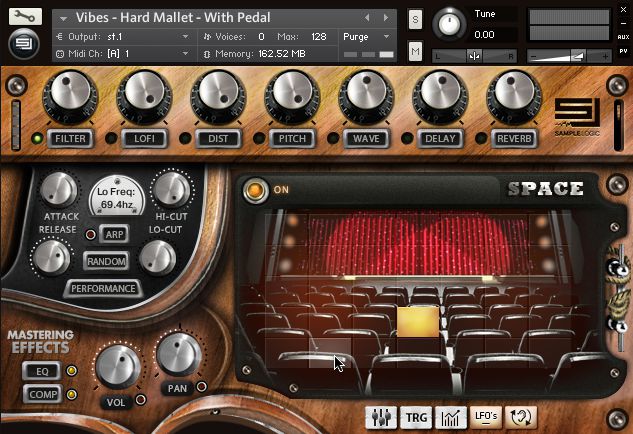 Morphed Instruments
As usual, for me this is the most fun part of the Sample Logic libraries. These patches are basically built off the raw sample data of the 'Traditional' set but mangled and re-synthesized and put into new 'electronic' based patches.
The Morphed patches cover three main categories which are Ambiences, Instruments and Percussives. Each of these categories is divided up into a wide range of sub-categories.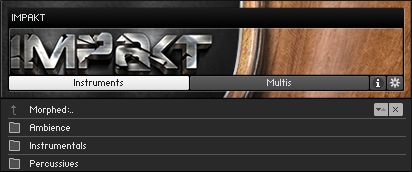 The amount of material here is fairly overwhelming and will take you a while to explore! Pads, Synths, Tempo-based loops and arpeggiators, abstract beds are just some of the stuff on offer. The sound design is imaginative and diverse.
Probably the the most popular part of this library, and for me where the 'Impakt' comes from are the percussive effects. There's a whole mess of impacts, booms, effects and smashes and sequenced loops just waiting to be found here! Great fun!
Multis
If this wasn't enough, there are a whole bunch of Multi Instrument patches for you to play with. These contain stacked rhythmic and synth patches that can produce some massive sounds!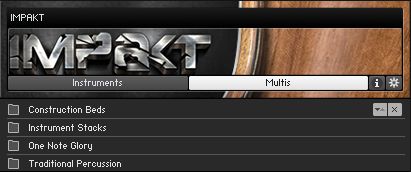 Conclusion
It's downright impossible to cover a library like this in such a short time which says a lot for the attention Sample Logic has put into this collection. The library is $399 which isn't cheap, but the amount of quality content and expandability of the sounds makes it great value.
If you're looking for a diverse mixture of traditional percussion and hard hitting electronic sounds look no further!
Pros:
Great sound quality and very playable sounds. Sonically diverse and tweak able, this library will fit into any traditional or electronic genres. Great for hybrid scores!
Cons:
Interface can be a bit intimidating for the novice. There's just too much of it to explore!!