When I received a copy of Sample Logics Fanfare for review I wasn't expecting it to be so huge! With over 800 presets wrapped up in a 20 GB download, Fanfare really gives you some bang for your buck. This is not your average Brass library; it's immense!! Built for either Kontakt or Kontakt Player Sample Logic (in conjunction with System Blue), it gives you a really flexible brass library with a twist thanks to some nifty Kontakt scripting and lots of imagination.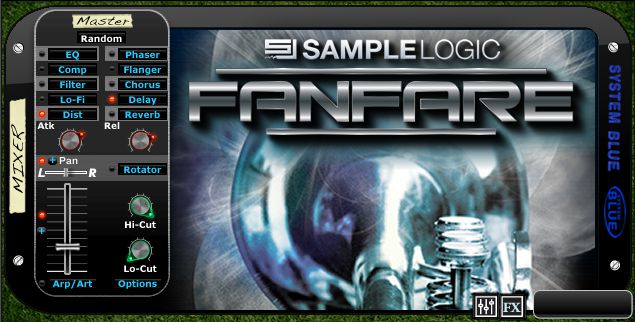 Installing
Fanfare comes with its own downloading software built into the installer. I've got to say it was pretty fast with an average download speed of about 2-3 Mbps. Of course this may vary with your connection speed. You'll need your serial to activate the download. Once you've done this just choose a destination drive for the zips and the installer will do the rest. Make sure you back up your download to a drive after.
Traditional Sounds
Fanfare is a collection of sample recordings of the DCI World Champion Blue Devils marching brass band. Captured at both The Scoring Stage at Skywalker Sound and on the field at Ralph Wilson Stadium (yes, that's in a stadium!) the library aims to capture the full might of an 85-piece brass band, and does it pretty darn well!!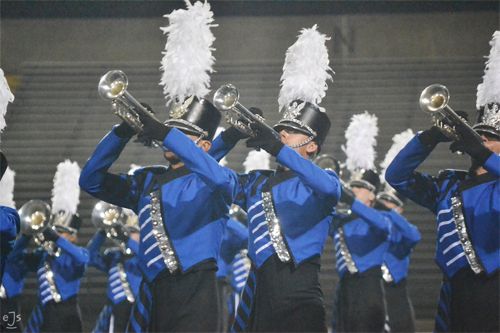 Blue Devils Brass Band (credit: Erik Skinner)
If you're expecting traditional pop/jazz brass then you might be disappointed. If, however, you're looking for huge powerful scoring brass sounds then you'll love it!
The traditional samples are split into three sections.
Individual: Solo performances played on Euphonium, Mellophone, Trombone, Trumpet and Tuba. All the articulations you might expect are present like Sustain, Staccato, Falls, Sforzando, Gliss, Shakes etc.
Sectional: A large array of articulations played by larger sections of Euphonium, Mellophone, Trumpet and Tuba.
Stadium: The full 85-piece band! This is where Fanfare really shines. Instead of regular articulations you're given real performances of Chords and Effects. From bizarre clusters and atonal FX to beautiful voicings that are really fun to play with. Some truly standout stuff here!
While the Individual and Sectional patches come with a 3-channel mixer for ambience the Stadium section comes with a 5-channel mixer.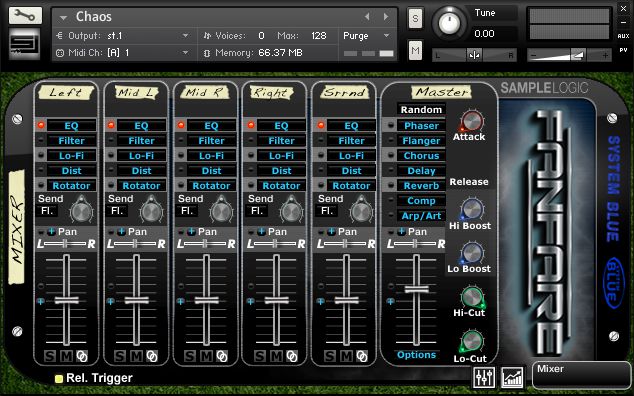 Morphed Sounds
This is where the library gets very interesting and where the programmers at Sample Logic really show what they are great at. The Morphed presets are the traditional sound set that have been mangled and sculpted with Kontakt's sampling engine and the built-in effects to give you a whole other take on the library.
The Morphed patches fall into three categories: Atmospheres, Impacts and Melodic instruments. This collection of really useable synth patches is too big to even start to describe. Needless to say it will keep you busy for a long time to come!!
Multis
As well as all of this you also get a large collection of Kontakt Multi instruments. These are stacked patches all played from the same MIDI channel. These come in four categories: Construction Beds, Instrument Stacks, One Note Glory and Traditional.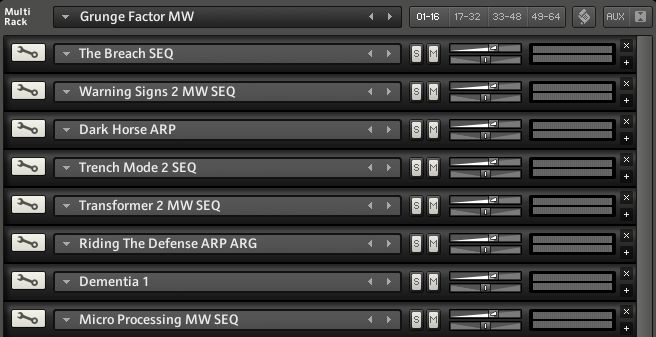 The One Note Glory multis are are the highlight and really do only require one note to make their point!
The Effects
Every patch includes a wide variety of effects courtesy of the Kontakt engine. Traditional patches have both send and insert effects while Morphed patches rely on insert-based effects.
You can automate various FX parameters on all the effects using the built in FX Sequencer to create animated patches. Very cool!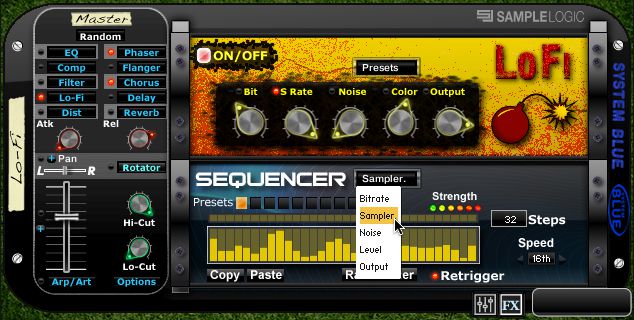 You can also use the arpeggiator to create gated FX sequences by turning any effect off and on in a rhythmic way. This adds a further dimension to Fanfares creative toolbox.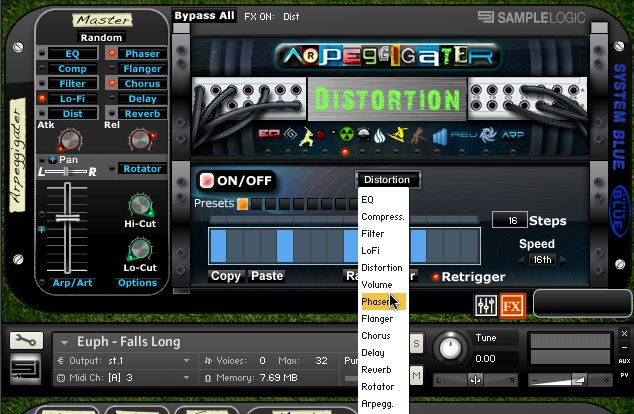 All patches also feature an Arpeggiator/Articulator. The latter lets you create rhythmic sequences based on offset velocity values.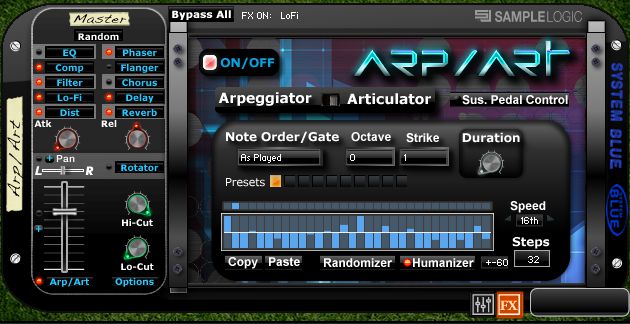 The creative applications of these effects and clever scripting are mind-boggling!!
Conclusion
I can't get over just how much fun this library is! The Traditional patches could find a home in any media score and you can easily find yourself forgetting the 'Brass Band' nature of the library.
For those who favor a more modern approach the Morphed half of the library and the flexible and fun effects will keep your creative juices flowing.
On the whole Fanfare has really blown me away. It's one of those libraries that doesn't seem to have an end to it. Highly recommended!!