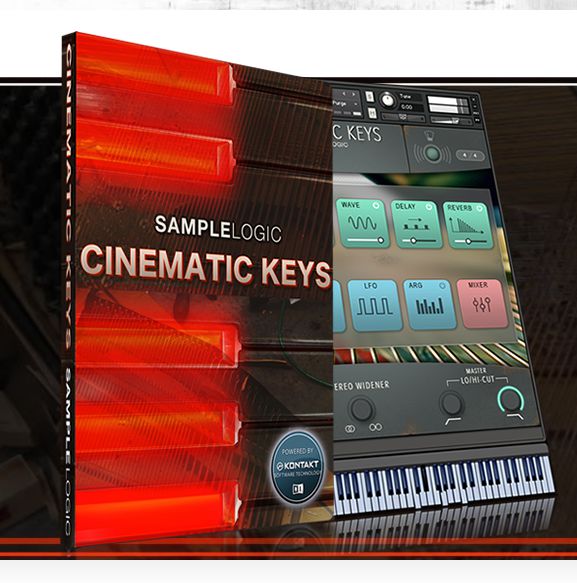 Even in the crowded virtual instrument market, Sample Logic has managed to create a stunning new instrument that pushes the boundary of what is possible in music and sound design using a multitude of keyboards. The Sample Logic team continues to build on their line of sample libraries by incorporating unique sound sculpting capabilities right inside the Kontakt player. Cinematic Keys has it all: percussive kits, acoustic and effected keyboard instruments, sequenced loops, transitional sounds like stingers, atmospheres and carefully crafted multis. There are over 850 preset patches included in Cinematic Keys. This generous amount of preloaded content will inspire both the professional and hobbyist producer to manipulate patches and presets to suit any music project. In fact, entire pieces of music can be created using just Cinematic Keys if one is so inclined. I have a music project called Hammer Inventions that is dedicated to using piano-generated sounds so this is a welcome addition to my sound palette for that project and well beyond. Let's take a look at the scope of this next Level release by Sample Logic.
An Integrated Effects Approach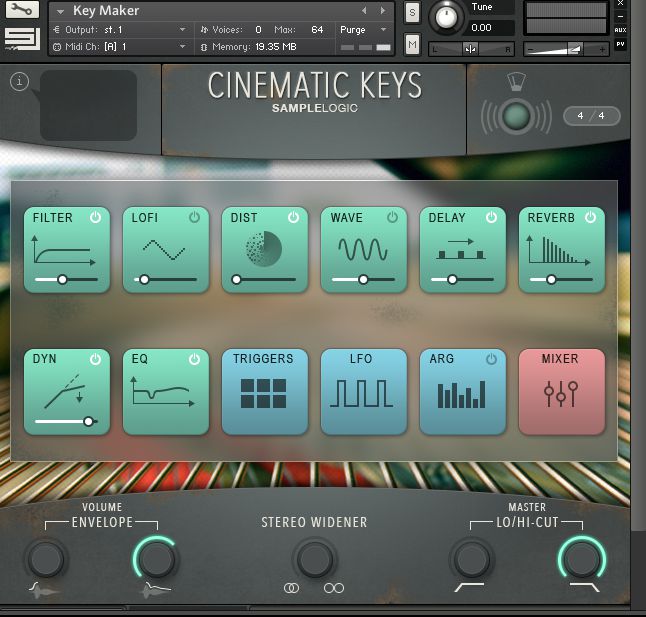 The cornerstone of Cinematic Keys is the innovative effect interface built into the Kontakt player. This is accessible for all patches in Cinematic Keys and offers quick control of a multitude of parameters including Filter, Lofi, Distortion, Wave, Delay, Reverb, Dynamics, EQ, LFO, Arpeggigator, a mixer and a trigger pad section for launching effect patch macros. There's so much sound design control within the instrument, you probably will not need to look elsewhere for extra effects.
As you see below, selecting an effects button, like Reverb, reveals the controls. In order to engage an effect, make sure the button to the right of the effect name is engaged. It will turn white when the effect is on. Sometimes, it took me two or three clicks to get the button to turn on when I was working on a running session in ProTools, but I had no issues when using the instruments as a standalone in Kontakt.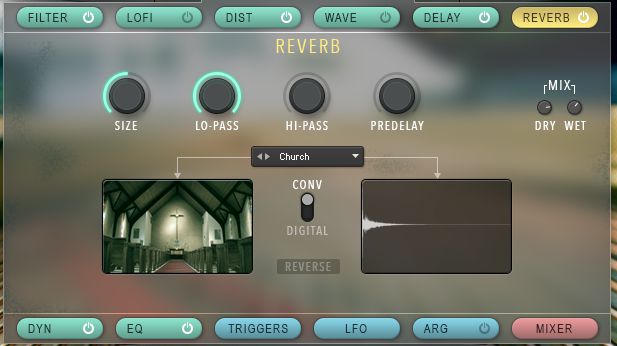 FX Animator and Arpeggigator
Most effect sections include an FX Animator for controlling parameters across quantized steps. The screenshot below shows the Hi Freq amount in the Filter section controlled by the effect step sequencer. This is where the sound really gets interesting. There are infinite combinations of sequences here and you can imagine what kind of glorious movement you can achieve with a patch when multiple FX Animators are running within effects. If you are overwhelmed by the choices, hit the 'Random' button for inspiration. The Arpeggigator (love the name!) offers another way to create sequenced movement in your sound and can also be synced to the Step Animator, which I cover below.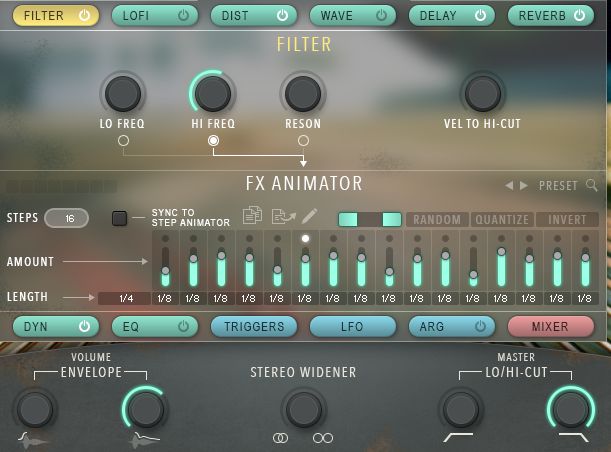 Instruments and Multis

The instrument section contains three main categories of sounds as well as a section of multi patches. I spent a lot of time going through the hundreds of patches so I could get a sense of the scope of what this instrument can do. Here's a brief overview of the categories with a few mentions:
Instrumentals
The grand and upright pianos sound great and were sampled with various dynamics. A few extended technique patches are included like ebow and pluck. I was happy to see harpsichord included with a series of wonderful patches that sound great. I haven't seen a keyboard library yet that had harpsichord in it, or an organ or Wurlitzer for that matter, which also offered as much control over sound design.
Atmospheres
Atmospheres and Stingers are included in this category. Stingers are similar to some of the transitional sounds in the percussive section and are great for emphasis either in a new section of an arrangement or in a musical buildup. The Atmosphere patches border on synth like creations, although in some of them you can hear the original keyboard samples shining through. There's a lot to explore here.
Percussives
The Percussives section has a multitude of usable material for different musical contexts. The transitions and impacts are some of my favorite categories since I'm always looking for interesting sounds for transitional moments between sections and strong downbeat material. There is so much here for sound designers to play with. The kits feature various collections of impacts, scraps and taps from mangled piano sampling sessions.
Multis
Admittedly, I am into sculpting my own sounds from the more acoustic elements and therefore, spent more time in the Instrument section than exploring Multis. I did find the 'One Note Glory' patches fun to listening to. The instrument stacks are well constructed. I could see using a few of the multis for performance or composition and mapping samples around for maximum use of my keyboard. I found the stacked organ, piano and harpsichord multis especially appealing.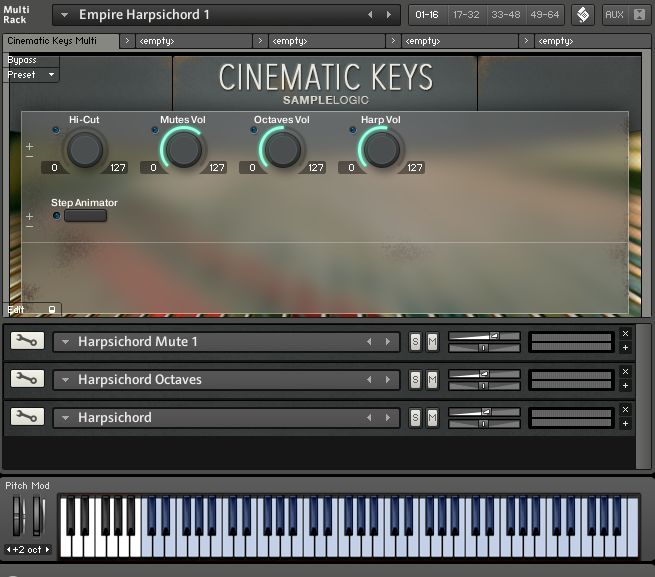 The Step Animator
The Sample Logic design team has generously incorporated the Step Animator into Cinematic Keys. They first released it as part of their Arpology instrument. In essence, the Step Animator is a step-sequencer and arpeggiator fused into one. In addition to the FX sequencers and arpeggigator in the effects section, you can create even more complex melodic and rhythmic patterns with a variety of articulations, including stutter and glide, on a step-by-step basis. There are a number of great presets to get you started in four catagories: Chordal, Glitch, Melodic and Non-Chordal. This is the place to start swapping patches in and out over one sound to hear the results before choosing a patch you would like to edit.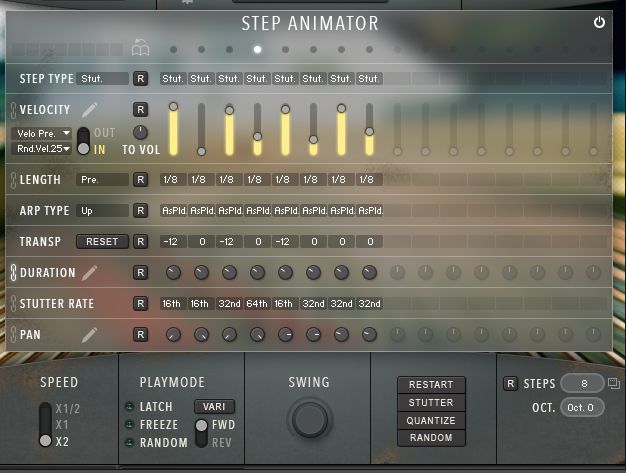 As you can imagine, the sound field can fill up quickly with so much movement going on. Here are a few ways to help create a little more space and musical consistency using the Step Animator:
Choose one Step Type and experiment with Velocity before changing individual Step types.

Lower the Duration of some or all steps to create more space.

Make use of the Pan setting for each step to widen the stereo field and also to create room for more sounds.

A Test Run
In order to explore Cinematic Keys' well-rounded capabilities, I decided to make a track with a bunch of my favorite sounds. I loved the ghostly sounding grand ebow patch for my harmonic bed and also used a groove I liked from the Percussive loop folder. The grand pick patch, which is a wonderful plucked piano, made a beautiful melodic instrument that rivals some of the other plucked pianos I have in my library. I used an effected piano patch called 'upright grandioise' for my bass line. The sound reminded me of the low-end strength of NI's Giant, especially when run through effects. I experimented a bit with the Step Animator, using it for the melody and bass line to add stutters, note unpredictability and more experimental sounding atmosphere to the music bed. It took me a little bit to find a patch and tweak it to make it sound integrated with my track, but that's part of the challenge with the Step Animator. I used another effected Wurlitzer-based patch call 'doogie's dugout' that worked well with the other layers. Listen to the demo below:
A Studio Must Have?
Cinematic Keys offers the chance to take piano and other keyboard sounds further into the sound design spectrum than any other instrument before it. Even though I would still use SonicCouture's Xtended Piano Library (still love the Bowed Piano!) and NI Giant for its unique timbres and multi-sampled sound quality, the addition of Cinematic Keys to my line-up fills in the rest of what I am looking for in regards to keyboard-based sound sculpting. Cinematic Keys can fill in the gap in any musical context whether it be multimedia scoring, sound design, EDM or pop music and everywhere in between. It's well worth the price point based on the sheer amount of instruments and sounds sampled as well as the power you have to sculpt those instruments with built-in innovative effects and sequencing controls.
Price: $349.99
Pros: Superb Sound Quality and Tons of Keyboard based content for any musical application; Excellent Sound Design Tool
Cons: Does not replace other keyboard libraries with more detailed multi-sampling, especially in terms of velocity