Audio Units plug-ins for iOS are starting to appear. And, one particular plug-in has had my attention for the last couple of weeks. Ruismaker is a really cool audio units plug-in that just happens to also be a hardware drum machine as well, known as the Annabella. And, while I didn't get a chance to compare the hardware and the plug-in version, I can tell you that the software sounds way more like hardware than you might think!
Slipping Things On
I will say that I felt a little silly at first. Once I installed Ruismaker on my iPad, I immediately clicked on the Ruismaker App icon, only to be greeted with a big, graphical page, explaining the functions of the plug-in. But, no drum machine! Once I realized my error, I quickly jumped over in to GarageBand where I was able to bring Ruismaker up as an Audio Units plug-in.

At first, the key mapping took a little getting used to. All of the drums are mapped to the black keys on the keyboard, very different from the General MIDI-esque mappings that I have been using for years. However, after a few minutes of getting used to the default mapping, I decided I really liked it. Though, if the mapping does not work for you, you'll be happy to note that the colorful buttons that adorn the middle of Ruismaker also act as drum pads, and are capable of being played in real time to record a part if you like playing with your fingers on a touch screen. And, that there actually is a General MIDI mapping available with the flip of a switch, in the Ruismaker Settings. Color me impressed.
Interface and Sound
Before I go any further, I need to mention that none of the drums that are produced by Ruismaker are coming from samples. Each drum is synthesized in real time. And, in addition, Ruismaker gives you an insane amount of control in sculpting the characteristics of all the drums available. Simply pressing one of the colored drum triggers within Ruismaker's interface triggers, and selects 1 of the 8 different drums. Once selected, the knobs at the top move to show the current settings for the drum in question.
Quick access to essential parameters like drive, pan, level and tune are there, of course. But, there are some other parameters that need mention. The personality knob works differently, depending on which drum is selected. It essentially adjusts several other parameters for you in the background, essentially giving you even more drums, inside of one drum. Delay send, of course, sends signal to the shared delay unit between the drums. Randomize threw me for a loop, at first. And, not in a good way. I was hoping that it would randomize only the drum in question. Actually, it randomizes instruments on all of the channels, within Ruismaker. I would have been okay with it, had I known. But, I really liked that snare! Why?!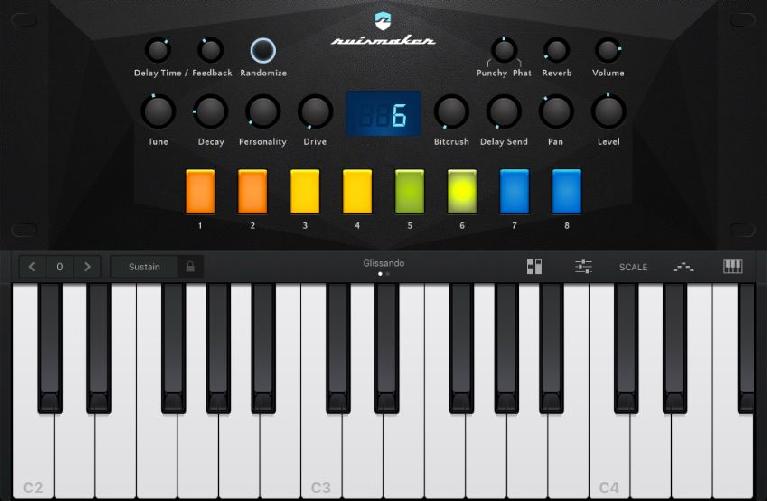 Outside of the plethora of ways in which you can edit each drum, within each kit. Ruismaker does what it claims. It's kind of like every classic drum machine you've ever loved, right there, at your finger tips. It sounds familiar and sits just like you expect. Only, the interface of the drum machine is covered. You know it sounds right. You just aren't sure which one it is.
Conclusion
I love Ruismaker. It did more than help me create some cool loops, it also actually really made me want to start working on my iPad more, sequencing, instead of my computer. That's never happened to me. I mean, I love using my iPad as a sound module, with different apps, and DJing sometimes. Ruismaker is extremely similar to one of my all time favorite plugs, Microtonic, from Sonic Charge. Knowing there is a device that holds up to Microtonic in my mobile DAW really has me thinking of moving all the way over... Once I find a mobile DAW that is a little 'me' than GarageBand. C'mon Ableton, give us a mobile DAW, will you?
Pros: A seriously awesome audio unit plug for iOS that sounds just like your favorite old drum machine, synthesized in real time, no samples. Tweak away. Award worthy.
Cons: Do not push randomize, if you have other drums that you are using in your current drum sequence.
Price: $5