Review: ROLI Lightpad Block M
ROLI's ecosystem keeps growing with an upgraded Lightpad Block - the M. Hollin Jones found out what sets it apart from its predecessor, and from pretty much every other MIDI controller...
ROLI continues to expand its ecosystem of hardware with an updated and enhanced version of the Lightpad Block, the centrepiece of the Blocks system. You can read our review of the original model here. Although the M looks similar, it's had a series of upgrades that make it even more responsive than it was before. Let's start with a recap of what this system does.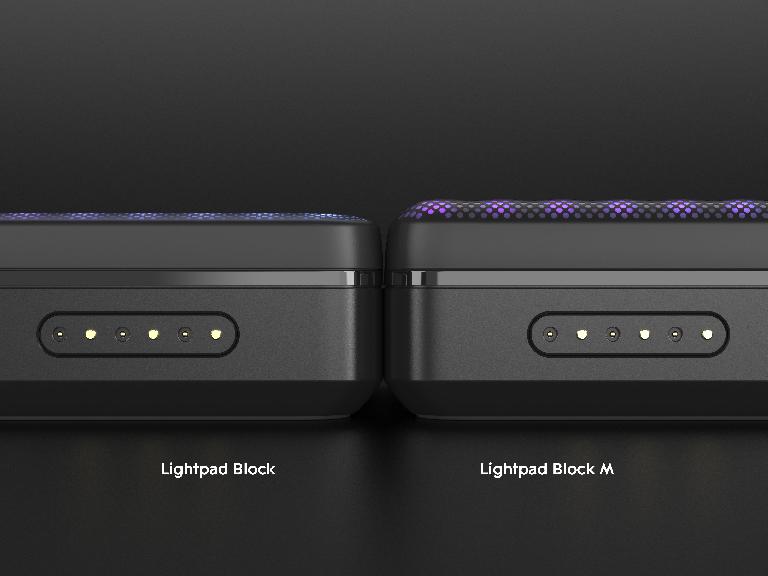 The Lightpad Block M is a tactile, touch sensitive unit that fits in the palm of your hand and communicates wirelessly over Bluetooth with your smartphone, iPad or computer. It needs an iPhone 6 or later, iPad Air or a Google Pixel phone - ROLI being one of the few heavyweight audio developers that's actively supporting Android in any form. Charging over USB-C, it has a battery life of 4 hours and also has 8 DNA connectors - the magnetic ports along its side edges that let you connect and power other members of the Blocks family like the Loop, Live or other Lightpad units.
More keywaves
The M has a redesigned touch surface, with 225 microkeywaves and a deeper, softer rubber playing surface. Not that the previous model lacked responsiveness, but the M is especially reactive to touch making it exceptionally precise to play. You trigger sounds and expression by pressing, swiping and moving your finger around the surface. The lights are now 50% brighter than before, meaning better visual feedback.
The unit connects to the NOISE app - now at version 3 - on your mobile device, which is where you load and set up your sounds and sessions. It has a bunch of cool sounds and instruments, and more are being added via in-app sound packs all the time. Many of these are designed by big name artists like Grimes, RZA and Steve Aoki.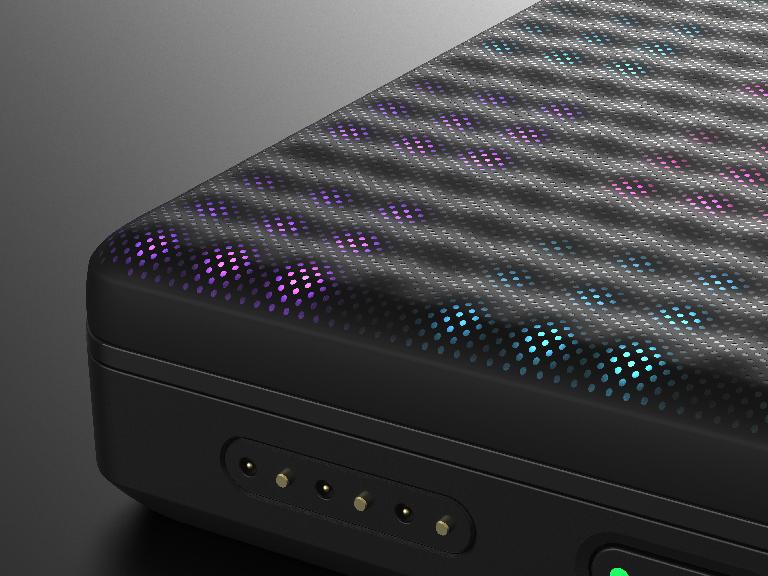 5D Touch
The M uses ROLI's 5D Touch system that transmits much more data than regular MIDI is able to manage, and the NOISE app is of course designed to be able to read this, making for a hugely immersive performance experience. It also comes bundled with other software, some of which is also able to interpret this data and its unique touch types: strike, glide, slide, press and lift, going far beyond regular MIDI CCs. In terms of software you get the Equator Player, Live Lite, Strobe 2 Player, Tracktion Waveform, a 3 month license for Max MSP and BLOCKS Dashboard. The system is also certified to work with SWAM, Logic Pro, Bitwig Studio, Kontakt and more, so you can use it as a regular MIDI input device, albeit one with more capabilities than any you likely already own.
Conclusion
The Lightpad Block M is a supremely powerful and arguably unique way to perform with your hands. The ability to snap units together organically means the system is particularly easy to expand and customise, and the communication between hardware and software is seamless. The playing style isn't like anything you've tried before so there is initially a learning curve, but it's not too steep. It's debatable whether owners of the original Lightpad Block should upgrade - it's more expressive yes, but it's new users who will benefit the most from the new features. Given the popularity of ROLI's gear however, there are likely to be plenty of those.
Price: £189.95
Pros: Even more expressive than before. Brighter lights with more contrast. Great software bundle. 5D Touch system is unique. Expandable software and hardware ecosystem. Works with all recent iPhones, iPads, Macs and PCs as well as Google Pixel.
Cons: Owners of the original may not feel the need to upgrade - yet.