The Roland SH-01A is the next addition to the Boutique line of products. Like most of the other Boutique products this one too uses Roland's Analog Circuit Behavior (ACB) technology. In other words it is a digital synth, but Roland's modeling technology does an excellent job of representing the original SH-101 in this new digital form factor.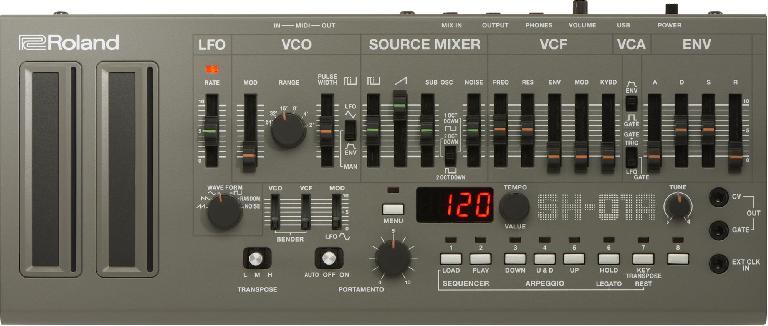 Check out the video for a detailed overview of most of the features and functionality:
If you are familiar with the Boutique line, the SH-01A is not too different from the others. You get 4 voice polyphony, 1/8th inch ins and outs. The inputs can only be used to mix in another signal, it can't be routed through the filter. It is battery powered but can also be USB powered. One excellent feature is that you can get the direct digital signal into a DAW so there's no need to hunt for 1/8" to 1/4" adapters. You get 5 pin din MIDI in and out. One surprise factor is the inclusion of analog CV & Gate outputs. The TB-03 is the only other Boutique synth that has such ports. It comes in 3 colors (grey, red and blue) just like the original.

If there is one drawback to this synth is there is no effects section. All the other synths in the Boutique line have an effects section but the SH-01A doesn't.
Check out the video review above for a detailed, in-depth look at this synth.
Price: $349.99 USD
Pros: Sounds Fantastic.
Cons: No Effects section.