With the Roland Cloud 4.0 update you now get two classic synths, the Juno 106 & Jupiter 8 VST/AU plug-ins as part of their Legendary Series plug-ins. If there were two synths from the Roland catalog that needed to be emulated in the software world, it would have been these two. There's no shortage of software emulations of the Juno as well as the Jupiter series synths but it does feel a bit more appealing when the emulation comes from the same company that developed the original hardware versions.
System 8
If you are an owner of the System 8 AIRA series hardware synth, you may be familiar with the Juno 106 & Jupiter 8 emulations as both of these are included as plugouts on the System 8. It might not make sense to invest in these plug-in versions if you already own the System 8, unless you specifically need to have these synths as virtual instruments inside a DAW environment.
The Sound
There is no doubt that these plug-ins sound fantastic, if analog emulation is your thing. Even if you have never used the originals, you will notice the analog character these have. In fact, you get a condition/aging dial on each synth respectively. This can be used to make the synth more or less analog, which translates to more or less instability in parameter values as well as overall tonal variation. All this is achieved at a cost, which is higher CPU usage. In the video demo, you will notice the spike in CPU usage with just one instance of the plug-in. So don't expect this to work well on an older machine. I noticed crackles and pops even on my 2015 machine. The workaround for this is to render the synth to audio, which will ease the load on the CPU.
Effects Section

It's nice to see substantial audio effects included on both the synths. Of course the famous Juno 106 chorus is included. You can even hear the chorus noise when the synth is idling. You get 3 effects slots with chorus, delay, flanger, distortion and a variety of reverbs. So it's identical to what you get on the System 8 hardware.
Graphical User Interface
This is one area where I feel the plug-ins are really lacking. Yes they do look like their hardware counterparts but that does not always translate to an ergonomic user experience. There is an option to make the interface larger, but even with that you will notice the horrible pixelation of the dials and labelling. This can be very obvious on a Retina Display or a 4K monitor. A plug-in released in 2017 should not have such a low resolution GUI (This is something Roland has said they will address in future updates).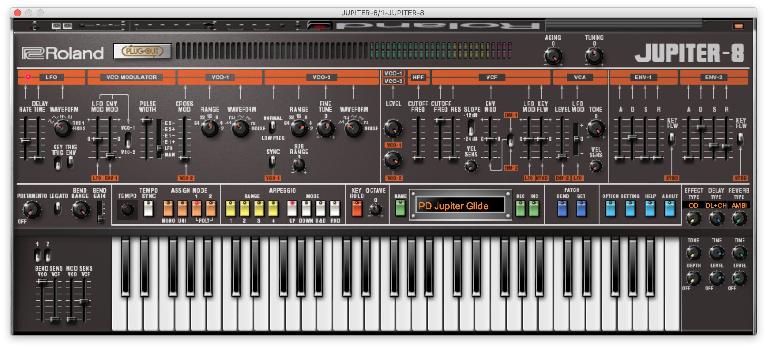 Another deal breaker is how the dials respond to mouse interaction. You need to click and drag in a circular fashion to work the controls which is probably the most unintuitive way to work with an on-screen dial. I have never encountered this kind of a workflow on any software. There is also no option to change the dial response to the regular, click and drag up or down mode. This has also been my gripe for Roland's previous Plugout synths. Luckily both the Juno 106 & Jupiter 8 have a lot of vertical sliders for their main parameters so you don't have to click and drag in a circular fashion on those controls. Alternatively, mapping parameters to a MIDI controller will make it easier to control them.
Subscription Model
There are not many who appreciate this monthly subscription model, but Roland is not the only company taking this route. If you do use most of their plug-ins, the subscription model might work out to be a cheaper solution than outright buying them. You can choose to buy and own most of the older plug-ins from the Legendary Series, but not the new Juno 106 & Jupiter 8 ones. So the only way to get these two is by joining the subscription model.
One encouraging sign is that Roland is constantly updating their cloud catalog and there is already a Roland Cloud 4.1 update that includes the new Sound Canvas VA synth, adding to the existing 6 synths in the Legendary Series. There's also a new audio processing plugin called R-Mix, which as of right now is Windows/PC only. Adding to these there's also the Aira Series System 8 & System 1 synths, the Tera, Anthology & Flavr series plugins that have even more instruments, albeit all sample-based. So considering all these options the Roland Cloud subscription model does seem enticing, especially if you find yourself using a lot of these products.
Price: $19.95/month early access beta
Pros: Good collection of plug-ins. The Juno 106 & Jupiter 8 sound fantastic
Cons: Plug-ins are very CPU intensive. GUI is pixelated, controls don't work well with mouse interaction. Internet connection needed to load plug-ins.