If you haven't at least heard of Rob Papen's plug-ins by now, you certainly should have. Renowned for top-notch sound quality emanating from attractive user interfaces, his Predator synth plug-in and offshoot dedicated bass synth, SubBoomBass, have become nearly ubiquitous in dance music studios around the world these past few years. Meanwhile, his recent forays into effects plug-ins have been a massive success with RP-Verb and RP-Delay, and his latest release is a revamped version of his classic 2005 synth plug-in: Blue.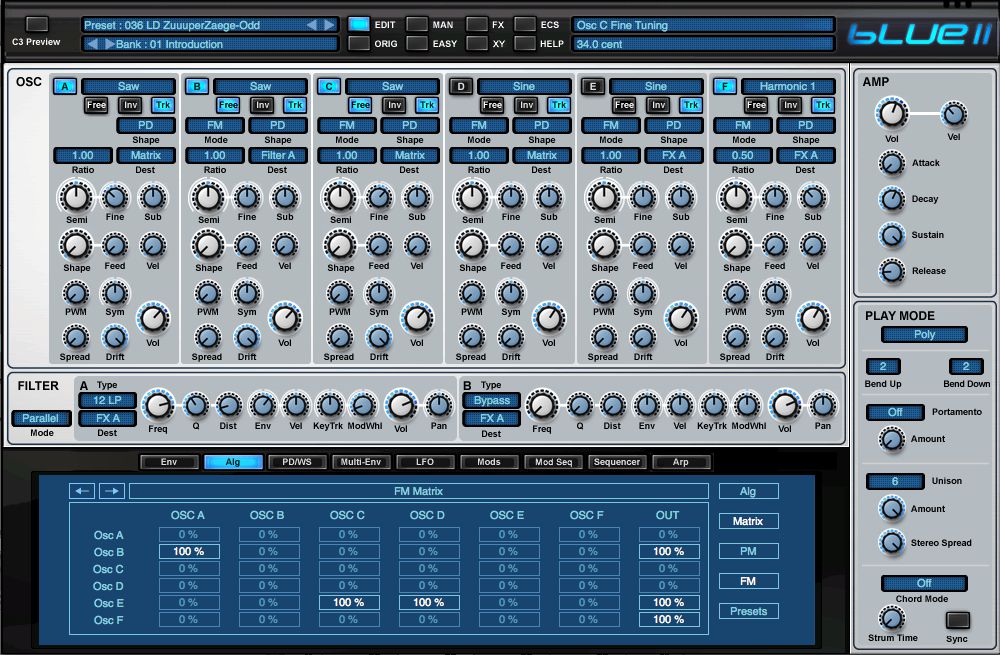 Blue 2's main editing area.
Blue My Mind
The original version of Blue was an FM and subtractive synthesis combo powerhouse, earning its place as a go-to device in studios everywhere. With 1.5, it was upgraded with Phase Distortion and Wave Shaping synthesis options, and dubbed as a "Crossfusion" synth.
Blue 2 now comes with six oscillators, all of which are able to modulate each others' frequencies, a pair of analog-modelled filters with 27 filter types a piece, four routable effects banks each with 35 effect types, and over a hundred analog, additive, spectral and sampled waveforms to get started with for your oscillators.
Factor separate envelopes for each oscillator, a full FM matrix, four assignable modulation envelopes, 14 sync-able LFOs with humanization control, an extensive modulation routing matrix, dedicated modulation sequencer, along with a powerful step sequencer and arpeggiator, and it really is hard to imagine what else they could have possibly squeezed in.
At first that might sound overwhelming, but it's all stitched together with an interface that's a joy to navigate and surprisingly easy to use for anyone that knows what to look for.
A Million Shades of Blue
A quick tour of the impressive array of presets on hand reveals a stunning range of rich sounds, from fat analog synths with hefty bottom end, to sharp angular leads, sparkling chimes, chasmic percussion, and expansive pads with sprawling movement.
They're all conveniently accessible from the main screen's browser menu or the dedicated file management area of the interface, and provide the entry level user with a great sense of what's possible, as well as excellent starting points for tinkering—or in many cases, production-ready sounds that are good to go.
Smooth Operations
The core strength of Blue 2 lies in its dynamic FM routing matrix, which allows each of the six oscillators to modulate each other to whatever degree you specify; alternatively, each oscillator can be set to a ring modulation mode or simply sync to the first oscillator, Oscillator A, since they're designated by letters. In addition, the FM routing matrix comes with more than thirty default routing structures to choose from as a starting point.
Each oscillator can also be modified by a dedicated Phase Distortion or Wave Shape, easily drawn by mouse in the dedicated PD/WS section, and then selected on a per-oscillator basis via the Shape button. The degree to which the selected shape takes effect is controlled by the Shape dial. The feedback dial adds extra harmonics, to the extreme point that a sine wave could be transformed to a sawtooth shape.
Add to this a Sub option, Pulse Width modulation with Symmetry, and a dedicated Spread control with a Drift function to inject slightly irregular variations to the oscillator pitch for a more analog feel, and each single oscillator can be given a huge amount of character on its own before being modulated by or combined with any of the others.
The Blue Effect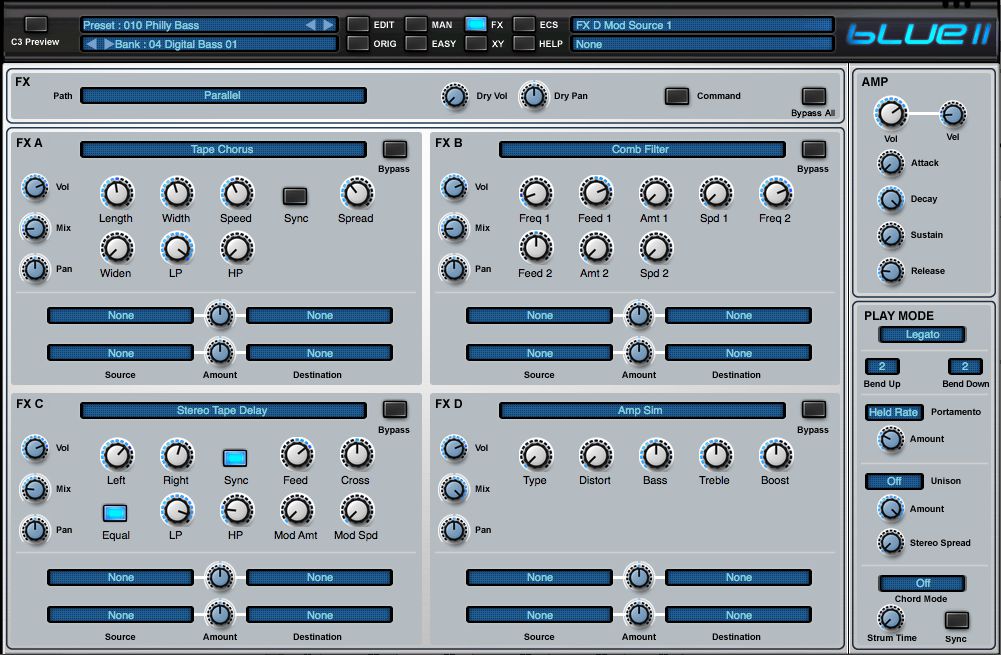 Blue 2 Effects are highly effective.
There are four effect banks, and each filter or oscillator can be routed to a specific one discretely. Hosting a wealth of delay, reverb, filter, modulation, dynamics, amp simulations, EQ, and more, it seems like there's an effect for every situation. The delays are spacious and crisp, the chorus suitably thick, while wave shaper, comb filter and ring modulator effects provide potent options to mangle your sound.
Easy As Blueberry Pie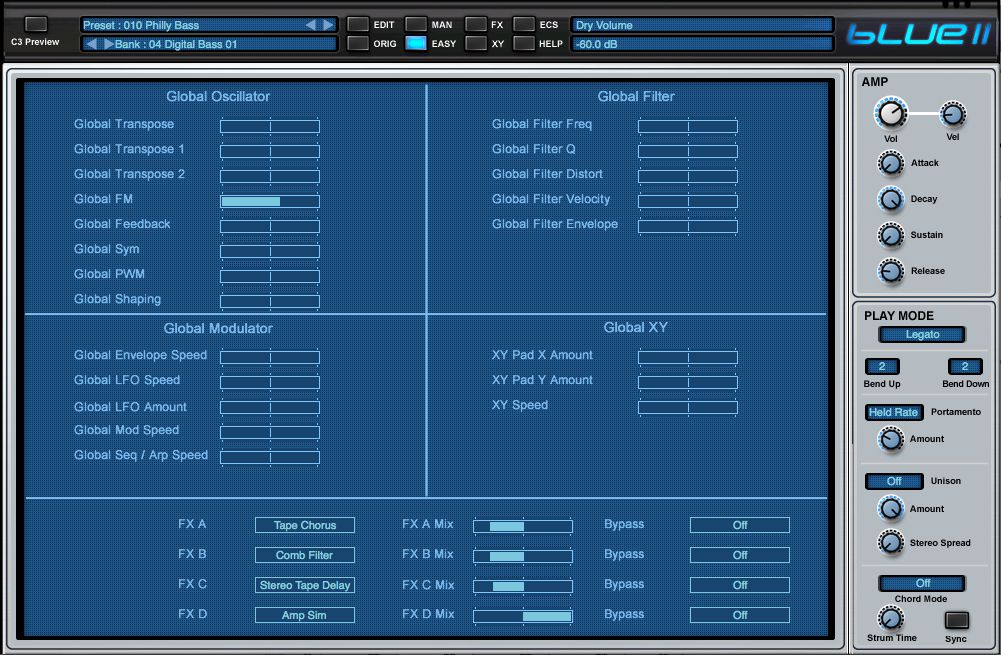 Easy mode: it doesn't get easier than this.
Worried this all might be a bit much? Don't worry: Blue 2's handy Easy Edit page gives hands-on control of the most dramatic global parameters, allowing you to take a preset and still tweak it to the point of convincingly making it yours without spending any time at all working under the hood. The global amp envelope controls along with unison, spread and chord options along the right-hand side make for easy edits to crucial controls accessible at all times, whatever mode you're using.
At the same time, Blue 2 boasts an alluring interface for anyone that does want to tinker—with invariably stunning results. I was really blown away by the sound quality of each oscillator, filter and effect; Blue 2 has a slick and polished sound that's still susceptible to dirt, grit and wildness if you so desire. And for those that like to tweak it live, the XY page gives the option to assign 16 parameters throughout the synth to an easily controlled two-dimensional interface for dramatic expressive real-time dynamics. Even better, I was astonished by how CPU-efficient it was on my machine.
If you're looking for a super flexible synthesis solution that packs a huge amount of power into an interface that's as easy on the brain as it is on the eyes, Blue 2 should be at the top of your list. Crossfusion synthesis is here, and it may well be the future.


Price: €149 (inc. VAT) / $179 USD
Pros: Intuitive, attractive design; fantastic sound; CPU-efficient; huge wealth of oscillator, filter and effect options.
Cons: Oscillator ratios aren't available for automation; doesn't make toast, won't marry you.