RHA is a specialist British earphone manufacturer with a product line that covers every base from the budget through to the more audiophile end of the market. It's no secret that most people listen to music using personal devices far more than they did in the past, but what's changed in the last couple of years is that streaming services are now offering better quality audio streams. iOS has a toggle for high quality audio over cellular for example, and the whole idea behind TIDAL is that it streams at higher quality than some other services.
All of this means that people are taking earphones more seriously nowadays. The T20i is the flagship in RHA's lineup and quite a unique product, especially if your only experience of earbuds up until now has been the ones that came with your phone. The buds themselves are molded in stainless steel and feel extremely solid. They are as a result slightly heavier than regular earbuds, but moldable over-ear hooks can be shaped around the backs of your ears to hold them in place more comfortably. This system works well and feels more natural than the hooks used in the T10i, which I found a little too stiff and chunky.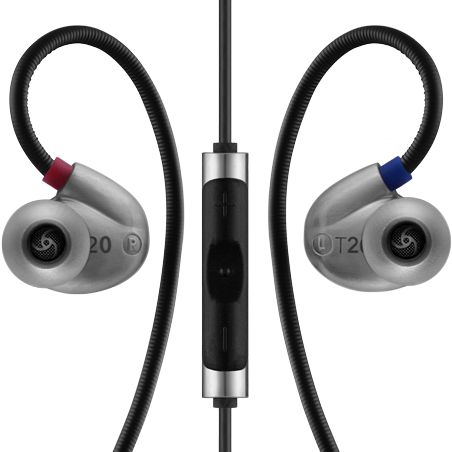 High quality stainless steel finish
Built for Apple devices
The cable has a three button remote for playback controls and a mic for taking calls: the earphones are "Made For Apple" certified, and companies can only use this with official approval from Apple. They work with other devices too, of course. The connector plug is very solid and metal-cased, and the whole thing feels very well-built and sturdy. In the box you also get a quality carrying case and a stainless steel holder with ten pairs of ear tips each of differing size and material so that you can find the pair that best suits your ear canals. This helps you find the perfect fit and amount of noise isolation—when you do, the isolation from outside sound is remarkable.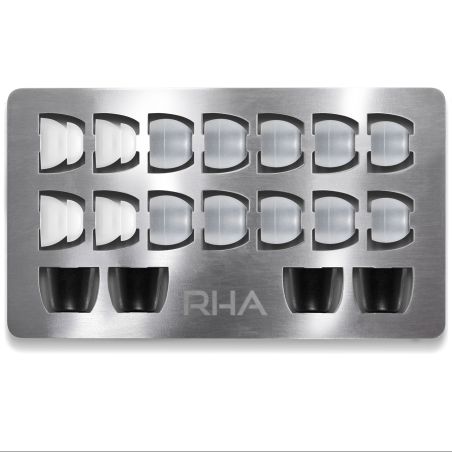 Choose from the 10 pairs of tips (the tenth is already fitted to the buds)
So far, maybe no big surprises. But what's most interesting is the three pairs of "tuning filters", each of which can be screwed to a bud to change the audio response. The Treble and Bass filters are self-explanatory, while the Reference filters offer a more neutral sound. These are differently shaped internally and really do make a difference to the character of the earphones. You'll have your own preference, of course, but I found the Treble and Reference filters a little too harsh in the upper mids at high volumes, while the Bass filters seemed to mitigate this to my ears. Bass response was solid with the Reference filters and heavyweight with the Bass filters, and the earphones can provide plenty of volume, with the DualCoil dynamic drivers handling pretty much everything I threw at them.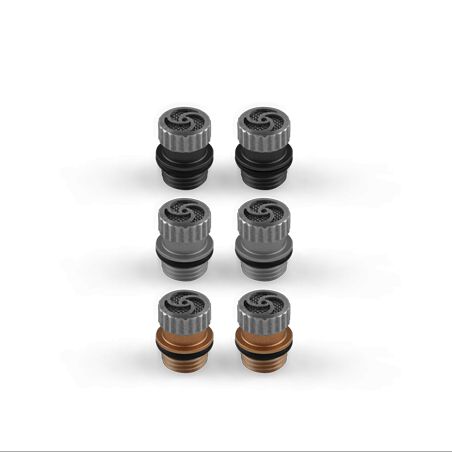 Three pairs of tuning filters let you tailor the physical output of the earphones
Sound investment?
I never use any kind of software EQ to change music playback: I'm a bit of a purist who thinks that the mix and the hardware should be good enough in the first place. But the three tuning filters are a great way to let you change the sound by modifying the hardware, which I'd argue is fair enough, and not an option you usually get. You probably won't switch them around all that much (dubstep and chamber music in one sitting is unlikely) but it's good to have the option. These are at the higher end of what you might expect to pay for earphones, but they're extremely well built, offer good (and genuinely useful) customization options and bags of power.
Price: £189.95 GBP /around $270 USD
Pros: Excellent build quality. Ear hooks more comfortable than on some other models. Three tuning filters to modify the hardware. Great selection of tips for ideal fit. Good noise isolation. Deliver plenty of oomph. Powerful bass.
Cons: At the higher end of what you might expect to pay for earbuds. Upper mids could be harsh at high volumes in some configurations.