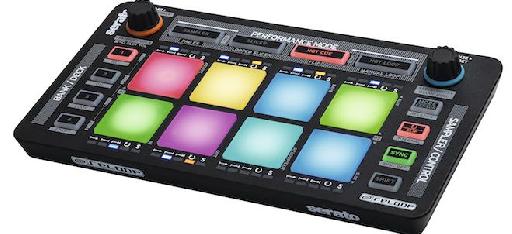 It is fair to say that the the SP-6 Sample Player in Serato is very underused, mainly due to the lack of hardware available that can offer in-depth control over it. Many Serato controllers offer access to the sample pads but for other functionality you have to use your mouse, which is far from ideal when DJing live. Enter NEON by Reloop an accessory controller for Serato designed to grant the user complete access to the SP-6. (I say accessory as you will still need an official Serato controller as well so don't think of it as an all in one Serato solution). Is it up to the job, however? Lets find out.
Layout and Build
Despite being lightweight and made out of plastic, the NEON is far from cheap feeling. The construction is sturdy and the knobs and pads feel well built when played with. Another major plus point is that the RGB pads are touch sensitive, which is always a nice surprise when testing a drumpad for the first time. These drumpads can be used to control all four of the SP-6's sample banks by using the four bank selection buttons on the left hand side of the controller. Above and below the pads, you will see that Reloop has very cleverly added the ability to switch between the different sampler modes that the SP-6 offers. We will get to this in a bit. The rotary encoder on the top left can be used to select and load samples as well as adjusting the volume of the selected sample while the encoder on the right controls various loop functions, namely size, set shift and roll. The buttons along the top allow you the switch between the Performance Modes which, again, we will look at in more detail later.
Sample Control
As mentioned before, the unique selling point of the NEON is its sample control functionality but exactly how good is it? Firstly using the pads for finger drumming is fantastic due to their size, spacing and touch sensitivity. It's a much more attractive option than using Twitch (my Serato controller) for this purpose and probably most of Serato's other controllers too. Also, the fact that they are RGB pads meaning you get excellent visual feedback on the current state of each one. Should you wish to deactivate touch sensitivity on the pads you can do this by holding the Shift and Sampler button simultaneously.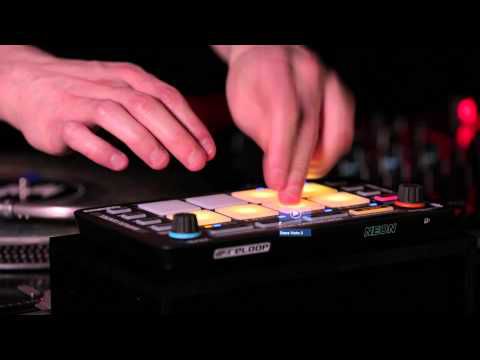 Probably my favorite feature of the NEON is that you can switch between the SP-6's sample modes, something I could not do on my Twitch. By holding the Mode button on the right side of NEON along with pressing pads 1'"6, you can scroll through One Shot, Toggle, Hold and Loop modes. In case you are unsure what mode a particular pad is currently in, the mode lights above each pad (or below the pads on the bottom row) will tell you.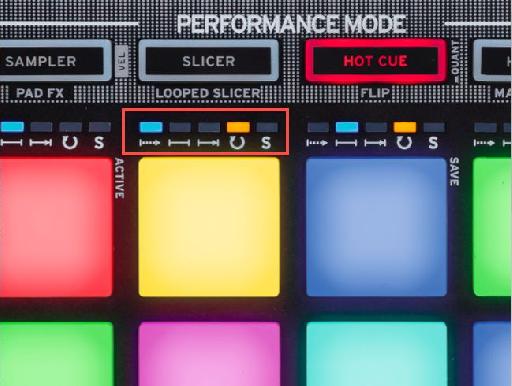 This functionality grants the user much more creative input during a live sample triggering performance considering you can easily switch between these modes on the fly. You can also reloop any of the samples on each pad by holding the Repeat button on the right-hand side and pressing the relevant pad. Underneath that is the Sync button which means you can ensure your sample triggering is always in time with the beat of your decks. Smart Sync needs to be activated in the main Serato interface though.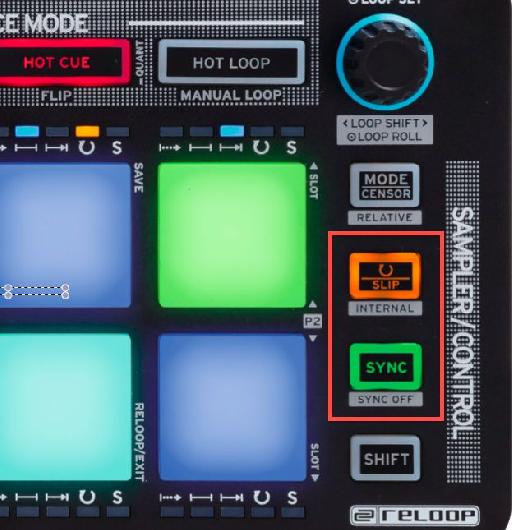 FX Control
By hitting the Sampler button twice you can access FX control within Serato. This is another instance where the touch sensitivity of the pads comes into play. By holding down a pad you can turn on and gradually increase a particular FX parameter. You can control up to 6 FX across two decks at once. Holding Shift allows you to select and toggle between these FX.
Other Performance Modes
The other performance modes also offer a wealth of creative potential when it comes to your live set. When in Slicer mode, the current section of track is looped and divided into eight samples, each of which can be triggered by the eight drumpads.
Hot Cues is pretty much the same you would find on any other decent controller. If a cue point is already set, the pad will light up the same color as the corresponding cue point marker in Serato. You can delete these cue point by holding Shift and pressing the particular pad.
As NEON was released after Serato announced Flip in September, the controller has the ability to control this interesting new feature, which is definitely another selling point. Using the pads to control the Flip function (tap Hot Cues button twice) you can re-edit your entire track live by recording your Hot Cue and censor performance. This is ideal for DJing as you can extend intros and outros for better mixing and cut out sections of tracks which you feel your set would be better off without.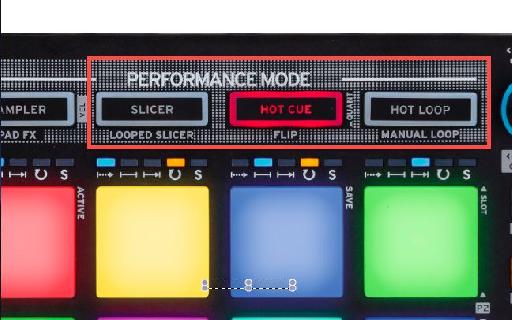 Outside Serato
NEON was obviously built with Serato in mind but of course it can be used with other DJ software and DAWs. As I am also an avid Traktor and Ableton Live user I could find plenty of uses for NEON in both setups. In fact from the Reloop website you can download the Traktor preset mapping file so you are ready to go straight away. In Ableton you will need to do the configuration yourself but once mapped, it is an ideal for controlling the drum racks in a Live set.
Conclusion
I can make an educated guess that I'm not the only Serato user who has been waiting for a controller like this. It's portable, well built and most importantly of all offers in-depth control over the SP-6. It would definitely compliment any of Serato's primary DJ controllers and won't break the bank either.
Price: $149 / €129 / £110
Pros: RGB, velocity-sensitive pads are ideal for finger drumming. The SP-6 can finally be hardware controlled properly.
Cons: A few more encoders would have been nice as FX control using pads won't be for everyone.