If you are working on a project with buff dudes and body armor, spartan battles taking place on cleverly painted, bloody battle fields and you need big drum, gong and taiko backup… you're in luck. I just got through spending a bunch of time with Red Room Audio's new Saga Acoustic Trailer Production Kontakt collection. A package of sampled percussion instruments and patches that are so real, you can almost feel the oil in the drums moving around in your head. Let me tell you a little bit more!
Multiple Uses
Described as Acoustic Trailer Percussion, it's really easy to write this one off. But before you write this off as a 'film score' only collection, which it actually is intended, I can tell you these instruments can be used for way more than just epic battles. The Taiko, World and Oil drums have such a wide dynamic range and so much bottom end that if you do even a modicum of hip-hop, pop, trap or anything that likes big bottom end, you'll be bringing these drums over for fresh beats. Trust me!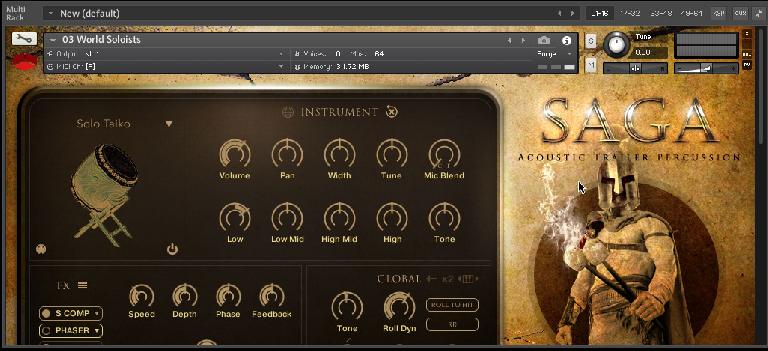 This is just the beginning! The gongs also provide a life long dream for many metal, pop, rock, goth and industrial projects. I don't know if you've ever run into this before but many of the 'gongs' that are incorporated in to ROMplers, DAW stock libraries and workstation keyboards tend to be a little less than epic. Not here! The gongs are huge and thematic. Whether they are employed in a movie trailer or at the end of a song, the love that went in to recording each of the instruments represented within Saga is mind blowing.
Battles?
Saga actually has sounds ready for the ancient war zone as well as modern battles. Anvils, silos and metal sheets have been extensively recorded to provide amazing sword clashes, shield pummels, parry and impacts. As you'd expect all the sounds are dry when Mic Blend is all the way down. If you need the room sound of that massive stage where all of this was recorded, just start turning the Mic Blend up.

I went dry, with Mic Blend al the way down, initially because I wanted to hear what things would sound like with some of my own effects. I liked the punchiness of the direct mic'ing but if you don't have many plugs of your own, the instruments included provide easy access to Kontakt's effects, EQ settings, Pan, and even mic placement. There's even a roll-to-hit function where you can trigger a drum or piece of percussion and it will continue to do a drum roll until you release the key. What's really cool is that you can actually adjust the roll slider, even while holding down a key, to more carefully sculpt the roll that you are trying to implement. I was pretty floored by this feature, as I have always found it difficult to program snare and tom rolls that sound realistic. Saga handles the whole thing for you, and even lets you supervise!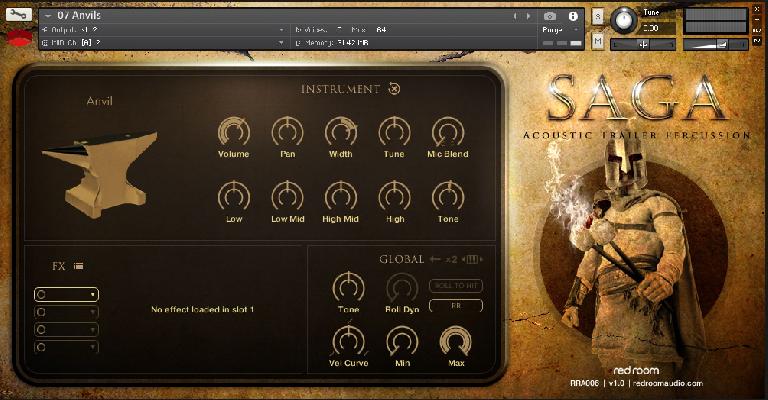 Install And Use
I had a little trouble with the initial install, as Saga does not go through Native Access and appears to want you to directly open the instruments from within Kontakt. It took me a minute to get it permanently pointed over to the Samples directory but once I got it locked in, I had no more problems. This was probably the only issue I ran into with Saga.

Once in, it's very easy to get started. I used the Taiko and Oil drums to lay down a nice foundation. Each instrument had multiple variations on hits, slaps and taps to various portions for the drum exterior. This was cool, as I was able to use one of the slaps as a snare drum, then use the larger, more full hits as bass drums.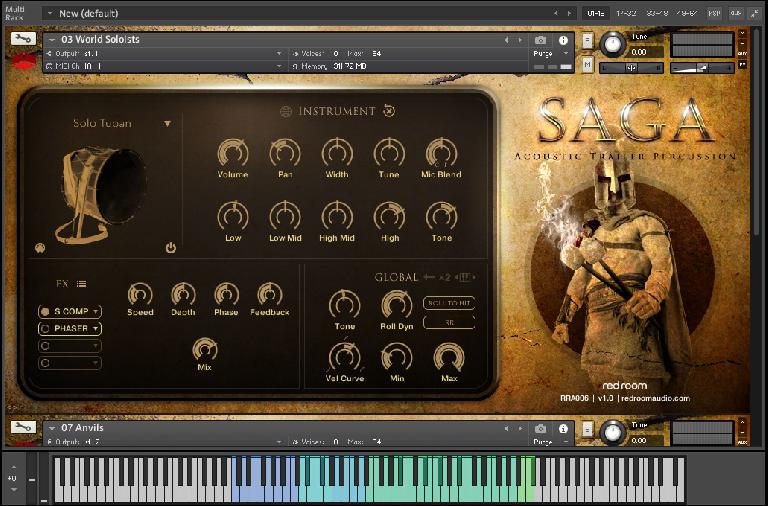 The anvils came in amazingly handy and this was one of those instruments where I ended up actually pulling all the effects that came enabled by default and really began experimenting. DB Glitch, Redux and Output's Movement were wonderful with the metallic recordings and yielded wonderful sound effects without any effort whatsoever. Because so many examples of different hits with different velocities are available in the patch, you can find yourself just experimenting for quite a while.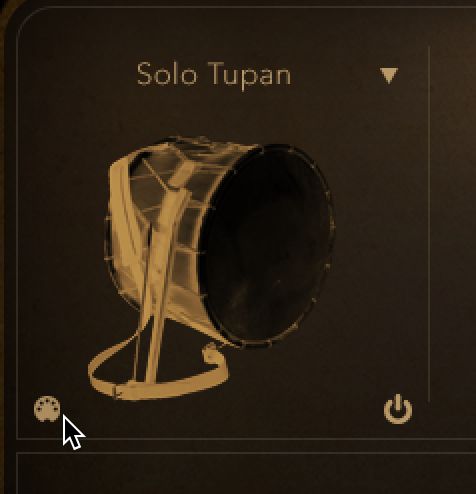 Although only 10 instrument patches are included in Saga, there are many, many instruments within each instrument. To help with this, many small features have been included to help speed up the workflow. Each instrument within a patch can be adjusted individually from the instrument panel. If you aren't sure which instrument was played last, a small MIDI button in the corner of the instrument selection drop-down Is available to show you the last instrument played. It seems like a small thing but with all of the mappings going on within these patches, it really does speed up finding out what you need to adjust.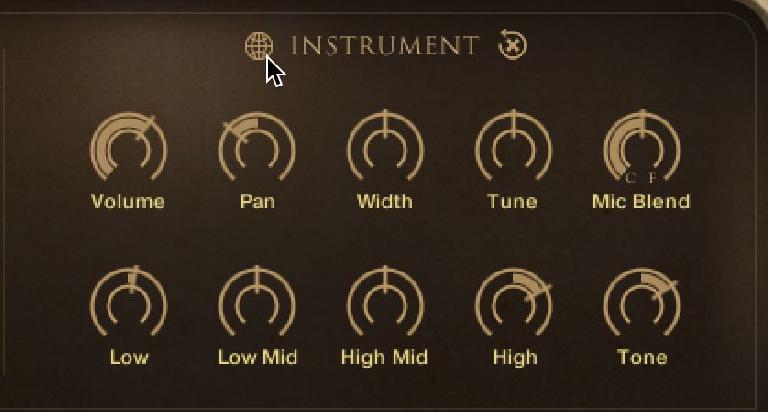 Additionally, reset buttons appear within the GUI letting you know you've changed something, and that you can reset back to the manufacturer settings if you stray too far from the golden path. There's even a Global control option, where the main interface will adjust all of the samples within a patch, as opposed to one at a time.
Conclusion
This is an amazing package and the price ($149) is a steal for what you're getting. These are some of the best drum recordings I've heard in ages. Plus it's useful even beyond the drums, as this is a perfect foley tool for video games and movies too.