Reaper has released version 5, and with this update comes a handful of super new features. Let's take a look at what's changed in Reaper 5 and what you can expect from the new version.
New UI Updates
First, there is a new UI look to the application. It looks a lot cleaner now, and Reaper has a new default theme for the application. But you can change your themes and even get it to look like previous Reaper versions if you're used to that.
Also on the track panel on your tracks there is a rotary volume knob, so you can quickly and easily change your volume from here.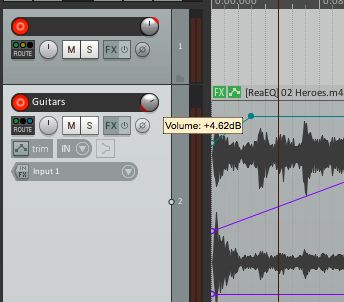 Volume Track Panel
VCA Grouping
The new version has also added VCA functionality. Reaper allows you to do VCA Grouping. You can set a track to a VCA master and then other tracks to VCA slaves. You can do this by right-clicking on a track and choosing a VCA option, or you can set this up in the routing matrix window. So for example, the VA master can control the volume for the other slave VCA tracks. This has its benefits over the standard sub mixing auxiliary tracks. It's worth investigating VCA mixing if you're interested in this.
Video Editing Capabilities
One of the biggest inclusions in Reaper 5 is its video editing capabilities. You can import a video into it, and from there you can slice up the video and move the new parts to different locations in your timeline. I find some other DAWs very limiting with their video capabilities, in that you can sometimes only have one video file in a project, and it definitely doesn't give you the flexibility that Reaper 5 has.
Item/Take FX Automation
In the previous version of Reaper, you could add envelopes to your items/takes. For example, you could add a volume envelope on the take and then automate it. But now in v5 you can add envelopes for your effects as well. So for example you can add an EQ and then add envelope automation for the low cut on the EQ. What I like about take automation is that it's contained within the item, so if you moved it around in your arrangement, the take automation follows the item.
ReaScript-ing
Reaper is known as a customizable DAW, and it's still a big feature with version 5. Reaper has now expanded upon its scripting playabilities with its ReaScript. You can even build up scripts in LUA, EEL or Python and build anything from simple scripts to complex ones that can be used in your songs if that's your thing.
The scripting can really help speed up and automate your workflow. For example, you could write a script using ReaScript that adds fade in and fade outs to all your audio items in your project with just a simple click of a script. So the possibilities are quite endless.
Conclusion
Those are some of my favorite new features with the new Reaper 5. There are others such as the VST3 support, 64-bit processing and extra toolbars and so on. To get an extensive list of features check them out on the Reaper site: http://www.reaper.fm
Price: $60 discounted license, $225 commercial license
Pros: Super well priced. Very customizable. Great video editing capabilities. VST3 capability, and advanced VCA Grouping.
Cons: Could still do with more MIDI editing functionality, and maybe even a Notion/Score editor. But for the price I'm not complaining.
Web: http://www.reaper.fm