There are libraries that simulate the complex nature of the instruments involved and need to be very deeply sampled, somewhat complicated and therefore a little pricey. It takes lots of time and money for the developer to create them and understandably, the developers want to be compensated for all that. Frequently, there will be several competing for the same niche, which is terrific for those of us who use them. Every once in a while, however, we have a need for something simple that just gets the job done, quickly and easily.
RealiWhistle, a "Human Whistling instrument" is one of those libraries for me. I do not whistle very well, and even if I did, I would still have to spend some time to record it well that I may not want to spend, given what its use is in my composition. The fact that it sells for $39 with a half price introductory sale of $19.50 makes it a total no-brainer.
RealiTone is basically a one-man shop, the brainchild of composer Mike Greene. His first library, "Realivox—The Ladies" is one of my all time favorites and the easy playability of the legato, the intelligent keyswitching, and clean and attractive GUI that are among the hallmarks of that library are carried over in this far less ambitious offering.
Requirements
RealiWhistle is a Kontakt instrument and requires a full version of Kontakt 4.2.4 or newer. It will not work in the free Kontakt player.
What You Get
When you purchase RealiWhistle you get a single instrument with a three and one half range (with Extended Range selected), with two dynamic layers with three round robins each. It includes a normal "lips" style and airier "tongue: style. There are three ramps of varying speeds and two falls, all triggered by keyswitches you can see right on the GUI, The ramps and falls are what really make this library shine in making this a believable instrument See Pic 1.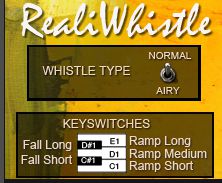 Right in the GUI, you can control the speed of the legato, and vibrato, as well as the reverb option, attack and release, and the ability to add one or two more voices. This gives you an ensemble of whistlers for that ever-popular "Bridge on the River Kwai" sound.
It is possible to automate any of this by assigning them to MIDI CCs with Kontakt's MIDI learn.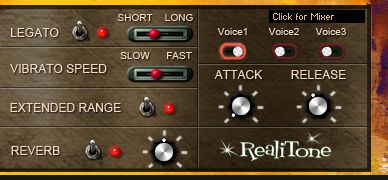 Right above the the Voice selector buttons you can see "click for mixer, which opens a panel for balancing the voices' volume, panning, and adjusting their tuning.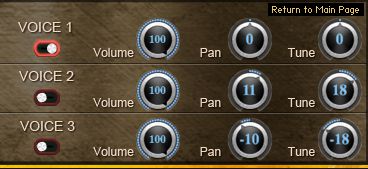 Determining the Instrument's Behavior
There is very little you can do because there is very little you need to do. Volume is controlled by velocity, although I like to use MIDI learn to control it by CC11 Expression as well. Vibrato is controlled by the modwheel CC1 and it works in tandem with the vibrato speed you set in the GUI.
Playing the RealiWhistle Instrument
Honestly, I cannot imagine anyone having to practice with this for more than an hour to have it pretty well mastered. On the RealiTone website, Mike has a walkthrough video that demonstrates the use of the keyswitching to achieve the desired effects including the iconic Andy Griffith TV show theme.
Pros: This library does a good job doing the basic things you want to whistle and it is easy to learn to play effectively. It is incredibly inexpensive.
Cons: Very sophisticated whistling simulations may perhaps not be 100% convincing.
Conclusion: This is a simple library, inexpensively priced, that deserves a place in your palette.