The business of recreating believable guitar instruments using keyboards and MIDI has always been a tricky one. Even high-end workstation keyboards often end up making a pretty bad job of it, mainly because the way one plays a keyboard and a guitar are so fundamentally different. Certainly, things have improved in recent years, but even some of the bigger developers still struggle with it. It was with some surprise then that I fired up MusicLab's RealGuitar to find that not only did it manage to make a playable guitar, it was probably the best one I had ever used. But first things first.
RealGuitar is a 200MB download for Mac and PC, and this expands to install around 500MB of sample content. Annoyingly, this content can't be placed on an external drive during installation, it must be installed locally then moved if you want it to live somewhere else, say if you are on a laptop with a lower capacity SSD. It runs as a standalone app and as VST and AU plug-ins, in 32- and 64-bit modes.
If you have used a previous version, you'll find RealGuitar 3 has quite a few new features. There's new multi-channel layering technology with specially recorded samples taken from every fret of all six strings of a real guitar, as well as Floating Fret Position technology to emulate the position of a guitarist's hand on the neck. There are eight guitar models to choose from including steel, nylon and 12-string, in a variety of articulations.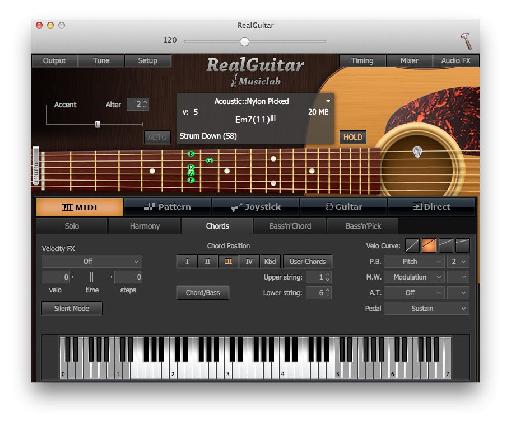 Play convincing guitar chords from your MIDI keyboard, with intelligent mapping.
The instrument works in a really clever way to respond to keyboard input, translating it accurately into guitar-centric playing. In MIDI mode, you can choose various playback styles including solo, harmony, chords, bass and chord and bass plus pick. Each of these has various options to change the playback style such as chord positions, harmony interval and capo effects, depending on the style. Chords sound excellent and respond intuitively to your MIDI keyboard input, creating sevenths, minor or major changes simply and easily.
In Pattern mode, you can choose between a range of preset patterns or access an online library, and these are all pretty usable. Joystick mode lets you connect a game controller to play the sounds, and you can also connect a MIDI guitar interface. For all the playback modes there are extensive options to control exactly how the instrument reacts to your input.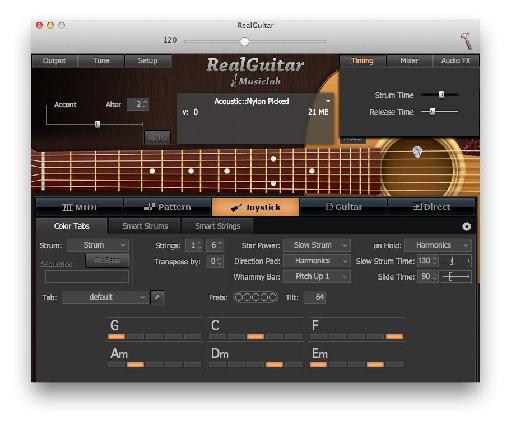 You can use different types of input, even including a computer game controller.
Further options are available along the top. There's EQ and you can coarse and fine-tune the instrument as well as setting keyboard input range. The strum and release timing of chords can be tweaked and a mixer lets you balance fret, release and pick sounds. Last but not least, there are tremolo and chorus effects, though oddly no reverb.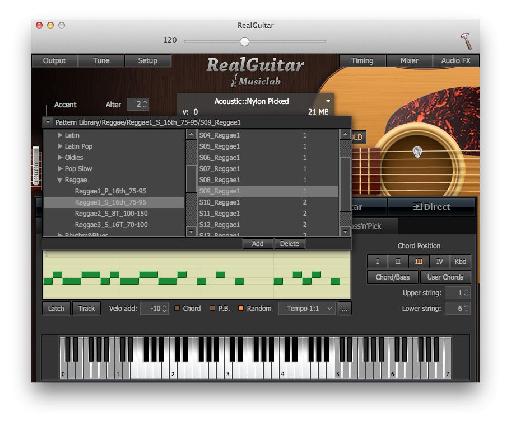 Choose from a range of preset playback patterns and phrases.
At $249, RealGuitar is not quite an impulse purchase but it works very well indeed. Aside from a lack of reverb and a slightly fiddly installation process, it's one of the best and easiest ways to get real, believable acoustic guitar effects without recording a real guitar or using loops. Like all such tricks, it requires a little skill and practice to use it to its fullest potential, but compared to actually having to learn the guitar it's a breeze. Musiclab also makes similar instruments for Strat and Les Paul guitars, which are well worth a look.
Get RealGuitar3 here.