Se Im brutalmente honesto, Ive sempre visto mini-teclados, como um pouco de um chamariz. Isso não significa que eu não estou interessado neles, pelo contrário, Ive sido procurando um que pode executar na estrada há algum tempo. Como minha busca continuou, me deparei com o QuNexus e depois de falar com as pessoas mais agradáveis ​​em Keith McMillen eles rapidamente enviados um para mim para esta avaliação.
Em vez egoisticamente, Ill primeiro estar verificando se este pode substituir um verdadeiro teclado enquanto em movimento. Bem também cavar os dispositivos lista de recursos bastante extensa e explorar as formas menos tradicionais este controlador em miniatura podem ser incorporados em instalações portáteis e de estúdio.
1 - Primeiras Impressões
Quando os primeiros anúncios e comunicados de imprensa para o QuNexus começou a encontrar seu caminho em meu fluxo, eu simplesmente assumiu outro complicados mini-teclado estava a caminho, mas assim que eu vi os caras em Keith McMillan jogá-lo fora de uma janela amarrado a uma Melon, pensei novamente.
As terras QuNexus na minha mesa ...
Quando o QuNexus chegou, ele foi cuidadosamente embalados e veio com um cabo USB decente comprimento. Como o ônibus movido, é mais ou menos plug and play out of the box, por isso, se você quiser ir embora imediatamente, todos precisam de você vai é um computador com o DAW carregado. Se você quiser usar este com dispositivos iOS, você pode precisar de alguns outros pedaços, mas bem tocar sobre isso mais tarde.
2 - qualidade de construção e Sinta
Em obter o QuNexus fora de sua pequena caixa puro, fiquei agradavelmente surpreendido pela sua robustez geral e seu acabamento emborrachado. Primeiro, quando eu digo que essa coisa é resistente eu não significa volumoso ou pesado, ele simplesmente não ranger, crack ou dobrar quando você segurá-la. Qualquer pessoa que possua um outro mini controlador provavelmente sabe o que quero dizer aqui. É quase como se ele é feito de uma peça única de material.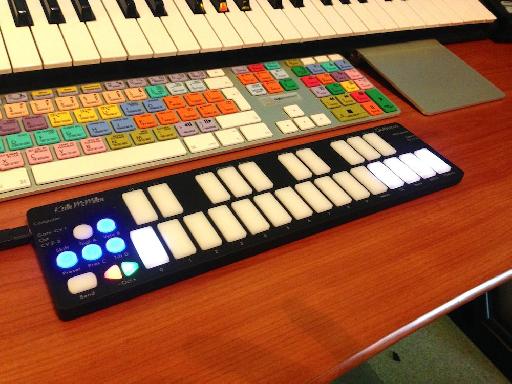 O QuNexus é uma unidade pouco sólido.
O material de borracha de toque suave usado é muito bem-vindo aqui como parece rejeitar naturalmente impressões digitais. Ele também se sente mais robusto do que, agora ligeiramente passar, acabamento brilhante. Os botões sentir igualmente à prova de balas e ter uma boa resistência a eles. Cada botão acende e eles parecem exibir um número de cores que sugere que eles estão usando LEDs RGB.
Vale a pena mencionar que o tamanho do QuNexus é provavelmente tão ideal quanto ele ganha para o músico baseado MacBook movimento. A largura e profundidade significa que quase se ajusta perfeitamente em frente de um MacBook Pro 15 polegadas. Im certeza de que isso não foi um acidente. Todo este se sente como uma unidade que irá suportar alguma punição.
3 - Instalação e Operação
Como mencionei no início desta revisão, o QuNexus é praticamente plug and play. Descobri que dentro de 2 minutos de unboxing este pequeno teclado, eu era capaz de usá-lo em Logic Pro X, Ableton, Reason, Cubase e ProTools.
Não há drivers são necessários em qualquer um desses apps, mas vale a pena lembrar que eu testei tudo isso em OS X. Parece que a instalação básica é necessária para o Windows, mas é claro que isso não é novidade!
Uma vez instalado, eu achei que o teclado jogou muito bem, considerando sua baixa estatura ea sensibilidade de velocidade e teclas iluminadas foram um toque agradável. Este tipo de feedback foi refrescante em um mini controlador e fez a experiência um pouco mais próximo ao de um teclado de tamanho completo.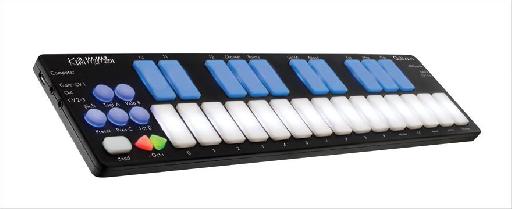 As teclas iluminadas funcionam muito bem.
Depois de uma rápida leitura do manual, eu logo percebi que eu poderia personalizar o funcionamento do QuNexus usando o aplicativo Editor de em seu site. Peguei o aplicativo e comecei a dar uma olhada. Na próxima seção, eu vou olhar para as possibilidades aqui e outros recursos mais avançados do QuNexus.
4 - Características e Aplicações
Além de ser um mini teclado simples, o QuNexus tem alguns truques acima de suas pequenas mangas. Por um lado, ele pode ser utilizado como um controlador de CV / Gate. Usando uma caixa de breakout e alguns cabos de design especial, você pode realmente controlar o seu equipamento velho CV com essa coisa, e embora eu não testei esse aspecto eu (devido à falta de CV gear) Ouvi dizer que funciona muito bem.