Wenn Im brutal ehrlich, Ive immer Mini-Tastaturen als ein bisschen eine Spielerei gesehen. Dies bedeutet nicht, dass Ich bin nicht an ihnen interessiert, ganz im Gegenteil, Ive für eine, die auf der Straße seit geraumer Zeit ausführen können, gesucht. Als meine Suche fort, stieß ich auf die QuNexus und nach dem Gespräch mit der netten Leute bei Keith McMillen sie schnell eine ausgeliefert zu mir herüber Zu dieser Bewertung.
Vielmehr egoistisch, Ill zuerst prüfen, ob dies eine echte Tastatur während der Fahrt zu ersetzen. Nun auch in die Geräte recht umfangreichen Feature-Liste zu graben und erkunden Sie die weniger traditionellen Weisen diese Miniatur-Controller in tragbaren und Studio-Setups integriert werden können.
1 - Erste Eindrücke
Als die ersten Anzeigen und Pressemitteilungen für die QuNexus finden ihren Weg in meinen Stream begann, habe ich einfach angenommen, andere knifflige Mini-Tastatur war auf dem Weg, aber sobald ich sah die Jungs von Keith McMillan warf es aus dem Fenster geschnallt ein Melon, dachte ich wieder.
Die QuNexus landet auf meinem Schreibtisch ...
Wenn die QuNexus ankamen, war es ordentlich verpackt und kam mit einem anständigen Länge USB-Kabel. Wie der Bus mit Strom versorgt, die mehr oder weniger plug and play out of the box, so, wenn Sie sofort loslegen wollen, ist alles Willensbedarf eine Computer mit Ihrem DAW geladen. Wenn Sie dies mit iOS-Geräte verwenden möchten, müssen Sie eventuell ein paar andere Bits aber auch dazu später berühren.
2 - Bauen Sie Qualität und Haptik
Auf immer die QuNexus aus seinem hübschen kleinen Box, war ich angenehm durch seine Robustheit und seine insgesamt gummierte Oberfläche überrascht. First up, wenn ich sage, dieses Ding ist robust Ich bedeute nicht sperrig oder schwer, es einfach nicht knarren, knacken oder zu verbiegen, wenn Sie es halten. Wer ein weiteres Mini-Controller besitzt wahrscheinlich wissen, was ich hier meine. Es fühlt sich fast wie aus einem einzigen Stück Material hergestellt ist.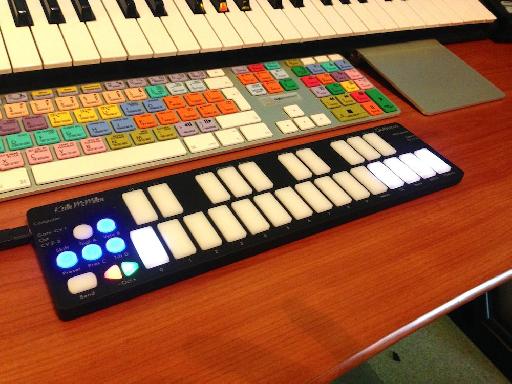 Die QuNexus ist eine solide kleine Einheit.
Die Soft-Touch-Gummi-Material verwendet wird hier sehr willkommen, da es natürlich ablehnen Fingerabdrücke scheint. Es fühlt sich auch robuster als, jetzt etwas passieren, glänzende Oberflächen. Die Tasten fühlen gleichermaßen kugelsicher und haben einen schönen Widerstand gegen sie. Jede Taste ist beleuchtet und sie scheinen eine Reihe von Farben, die sie verwenden RGB LEDs schlägt anzuzeigen.
Es lohnt sich zu erwähnen, dass die Größe des QuNexus wahrscheinlich ist so ideal, wie es für das bewegte MacBook-basierte Musiker bekommt. Die Breite und Tiefe, dass es fast passt perfekt vor einem 15-Zoll MacBook Pro. Ich bin sicher, das war kein Zufall. Rund um das fühlt sich wie eine Einheit, die eine gewisse Strafe standhält.
3 - Installation und Bedienung
Wie ich am Anfang dieser Rezension erwähnt, ist die QuNexus ziemlich plug and play. Ich fand, dass innerhalb von 2 Minuten Unboxing diese kleine Tastatur, ich in der Lage, um es in Logic Pro X, Ableton, Reason, Cubase und ProTools verwenden war.
Keine Treiber wurden in jeder dieser Apps benötigt, aber es lohnt sich zu erinnern, dass ich all diese getestet in OS X. Es scheint, dass eine Basis-Installation für Windows erforderlich ist, aber das ist natürlich nichts Neues!
Einmal installiert ich festgestellt, dass die Tastatur sehr gut angesichts ihrer winzigen Statur und der Velocity und beleuchteten Tasten gespielt waren eine nette Geste. Diese Art von Feedback war erfrischend in einem Mini-Controller und die Erfahrung gemacht, ein wenig näher an die einer Tastatur in voller Größe.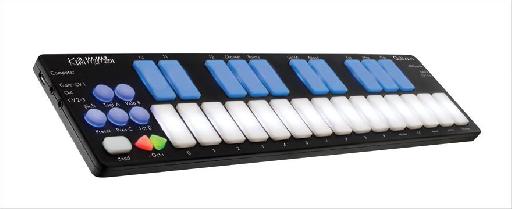 Die beleuchteten Tasten arbeiten wirklich gut.
Nach einem schnellen Lesen der Anleitung, wie ich bald merkte, dass ich den Betrieb des QuNexus mit dem Editor App auf ihrer Website anpassen. Ich schnappte mir die App und fing an, einen Blick zu nehmen. Im nächsten Abschnitt, Ill auf die Möglichkeiten hier schauen und andere erweiterte Funktionen des QuNexus.
4 - Funktionen und Anwendungen
Abgesehen davon, dass eine einfache Mini-Tastatur hat das QuNexus schon einige Tricks auf winzigen Ärmeln. Zum einen können sie als CV / Gate-Controller verwendet werden. Mit einer Breakout-Box und einige Kabel speziell entwickelt, können Sie die tatsächliche Kontrolle über Ihren alten CV Geräte mit diesem Ding und obwohl ich nicht testen, diesen Aspekt selbst (aufgrund des Fehlens von CV Getriebe) Ich höre es funktioniert sehr gut.