Ableton has partnered together with Puremagnetik, and has released the sample pack Retro Synths that Ableton users can buy and download from the Ableton site.
This sample pack is a collection of multi-sampled vintage synthesizers. I must say that the sounds are amazing and I can really see where I can start using these sounds in my future productions. It even includes replicas of the well-known classic synths such as the infamous Korg MS-20, Roland D-50, Roland TB-303 and Arp 2600. Let's take a look at what this sample pack has to offer.
Step 1 '" What Synths are Available
Once downloaded you will have an Ableton alp file: puremagnetikretrosynths_v3.0.1.alp.
Double-click this file to install the Ableton instruments into your Ableton Library.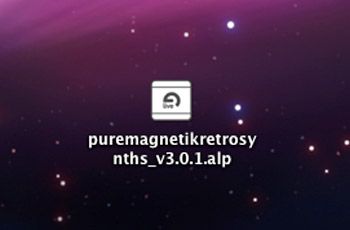 After the installation Ableton will present you with the Puremagnetik Retro Synth help menu, which has quick links to the relevant synths and also takes you through a project created with the Retro Synth pack.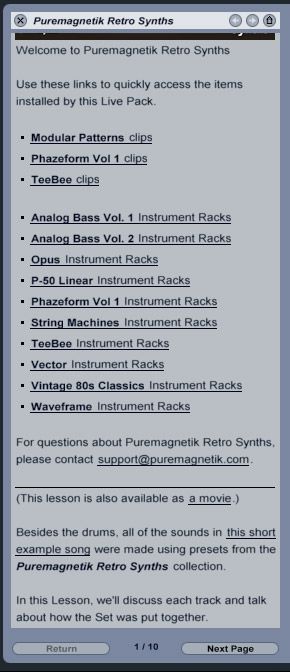 As you can see the pack includes quite a selection of vintage synth replicas. Analog basses, 70s stringed synths, vector-morphing synths, waveform synths, etc.
Take a read through this, then jump straight in and test the sounds. If you wish to view the Puremagnetik Help menu again at a later stage, go to Help > Help View> Show all add-on Lessons.
Step 2 '" Take a Deeper Look
I was truly amazed with the reinterpretations of these classic synths. They have warm tones, and allow you to integrate them into Ableton with ease. The synths have GUIs that are easy to get around, and it doesn't take you long to figure out how to tweak them.
Puremagnetik has incorporated the Ableton Instrument Racks quite nicely with their multi-sampled instruments. With the use of Ableton's Racks, effects and Map Mode, it is truly effortless to use these synths in your productions
Here's a look at the Brixton Lead patch: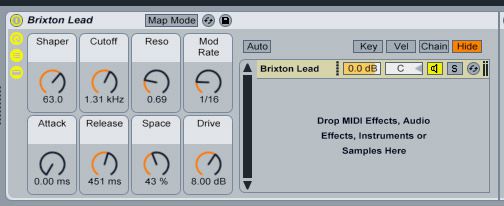 As you can see the patch incorporates the Ableton Instrument Rack, and the Ableton built-in effects. You can also see that the synth uses Ableton's Map Mode to assign parameters to the 8 knobs for easy control and adjustments of the synth.
Here is another example of the Humperdink patch and the Map Mode parameters used for the synth.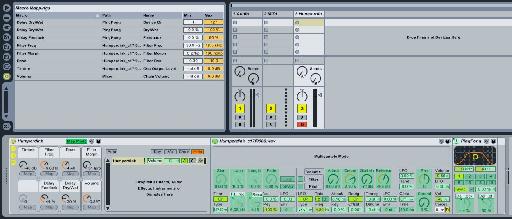 By mapping these to your controller you can really begin to tweak these synths and create interesting timbres and soundscapes.
Step 2 '" Incorporate Them Into Your Productions
I have fiddled and tweaked some of the synth patches, and exported the audio snippets out of Ableton so that you can get a taste for some of the sounds in the sample pack.
Here is a patch called Alphaphone. This is found under the Vintage Classic 80s folder:
This is a patch called Crosshairs. It is a vector based synth replication:
Here is a digital bell replication called CZ_Memory Bells found under the Phaseform Vol.1 folder. I have automated the Destroy control, which alters Ableton's Redux plugin in the Instrument Rack. This patch is based on Casio's CZ series and the Casio Phase Distortion technology of the 80s.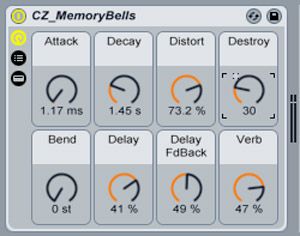 Here is another Vintage 80s synth patch called the DCO. I quite like the LFO-synced and pan effects from the Ableton Simple Delay plugin on this pad patch.

And finally here is a lead synth patch that replicates the synth sounds used in the 1980 TRON film. Nothing beats nostalgia!
This is just a very small selection of the sounds available from the synth pack. It is filled with outstanding, rich synth textures and sounds perfect for inspiring creativity and ideas.
Conclusion
Vintage emulations are all the rage now, but this does not come without justification: The synths from back-in-the-day included warmth and richness that is sometimes hard to find in some of our modern synths and sounds. Using these sounds in your productions can really bring an edge and individuality to your sound you may have been lacking. So grab this sample pack and get those creative juices flowing!