Let's face it, the Mellotron's selection of instruments have become a staple palette over the years for many music makers and developers. Reason has always included samples from the Mellotron, Roland has made major use of Mellotron tones, almost every synth pays a homage to the Mellotron. And what about all the rock legends that have employed it? You know, little acts like the Beatles, Moody Blues, The Bee Gees, and many, many more! And now, many years later, Ableton, through the brilliant work of sound designers Puremagnetic have included a package of Mellotron racks that will make you more than reminisce.
Mapping It Right…

I love Mellotrons, if my opening didn't fully fill you in. I've used the Mellotron Pallete through one synth or another for many years now. No, I've never owned a real one. But I have had a lot of time with the samples and patches that use the samples. And I have to say, I've never seen a package quite like microtron.
The mappings are wonderfully simple and intuitive. The sound designers (Puremagnetic) definitely spent some time with the patches until they got the parameters nailed down, across all of the racks (or instruments) that the end user would want and need for the big, ambient sounds that the Mellotron has been used for. This is probably the first time ever that I didn't need to throw some giant reverb over a Melltron string patch to get the right sound. The Room Amount sliders available on all the racks greatly takes care of this. In addition, the Attack and Release sliders are generous in resolution. They default at zero settings. But, a simple twist of the Release and those Mellotron Choirs will go on forever. Finally, a developer gets it!
MIDI, Too?!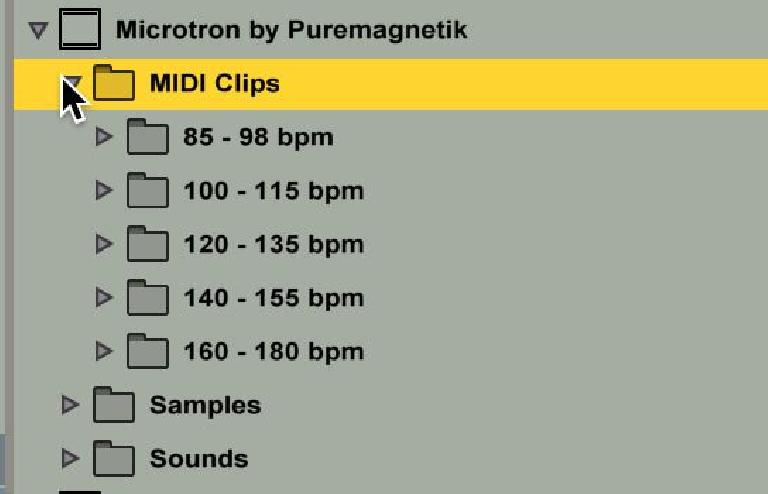 I was amazed to discover a large selection of MIDI Loops available in microtron. While I'm quite capable of making my own, it was very cool to get to hear examples of what can be done with the French Horn, the various flutes, the Tape patches and so on. I think beginners and enthusiasts who don't have a lot of skill in actually playing instruments will be greatly excited, as where there are Mellotron tones, there is always the Mellotron depth. Thick string loops will make for excellent, epic background scores for not only remixes but also documentaries, video games, home videos and more. Add instant melancholy, rock n' roll credibility, and a dash of music history with one little drop in to your project!
Audio example
M400

Puremagnetik added one little feature that I have not ever had access to, never having actually owned or used a real Mellotron - a Tone knob! Three Tape racks have been included that let you blend between several of the different tones in one patch, as you play those big chords through a huge room ambience. The effect is ultimately a sound resembling a 70's or 80's orchestra, a little washed out and huge all at once. This is a huge bonus for composers, as these patches really fill out a score, fast!
Conclusion
Microtron has become a staple Ableton Pack for me. It's quirky, beautiful and epic- all the things a Mellotron pack should be. And it goes even further providing great examples, samples, loops and enough special features to make this Pack a classic, as well as must-have… In my humble opinion.