Uma vez eu falei com John Regan , o baixista de Peter Frampton . Perguntei como ele gostava de seu monitores in-ear e sua resposta a menos de entusiasmo ficou comigo: "Eles estão ok", e ele disse, e ele passou a explicar que ele não gostava do som de baixo, era muito fina. O que John precisava era uma maneira de melhorar o seu som grave em sua mistura de monitorização. Hmmm .. mas como?
I always wondered how headphones or in-ear monitors were able to create bass from such a small driver? The fact is they depend on the psychoacoustic properties of your inner ear canal to create the bass sound you hear. You can go one further and say that the bass frequency you hear does not actually exist, but is created in your mind's ear. How's that? Well read on and I'll show you...

Criando baixo de Harmônicos
Digite MaxxBass por Waves . Este é um produto que Waves constrói, não apenas como um produto de hardware, mas como um circuito integrado que é usado em produtos de consumo e, o Plug-in edição é utilizado para a gravação de som profissional ou Live Pro.
Vamos começar com o assunto de como ele funciona. Em suma, Waves criou uma tecnologia onde o MaxxBass plug-in utiliza o princípio psicoacústica mesmo que eu mencionei acima. A idéia básica é criar um conjunto de harmônicos maior freqüência que são baseados na fundamentais da menor freqüência (no nosso caso, este será um bumbo). Ele oferece ao ouvinte o conteúdo harmônico que está em uníssono com o fundamental em si, mas, de fato, os harmônicos não contêm a freqüência fundamental. Ouvido da sua mente ouve estas harmônicos e preenche as lacunas. Assim, para decompô-lo, você ouve os harmônicos e enganar seu cérebro em ouvir freqüências mais baixas que não estão realmente lá.
Princípios mistura
Como é que isto cria uma vantagem para um engenheiro de mixagem? Considere isto ... No tutorial Olav Basoski, o Logic 406, Truques Fluxo Electronica Trabalho , você verá Olav consistentemente usar uma equação de corte baixo em praticamente todas as suas faixas. Isso é para evitar graves construir o que é um problema quando a adição de trilhas especialmente para a dança ou material de baixo oprimidos. O problema a maioria de nós está na criação de um forte nível de baixo dentro do mix, apesar de não turvar as freqüências mais baixas ou fazendo com que o compressor para bombear como um interruptor on / off, e isso requer algum artesanato. Usando MaxxBass pode ajudá-lo a alcançar este objetivo.
O plug-in edição do MaxxBass permitirá que você muitas maneiras de trabalhar com seu mix como uma faixa de canal plug-in, um efeito AUX e uma ferramenta de masterização. Em cada um desses aplicativos que você pode melhorar, aperfeiçoar ou simplesmente engordar a mistura sem realmente adicionar mais baixo. Que é uma solução ideal no mundo de hoje de dispositivos de reprodução de mídia.
Os telefones celulares estão se tornando mais prevalente como dispositivos de escuta. Uma atualização do que poderia ser construído no alto-falantes em um laptop ou, se você tiver muita sorte, uma mesa de som top portátil. Todos estes dispositivos de consumo luta para criar as frequências baixas que você pode ter a intenção de ser ouvido, mas simplesmente não são produzidos no final ouvintes.
Nós todos sabemos que o velho truque de usar monitores pequenos ou um sistema de reprodução de low end para avaliar o nosso mix para esse tipo de meio. Mas também temos uma expectativa de melhores sistemas de reprodução de qualidade para que não quer perder em sistemas que nos dão a reprodução de áudio que realmente querem ver. Então vamos colocar MaxxBass à prova e ver como ele pode dar o seu mix um gordo baixo.
Como funciona no mundo real
Here I have chosen a deep low end drum sound which can be hard to mix, especially for smaller speakers to hear the kick drum by the time all the instruments are layered. What you're hearing is a 26" Slingerland kick drum. Below is a screen shot of the Kick drum soloed and it's frequency and levels via the Analyzer.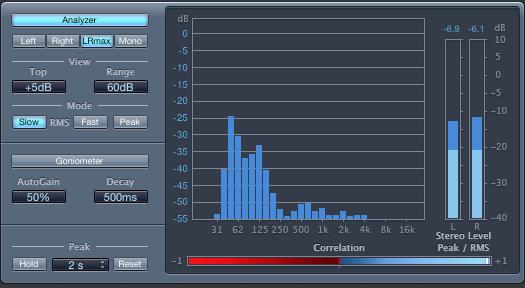 Listen to the Plain drum track here:
[Audio id = "1831"]
Se você tem um sistema de som decente, você deve ouvir um som de bateria muito bom chute. Se não, provavelmente você está recebendo um som bater das sortes.
Now the same track with some gentle MaxxBass processing added using an AUX Buss Channel.
Below is a screen shot of the same soloed kick drum with MaxxBass added. Notice it had not increased the low-end frequency:
[audio src="http://www.macprovideo.com/blog/wp-content/uploads/2011/02/Kick+MB.mp3"]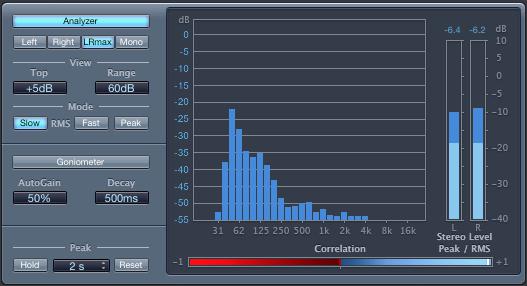 Finalmente aqui é o som baixo Max apenas:
[Audio id = "1833"]
Below is a screen shot of the Max Bass plug-in set with only the Max Bass harmonics and the original bass taken out.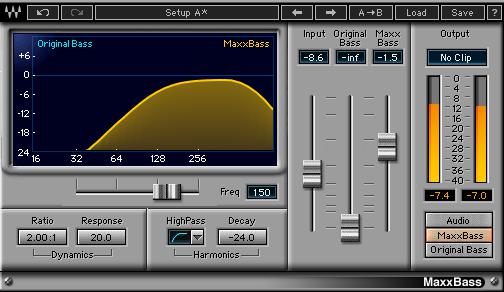 To hear a master in action using the
MaxxBass plug-in
, check out
Greg Townley's Sonic Dimension in Mixing
. Greg uses the MaxxBass with only the harmonic section added. His use will certainly open your eyes to the enormous possibilities of this clever and very useful mixing plug-in.