मैं एक बार के साथ बात की जॉन रेगन के लिए बास खिलाड़ी पीटर Frampton . मैंने पूछा कि वह कैसे अपने में कान पर नज़र रखता है और कम उत्साही से उसका जवाब मेरे साथ अटक पसंद है, "वे ठीक कर रहे हैं" और उसने कहा, और वह समझाने पर चला गया है कि वह बास ध्वनि की तरह नहीं, यह किया भी था पतली. क्या जॉन की जरूरत करने के लिए अपने मॉनिटर मिश्रण पर अपने बास ध्वनि में सुधार के लिए एक रास्ता था. हममम ... लेकिन कैसे?
I always wondered how headphones or in-ear monitors were able to create bass from such a small driver? The fact is they depend on the psychoacoustic properties of your inner ear canal to create the bass sound you hear. You can go one further and say that the bass frequency you hear does not actually exist, but is created in your mind's ear. How's that? Well read on and I'll show you...

Harmonics से बास बनाना
दर्ज करें लहरें द्वारा MaxxBass . यह न केवल एक हार्डवेयर उत्पाद के रूप में है, लेकिन जो उपभोक्ता उत्पादों में इस्तेमाल किया है और एक आईसी चिप के रूप में, एक उत्पाद है जो लहरें बनाता है प्लग में संस्करण पेशेवर रिकॉर्डिंग या प्रो लाइव ध्वनि के लिए प्रयोग किया जाता है.
यह कैसे काम करता है के विषय के साथ चलो शुरू करो. संक्षेप में, लहरें एक तकनीक जहां प्लग में MaxxBass psychoacoustics एक ही सिद्धांत मैं उपर्युक्त का उपयोग करता है बनाया गया है. मूल विचार के लिए उच्च आवृत्ति harmonics है जो कम आवृत्ति के मौलिक (हमारे मामले में यह एक किक ड्रम जाएगा) पर आधारित हैं एक सेट बनाने के लिए है. यह श्रोता हार्मोनिक सामग्री ही मौलिक लेकिन, वास्तव में, harmonics के मौलिक आवृत्ति शामिल नहीं है के साथ सामंजस्य में है प्रदान करता है. अपने मन के कान इन harmonics सुनता है और अंतराल में भरता है. तो, इसे तोड़ने के नीचे, आप harmonics सुना है और वे कम आवृत्तियों है कि वास्तव में वहाँ नहीं कर रहे हैं सुनवाई में अपने दिमाग चाल.
मिश्रण सिद्धांतों
इस एक मिश्रण अभियंता के लिए एक और लाभ यह कैसे पैदा करता है? इस पर विचार करें ... 'बना है Basoski ट्यूटोरियल, तर्क 406, इलेक्ट्रॉनिका कार्य फ्लो ट्रिक्स , आप देखेंगे 'बना लगातार बस के बारे में अपने सभी पटरियों पर एक कम कट Eq का उपयोग करें. यह बास निर्माण जो एक समस्या है जब नृत्य या भारी बास लदी सामग्री के लिए विशेष रूप से पटरियों को जोड़ने से बचने के है. समस्या हम में से सबसे अधिक है बास के मिश्रण के भीतर एक मजबूत स्तर बनाने, जबकि muddying कम आवृत्तियों नहीं या कंप्रेसर पर / बंद स्विच एक तरह पंप करने के लिए कारण है, और यह कुछ शिल्प कौशल की आवश्यकता है. MaxxBass का उपयोग मदद कर सकते हैं आप इस लक्ष्य को पाने की.
MaxxBass के संस्करण में प्लग आप प्लग में एक चैनल पट्टी, एक औक्स प्रभाव और एक माहिर उपकरण के रूप में अपने मिश्रण के साथ काम करने के कई तरीके की अनुमति देगा. इन आवेदनों आप में वृद्धि कर सकते हैं में से प्रत्येक में पैनापन, या बस वास्तव में अधिक बास को जोड़ने के बिना मिश्रण मोटा. यह मीडिया प्लेबैक उपकरणों की आज की दुनिया में एक आदर्श समाधान है.
सेल फोन सुन उपकरणों के रूप में अधिक प्रचलित हो रहे हैं. एक उन्नयन से है कि एक लैपटॉप पर वक्ताओं में बनाया हो या, हो सकता है अगर तुम सच में भाग्यशाली है, एक टेबल टॉप पोर्टेबल स्टीरियो कर रहे हैं. इन उपभोक्ता उपकरणों के सभी बास आवृत्तियों बनाने के लिए संघर्ष है कि आप सुना होना चाहते हो सकता है, लेकिन बस श्रोताओं अंत में उत्पादन नहीं कर रहे हैं.
हम सब छोटे पर नज़र रखता है या एक कम अंत प्लेबैक प्रणाली का उपयोग करने के लिए माध्यम के उस तरह के लिए हमारे मिश्रण गेज की पुरानी चाल पता है. लेकिन हम भी बेहतर गुणवत्ता प्लेबैक प्रणाली की उम्मीद है तो हम प्रणाली है कि हमें ऑडियो प्रजनन हम सच में देखना चाहता हूँ दे पर खोना नहीं चाहती. तो चलो परीक्षण करने के लिए MaxxBass डाला और देखो कि यह कैसे अपने मिश्रण एक मोटी बास दे सकते हैं.
यह कैसे वास्तविक विश्व में निर्माण
Here I have chosen a deep low end drum sound which can be hard to mix, especially for smaller speakers to hear the kick drum by the time all the instruments are layered. What you're hearing is a 26" Slingerland kick drum. Below is a screen shot of the Kick drum soloed and it's frequency and levels via the Analyzer.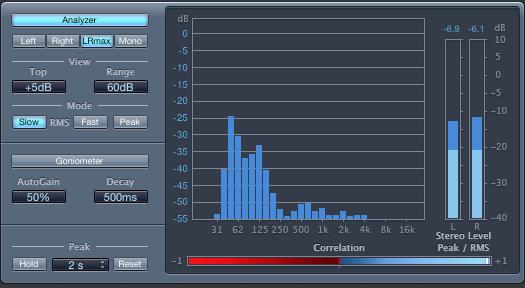 Listen to the Plain drum track here:
[ऑडियो आईडी = "1831"]
यदि आप एक सभ्य ध्वनि प्रणाली है, तो आप एक बहुत अच्छा किक ड्रम ध्वनि सुनना चाहिए. यदि नहीं, तो आप शायद एक तरह की दस्तक ध्वनि हो रही है.
Now the same track with some gentle MaxxBass processing added using an AUX Buss Channel.
Below is a screen shot of the same soloed kick drum with MaxxBass added. Notice it had not increased the low-end frequency:
[audio src="http://www.macprovideo.com/blog/wp-content/uploads/2011/02/Kick+MB.mp3"]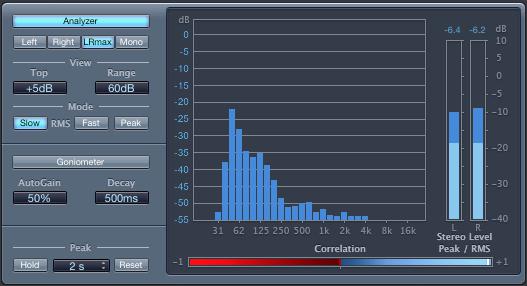 अंत में यहाँ अधिकतम बास ही ध्वनि है:
[ऑडियो आईडी = "1833"]
Below is a screen shot of the Max Bass plug-in set with only the Max Bass harmonics and the original bass taken out.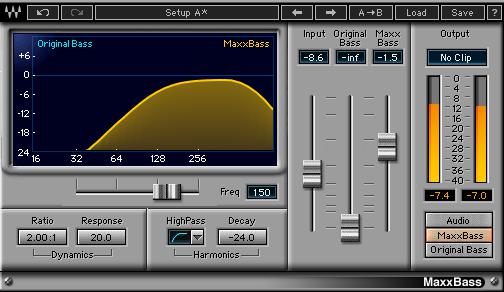 To hear a master in action using the
MaxxBass plug-in
, check out
Greg Townley's Sonic Dimension in Mixing
. Greg uses the MaxxBass with only the harmonic section added. His use will certainly open your eyes to the enormous possibilities of this clever and very useful mixing plug-in.