Une fois, j'ai parlé avec John Regan , le bassiste de Peter Frampton . J'ai demandé comment il aimait ses in-ear monitors et son peu d'enthousiasme réponse collé avec moi », ils sont OK", et il a dit, et il a poursuivi en expliquant qu'il n'avait pas aimé le son de basse, il était trop mince. Ce que Jean était un moyen nécessaire pour améliorer son son de basse sur ses retours. Hmmm .. mais comment?
I always wondered how headphones or in-ear monitors were able to create bass from such a small driver? The fact is they depend on the psychoacoustic properties of your inner ear canal to create the bass sound you hear. You can go one further and say that the bass frequency you hear does not actually exist, but is created in your mind's ear. How's that? Well read on and I'll show you...

Créer Basse à partir d'harmoniques
Entrez MaxxBass par Waves . C'est un produit qui crée des vagues, non seulement comme un produit matériel, mais comme une puce qui est utilisée dans des produits de consommation et, le plug-in Edition est utilisé pour l'enregistrement professionnel ou Pro Sono.
Commençons par le sujet de comment il fonctionne. En bref, Waves a créé une technologie où le MaxxBass plug-in utilise le même principe psychoacoustique je l'ai mentionné ci-dessus. L'idée de base est de créer un ensemble d'harmoniques de fréquence élevée qui sont basées sur les fondamentaux de la faible fréquence (dans notre cas ce sera une grosse caisse). Il offre à l'auditeur le contenu harmonique qui est à l'unisson avec les fondamentaux elle-même mais, en fait, les harmoniques ne contiennent pas de la fréquence fondamentale. L'oreille de votre esprit entend ces harmoniques et comble les lacunes. Donc, pour le décomposer, vous entendez les harmoniques et ils croire à votre cerveau en entendre les basses fréquences qui ne sont pas vraiment là .
Principes Mixage
Comment cela créer un avantage pour un ingénieur de mixage? Considérez ceci ... En tutoriel Olav Basoski, Logic 406, astuces Electronica Work Flow , vous verrez Olav utiliser systématiquement un égaliseur coupe-bas à peu près tous ses morceaux. Ceci afin d'éviter la basse construire qui est un problème lors de l'ajout des pistes spécialement pour la danse ou du matériel basse lourde charge. Le problème le plus d'entre nous est la création d'un fort niveau de la basse dans le mix, tout en n'étant pas troubler les fréquences inférieures ou causant le compresseur pour pomper comme un interrupteur on / off, ce qui nécessite une certaine artisanat. Utiliser MaxxBass peut vous aider à atteindre cet objectif.
Le plug-in d'édition MaxxBass vous permettra de nombreuses façons de travailler avec votre mélange comme une bande de canal de plug-in, un effet AUX et un outil de mastering. Dans chacune de ces applications, vous pouvez améliorer, d'affiner ou tout simplement grossir le mixage sans avoir à ajouter plus de basses. C'est une solution idéale dans le monde d'aujourd'hui de dispositifs de lecture des médias.
Les téléphones cellulaires sont de plus en plus répandue que les dispositifs d'écoute. Une mise à jour à partir de ce pourrait être le haut-parleurs intégrés sur un ordinateur portable ou, si vous êtes vraiment chanceux, une table stéréo haut portables. Tous ces dispositifs de consommateurs lutte pour créer des basses fréquences que vous pouvez l'intention de se faire entendre, mais simplement ne sont pas produites à la fin auditeurs.
Nous savons tous le vieux truc de petits écrans à l'aide ou un système de lecture de bas de gamme afin d'évaluer notre mix pour ce genre de milieu. Mais nous avons aussi une attente de meilleurs systèmes de qualité de lecture afin que nous ne voulons pas perdre sur les systèmes qui nous donnent la reproduction audio-nous vraiment envie de voir. Alors mettons MaxxBass à l'épreuve et voir comment il peut donner à votre mélange un plus gros bass.
Comment cela fonctionne dans le monde réel
Here I have chosen a deep low end drum sound which can be hard to mix, especially for smaller speakers to hear the kick drum by the time all the instruments are layered. What you're hearing is a 26" Slingerland kick drum. Below is a screen shot of the Kick drum soloed and it's frequency and levels via the Analyzer.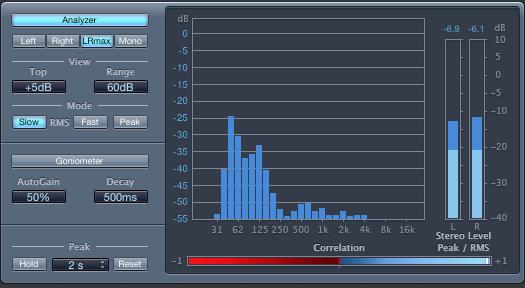 Listen to the Plain drum track here:
[Audio id = "1831"]
Si vous possédez un système audio décent, vous devriez entendre un son très bon coup tambour. Si non, vous êtes probablement obtenir un son frapper de toutes sortes.
Now the same track with some gentle MaxxBass processing added using an AUX Buss Channel.
Below is a screen shot of the same soloed kick drum with MaxxBass added. Notice it had not increased the low-end frequency:
[audio src="http://www.macprovideo.com/blog/wp-content/uploads/2011/02/Kick+MB.mp3"]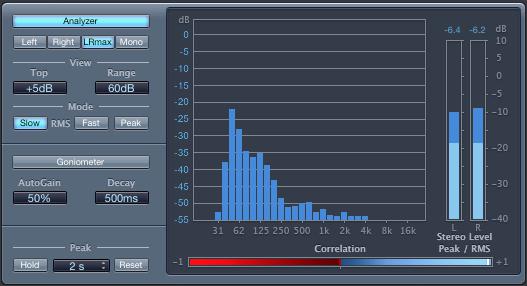 Enfin voici le son de basse Max uniquement:
[Audio id = "1833"]
Below is a screen shot of the Max Bass plug-in set with only the Max Bass harmonics and the original bass taken out.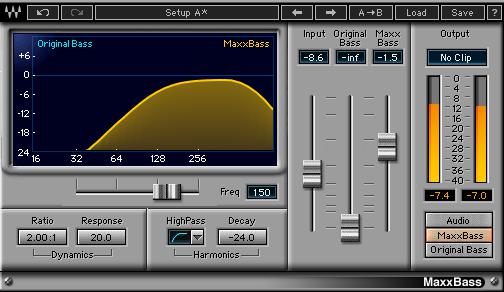 To hear a master in action using the
MaxxBass plug-in
, check out
Greg Townley's Sonic Dimension in Mixing
. Greg uses the MaxxBass with only the harmonic section added. His use will certainly open your eyes to the enormous possibilities of this clever and very useful mixing plug-in.