Una vez hablé con John Regan , el bajista de Peter Frampton . Le pregunté si le gustaba la oreja en los monitores y su respuesta poco entusiasta me quedó grabada: "Están bien", y dijo que él, y él pasó a explicar que no le gustaba el sonido del bajo, ya era demasiado delgada. Lo que Juan necesitaba era una manera de mejorar su sonido de bajo en su mezcla de monitores. Hmmm .. pero ¿cómo?
I always wondered how headphones or in-ear monitors were able to create bass from such a small driver? The fact is they depend on the psychoacoustic properties of your inner ear canal to create the bass sound you hear. You can go one further and say that the bass frequency you hear does not actually exist, but is created in your mind's ear. How's that? Well read on and I'll show you...

Bajo la creación de armónicos
Introduzca MaxxBass por las ondas . Este es un producto que las ondas se basa, no sólo como un producto de hardware, sino como un chip IC que se utiliza en productos de consumo y, el plug-in de edición se utiliza para el registro de profesionales o de sonido en vivo Pro.
Vamos a empezar con el tema de cómo funciona. En resumen, Waves ha creado una tecnología donde el MaxxBass plug-in utiliza el principio de la psicoacústica mismo que he mencionado anteriormente. La idea básica es crear una serie de armónicos de alta frecuencia que se basan en los principios fundamentales de la frecuencia más baja (en nuestro caso, esto será un bombo). Se ofrece al oyente el contenido armónico que está en armonía con la propia fundamental, pero, de hecho, los armónicos no contienen la frecuencia fundamental. El oído de su mente escucha estos armónicos y rellena los huecos. Por lo tanto, para romperla, se escucha la armonía y que engañan al cerebro para oír las frecuencias más bajas que en realidad no existen.
Principios de mezcla
¿Cómo funciona esta una ventaja para un ingeniero de sonido? Considere esto ... En tutorial Olav Basoski, la lógica 406, Electronica Trucos de flujo de trabajo , verá Olav uso constante de la ecuación de corte bajo en casi todos sus temas. Esto es para evitar acumulación de graves que es un problema al añadir pistas especialmente para la danza o el material de graves cargados de pesados. El problema de la mayoría de nosotros tenemos es en la creación de un alto nivel de graves dentro de la mezcla, mientras que no enturbiar hasta las frecuencias más bajas o causar que el compresor de la bomba como un interruptor on / off, y esto requiere un poco de artesanía. Utilizando MaxxBass puede ayudarle a alcanzar este objetivo.
El plug-in de edición de MaxxBass le permite muchas maneras de trabajar con la mezcla como un canal de plug-in, un efecto AUX y una herramienta de masterización. En cada una de estas aplicaciones puede mejorar, perfeccionar o simplemente engordar la mezcla sin tener que añadir más bajo. Que es una solución ideal en el mundo actual de los medios de comunicación los dispositivos de reproducción.
Los teléfonos celulares son cada vez más frecuente como dispositivos de escucha. Una actualización de la que podrían ser los altavoces incorporados en un ordenador portátil o, si tienes suerte, una mesa portátil estéreo superior. Todos estos dispositivos de consumo lucha por crear las frecuencias de graves que puede tener la intención de ser oído, sino que simplemente no se producen al final oyentes.
Todos sabemos que el viejo truco de la utilización de monitores pequeños o de un sistema de reproducción de gama baja para medir nuestra mezcla de ese tipo de medio. Pero también tenemos la expectativa de mejores sistemas de calidad de reproducción por lo que no quieren perder a los sistemas que nos dan la reproducción de audio que realmente queremos ver. Así que vamos a poner MaxxBass a prueba y ver cómo se puede dar a su combinación de un bajo más gordo.
Cómo funciona en el mundo real
Here I have chosen a deep low end drum sound which can be hard to mix, especially for smaller speakers to hear the kick drum by the time all the instruments are layered. What you're hearing is a 26" Slingerland kick drum. Below is a screen shot of the Kick drum soloed and it's frequency and levels via the Analyzer.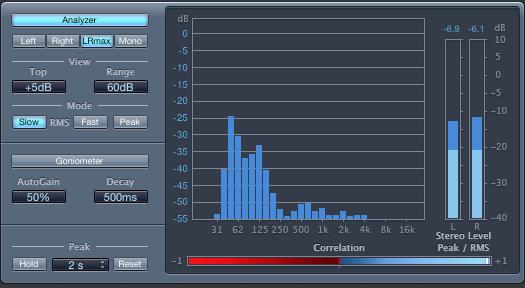 Listen to the Plain drum track here:
[Audio id = "1831"]
Si usted tiene un sistema de sonido decente, usted debe oír un sonido de bombo muy bien. Si no es así, es probable que obtener un sonido de golpes de suerte.
Now the same track with some gentle MaxxBass processing added using an AUX Buss Channel.
Below is a screen shot of the same soloed kick drum with MaxxBass added. Notice it had not increased the low-end frequency:
[audio src="http://www.macprovideo.com/blog/wp-content/uploads/2011/02/Kick+MB.mp3"]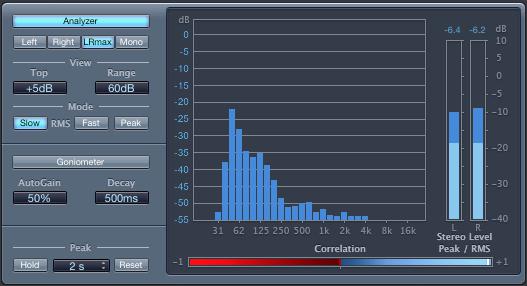 Finalmente aquí está el sonido de graves Max sólo:
[Audio id = "1833"]
Below is a screen shot of the Max Bass plug-in set with only the Max Bass harmonics and the original bass taken out.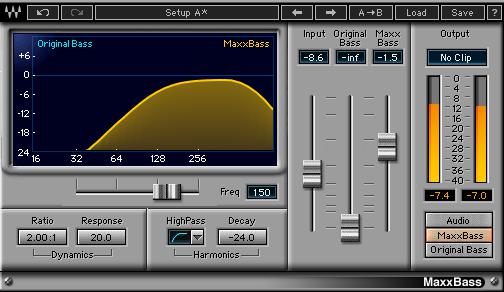 To hear a master in action using the
MaxxBass plug-in
, check out
Greg Townley's Sonic Dimension in Mixing
. Greg uses the MaxxBass with only the harmonic section added. His use will certainly open your eyes to the enormous possibilities of this clever and very useful mixing plug-in.