Ich sprach einmal mit John Regan , der Bassist Peter Frampton . Ich fragte, wie er seine In-Ear-Monitoren und seinen weniger als begeisterte Antwort mit mir stecken mochte, "Sie sind ok", und er sagte, und er fuhr fort zu erklären, dass er nicht wie der Bass-Sound, es war auch dünn. Was John brauchte, war ein Weg, um seine Bass-Sound auf seinem Monitor-Mix zu verbessern. Hmmm .. aber wie?
I always wondered how headphones or in-ear monitors were able to create bass from such a small driver? The fact is they depend on the psychoacoustic properties of your inner ear canal to create the bass sound you hear. You can go one further and say that the bass frequency you hear does not actually exist, but is created in your mind's ear. How's that? Well read on and I'll show you...

Erstellen Bass von Oberschwingungen
Geben Sie MaxxBass von Waves . Dies ist ein Produkt, das Waves baut, nicht nur als Hardware-Produkt, sondern als ein IC-Chip, der in verbrauchernahen Produkten verwendet wird und die Plug-in edition ist für den professionellen Aufnahme-oder Pro Live-Sound.
Lasst uns mit dem Thema, wie es funktioniert beginnen. Kurz gesagt, hat Waves eine Technologie, wo die MaxxBass Plug-in verwendet die gleichen Psychoakustik Prinzip habe ich bereits erwähnt erstellt. Die Grundidee ist, eine Reihe von höheren Oberwellen, die auf den grundlegenden der niedrigeren Frequenz (in unserem Fall wird eine Kick-Drum werden) basieren. Es bietet dem Zuhörer den harmonischen Inhalt, die im Einklang mit den grundlegenden selbst, sondern in der Tat, die Oberwellen enthalten nicht die Grundfrequenz. Dein Geist das Ohr hört, diese Oberwellen und füllt die Lücken. Also, um es brechen, hören Sie die Oberschwingungen und sie nun, Ihr Gehirn in Verhandlung niedrigeren Frequenzen, die nicht wirklich da.
Mischprinzipien
Wie funktioniert das einen Vorteil für eine Mixing Engineer? Betrachten Sie diese ... In Olav Basoski Tutorial, Logic 406, Electronica Work Flow Tricks , sehen Sie Olav konsequent mit einem Low-Cut-EQ auf fast alle seine Tracks. Dies ist zu vermeiden, Bass aufzubauen, die ein Problem beim Hinzufügen von Tracks vor allem für Tanz oder schwere Bass beladene Material. Das Problem die meisten von uns haben, ist bei der Schaffung einer starken Niveau der Bass im Mix, die zwar nicht trüben sich die niedrigeren Frequenzen oder Schäden an den Kompressor, wie ein Ein / Aus-Schalter Pumpe, und das erfordert etwas handwerklichem Geschick. Mit MaxxBass kann Ihnen helfen, dieses Ziel zu erreichen.
Das Plug-in Ausgabe MaxxBass können Sie viele Möglichkeiten, um mit Ihrem Mix als Kanalzug-Plug-in, ein AUX-Effekt und eine Mastering-Tool arbeiten. In jeder dieser Anwendungen können Sie erhöhen, schärfen oder einfach nur mästen den Mix, ohne tatsächlich das Hinzufügen mehr Bass. Das ist eine ideale Lösung in der heutigen Welt der Medien-Wiedergabe-Geräte.
Handys werden immer häufiger als Abhörgeräte. Ein Upgrade von der vielleicht die eingebauten Lautsprecher auf einem Laptop oder, wenn Sie wirklich Glück, eine Tischplatte portable Stereo sind. Alle diese Consumer-Geräte Kampf um die Bass-Frequenzen zu schaffen, dass Sie beabsichtigen, gehört zu werden, sondern sind einfach nicht an die Zuhörer Ende produziert.
Wir alle kennen die alte Trick mit kleinen Monitoren oder ein Low-End-Wiedergabe-System, unsere Mischung für diese Art von mittlerer Stärke. Aber wir haben auch eine Erwartung an eine bessere Qualität der Wiedergabe-Systeme, damit wir nicht verlieren wollen auf die Systeme, die uns die Audiowiedergabe wir wirklich sehen wollen. So lasst uns MaxxBass auf die Probe und sehen, wie es kann Ihrem Mix einen fetteren Bass.
Wie es funktioniert in den Real-World
Here I have chosen a deep low end drum sound which can be hard to mix, especially for smaller speakers to hear the kick drum by the time all the instruments are layered. What you're hearing is a 26" Slingerland kick drum. Below is a screen shot of the Kick drum soloed and it's frequency and levels via the Analyzer.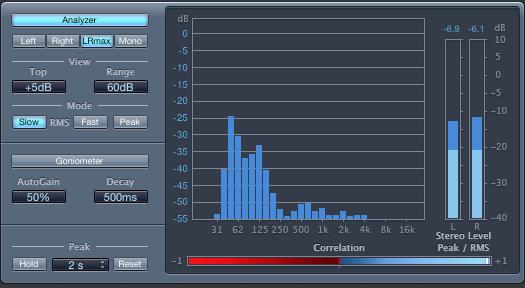 Listen to the Plain drum track here:
[Audio-id = "1831"]
Wenn Sie ein anständiges Soundsystem haben, sollten Sie hören ein ziemlich guter Kick-Drum-Sound. Wenn nicht, bist du wahrscheinlich immer ein Klopfen der Arten.
Now the same track with some gentle MaxxBass processing added using an AUX Buss Channel.
Below is a screen shot of the same soloed kick drum with MaxxBass added. Notice it had not increased the low-end frequency:
[audio src="http://www.macprovideo.com/blog/wp-content/uploads/2011/02/Kick+MB.mp3"]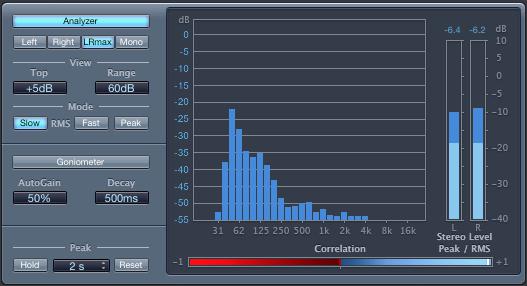 Schließlich ist hier die Max-Bass-Sound nur:
[Audio-id = "1833"]
Below is a screen shot of the Max Bass plug-in set with only the Max Bass harmonics and the original bass taken out.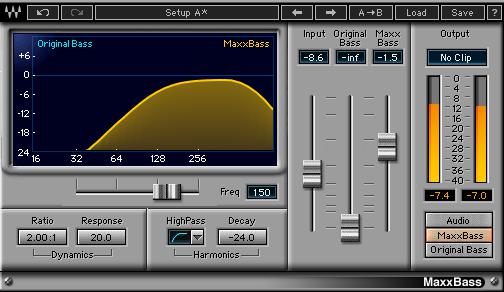 To hear a master in action using the
MaxxBass plug-in
, check out
Greg Townley's Sonic Dimension in Mixing
. Greg uses the MaxxBass with only the harmonic section added. His use will certainly open your eyes to the enormous possibilities of this clever and very useful mixing plug-in.