Review: Propellerhead Reason 10
Reason 10 has landed with new instruments, effects and a bunch of brand new loop content, making the bundled content bigger and better than ever. Hollin Jones spent some time getting to know it.
It was only recently that Propellerhead released Reason 9.5, bringing VST support to the software for the first time and in the process, opening up your own - possibly extensive - plug-in collection for use inside its rack. This was a big deal, not just because of the engineering effort it must have taken to make it happen but because you could make the case that VSTs compete with the Props' own Rack Extensions for space in your library. Whatever the grounds for the decision though, it was good news for users.
Power of 10
Now a mere five months after 9.5 comes Reason 10. It continues the "tick tock" approach that the Swedish developer has historically taken with its flagship application: one major release typically focuses on structural and workflow changes, the next on new instruments and effects, and this pattern is repeated. So here we are with a rack-focused release: several new synths and instruments plus an extra effect bundled as standard. It's worth mentioning that there haven't been any significant user-facing changes to the way Reason works that I could find, save perhaps for a new Preferences option to use hyper threading for audio rendering that I don't recall having spotted in the past.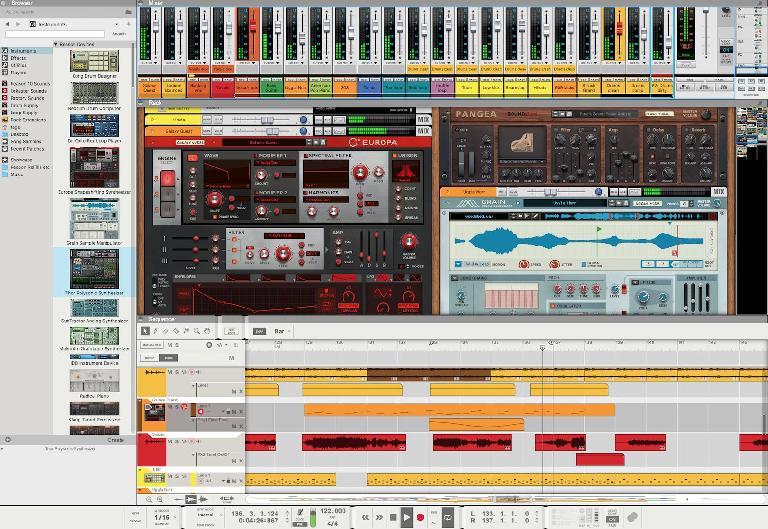 Reason evolves rather than changing radically, so everything you know and love is still there: unlimited audio and MIDI tracking, a powerful mixer, audio slicing and stretching, a wealth of Rack modules, free audio and CV patching and much more. At this point in its history, Reason is a really mature and stable platform with almost two decades of development behind it. As such it's managed to maintain its reputation for stability and usability despite having at various points added major new features like audio recording and as noted, VST support. A visit to the product page will give you a rundown of all of Reason's features, but let's look here at what's new.
New Arrivals
The two biggest new instruments are synths: Europa and Grain. These share a broadly similar layout but are very different in how they work and sound. Despite looking a little complex they are actually laid out quite logically and don't take all that long to get to grips with. Europa is a wavetable synth with three engines to which you can add spectral filtering, harmonics processing, draw custom waveforms, apply extensive modulation and process onboard effects.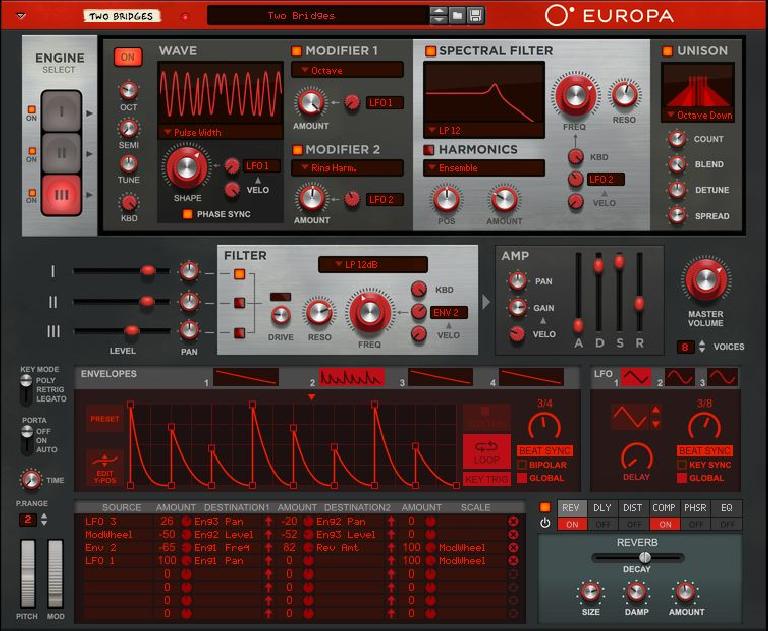 They have taken a very powerful bunch of synth sections and made them accessible, so although Europa does reward some knowledge of the synthesis process, even beginners will be able to tweak and shape signal pretty easily to get cool sounding results. Sonically, it's an absolute beast, capable of everything from fat basses to psychedelic digital soundscapes. The Unison and Modifier sections in particular make achieving dynamic, fat sounds surprisingly straightforward. It's insanely tweakable, lots of fun and sounds amazing.
Against the Grain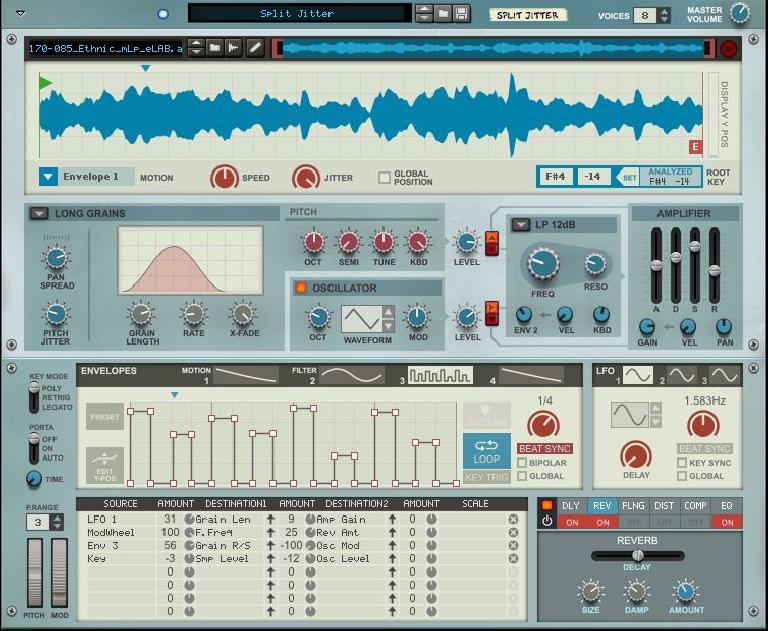 The Grain Sample Manipulator is quite different: a sample-based granular synthesiser that uses library sounds, your own samples or sounds sampled directly into the module as the basis for generating signal. Select from multiple grain analysis and playback algorithms, filter and modulate the results and use the waveform window to change how the synth selects and plays back any given part of a waveform. Capable of creating some truly atmospheric, ethereal sounds, Grain lets you use any sample and end up with other-worldly results that sound nothing like what you started with. Since it can use any sound as a source, the possibilities are virtually limitless.

Next up are three new sampled instruments that use similar, simple interfaces to play back a variety of "real" sounds. Klang Tuned Percussion contains instruments like music boxes, glockenspiels and the like; Pangea World Instruments is plucked, blown and strummed traditional sounds from around the globe and the Humana Vocal Ensemble is a selection of choirs and solo human voices that range from the slightly odd solos to rich and stately full-blown choirs. Though straightforward, these three modules introduce sounds that Reason hasn't historically had in any great numbers, and so are very welcome additions.

Play It Again, Sam
Radical Piano had previously been an optional Rack Extension but is now bundled with Reason 10. As I found when I reviewed it some years back, it's a gorgeous-sounding, sample-based module that focuses on real acoustic pianos. And not just boring grands but uprights, close-mic'ed and other models (three in total but processed in different ways using physical modelling) that make it possible to make music in Reason that has more feeling than the older sampled pianos allowed. With detailed mic control as well as mechanical noise, velocity and ambience sections it's an excellent module for anyone needing authentic and believable piano sounds.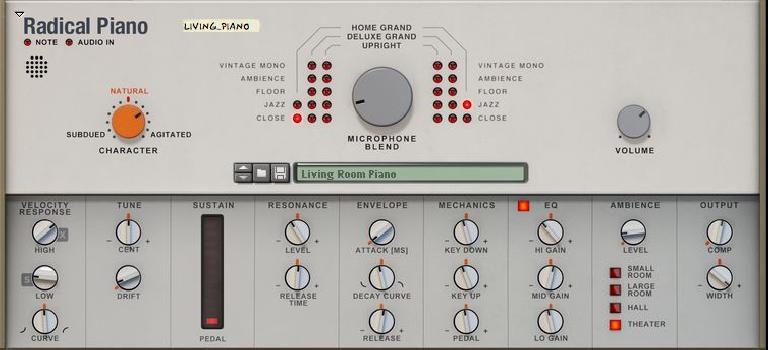 The Synchronous Effect Modulator also used to be an optional extra but is now included too - a three-envelope multi effect with distortion, filter, delay and reverb sections, each of which can have mod envelopes assigned, with each envelope fully customisable and independent. It's actually rather easier to use than it might first seem and an excellent way to add dynamic, envelope-controlled effect modulation to parts. Last but not least are two new libraries: Loop Supply is a bunch of REX loops grouped by genre, and Drum Supply consists of patches and samples for Kong that cover new, cutting edge styles. Both of these help to keep Reason's sound library nice and fresh, which is a good thing.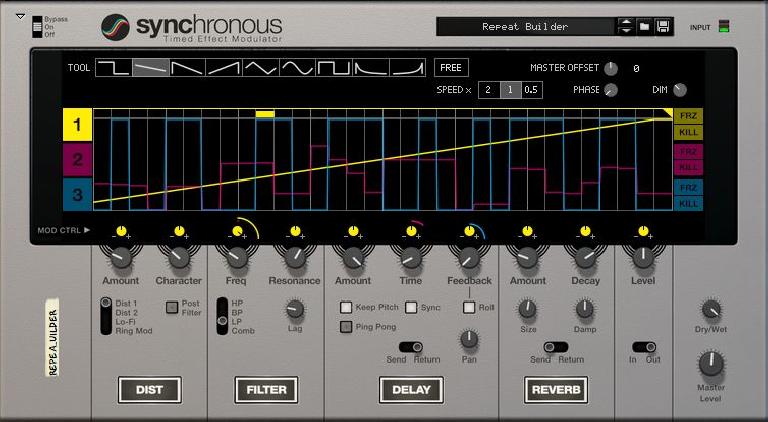 Conclusion
Reason continues to plough its own furrow in many ways. It isn't trying to compete directly with very complex DAWs like Logic Pro or Cubase Pro and as such it does still lack certain features like scoring, surround and video support, all of which would be welcome additions for some users. What it does offer - even more so at version 10 - is a unique take on music production. Friendly and accessible, it has managed to add a great many features over time without compromising usability or the general feeling of fun and creativity that you get when you use it. Fun though it is, the colourful interface shouldn't fool you. This is a powerful and mature music-making platform with a great feature set: vocal pitch correction, audio slicing, free routing of CV and audio, remote control and much more, that continues to go from strength to strength.
The new synths and instruments that come with Version 10 are very good - Europa is a particular favourite of mine and will certainly be used in a lot of productions, such is its power and versatility in terms of the range of sounds it can make. Elsewhere, more traditional music is well catered for with the sample based modules and Radical Piano. It's hard to say if owners of Reason 9.5 will rush to buy the upgrade - it will largely depend on how much you want the new modules.
The Props have also started a new subscription-based system for Rack Extensions, which is worth a look. For anyone on a version older than 9 however, the upgraded to 10 will be more essential since you'll get a whole bunch of new stuff in one go. Whenever you choose to upgrade or indeed if you are a new user coming into Reason world, you will find much to like in this friendly, powerful and versatile DAW.
Price: 349 EUR / $399 (upgrade from any earlier version 129 EUR / $129)
Pros: All the goodies you know and love still present and correct. New synths are powerful and genuinely useful for many genres. Sample-based instruments and Radical Piano cater for "real" sounds. Synchronous is cool. Overall, still a really powerful and unique DAW platform that's approachable but capable of great things.
Cons: Arguably not a really huge upgrade for owners of 9.5. Some features from other leading DAWs still notably absent.
Web: https://www.propellerheads.se/en/reason/new
Watch: Ask.Audio | macProVideo | Ask.Video