You will probably know by now that Reason now supports Rack Extensions that allow third-party developers to produce new instruments and effects to extend Reason, and perhaps also that the Props are making a few of their own. Hot on the heels of Radical Piano, which I rather liked, comes Radical Keys, a module that uses a similar approach to bring three classic keyboards into Reason. Electric pianos are one of those types of instruments that get modelled a lot, but not always very well. Like pianos, they are more subtle than you imagine, with original models responding differently depending on how they are played.
The idea here is much like Radical Pianos, utilizing a combination of advanced multisampling and physical modelling to recreate believable vintage keyboards. It's only a 100 MB download, which won't use up much space on a modern hard drive and at $99.00 it's arguably cheaper than most standalone vintage keyboard instruments. NI's Scarbee Vintage Keys is currently $149 and 5.9GB in size though of course it works in standalone mode or as a cross-DAW plug-in.
The front panel of Radical Keys has three main sections. To the left, you can change the character of any sound variably between subdued, natural and agitated settings. In the center you get to blend instrument and mix position types so you can select a Wurlitzer, Rhodes or Pianet and then for each one, a line in, amp or room style mic position. By blending between two independently-miked instruments you can go far beyond the sound of any one keyboard, creating new and unique patches.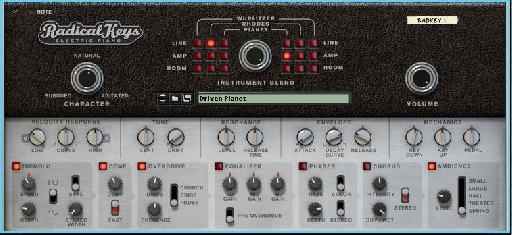 The interface has a nice, aged vinyl coating feel to it'¦
There are some excellent presets ranging from dry and dusty Rhodes and hard, biting Wurlis through warm, pad-like keyboard sounds and far-out spacey effects. It must be said that the more regular sounds are very believable, and this is coming from someone who owns an original Rhodes Stage 73. The bite and mechanical feel is there when you play it hard and the soft, dreamy effect works too when you're playing more softly and using a sustain pedal. Most presets use only the module itself but some are Combi pathces that incorporate other modules for bigger, more advanced patches.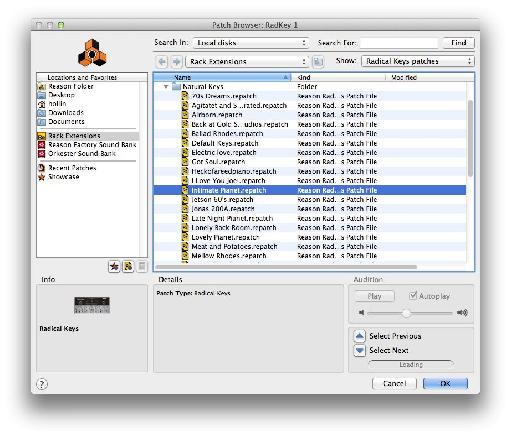 There are some great presets provided, covering everything from funk to electro.
The control section lets you modify patches and here there are essentially two sets of parameters. The upper row lets you set things like velocity response, tuning, resonance and envelope to mess with the way the sound is shaped. The Mechanics section lets you alter the mechanical key up, key down and sustain pedal noises for a cleaner or a more mechanical sound. Under this is a row of excellent effects, all with their own controls. Tremolo is great for adding that classic Rhodes effect and compression and overdrive can crank up any sound with ease. There's a three band EQ, phaser and chorus effects and finally an ambience stage with five selectable types. Around the back, it can accept CV in for various parameters though disappointingly not audio in. Although Reason has many other effect modules it would have been nice to be able to route other sounds through the instrument's effects.
Radical Keys is an excellent vintage keyboard module with some amazing sounding electric pianos and a great set of onboard controls to tweak and modify the sounds. Patches range from traditional to special FX, so there's bound to be something here for everyone. There's a free 30-day trial for registered users, so give it a whirl today!
Web: http://shop.propellerheads.se/product/radical-keys/