Propellerhead, who makes the deservedly popular Reason, have taken their slightly quirky approach and come up with an iOS app. Just over six months in development, Figure is an iPhone app that also works on iPad and gets you making music in seconds. So I spent literally minutes (which turned into hours) taking a look on your behalf to see whether it's worth the asking price.
Go Figure!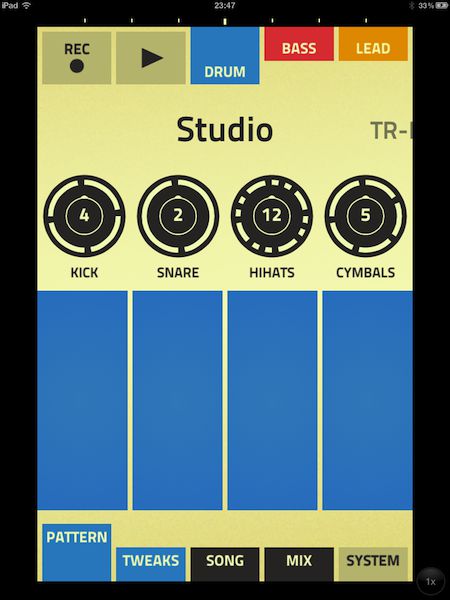 Drums in Figure.
Firstly, for iPad users like me, don't be fooled by the fact that it is listed as an iPhone-only app. The graphic design combined with clever implementation means the app scales up to iPad size without any visible artifacts. Even iPad 3 (sorry, "the new" iPad) owners will be pleasantly surprised at how well this works (a sign of things to come in app design, I think). The only drawback I can think of with this approach is that the main interface is portrait only. But Propellerhead even has this figured out. When you turn your iOS device on its side the view changes so that the performance box fills the screen, inviting your fingers to get involved!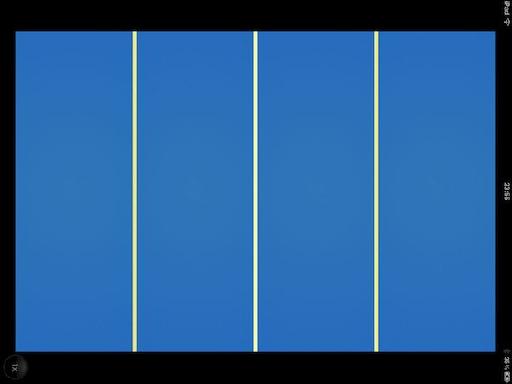 The performance box in landscape view.
In the Pattern tab, Figure offers three parts: Drums, Bass and Lead with sounds sourced from Reason instruments (Thor and Kong). Presets for each part are shown at the top of the window and can be chosen by swiping: 13 drum kits, 32 bass sounds and 46 lead sounds, with some great names. My current favorites are Dobbelstept and Raw Fish!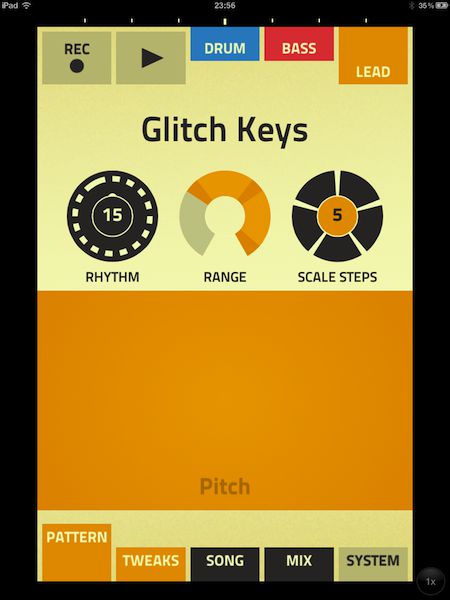 One of the many Lead sounds included!
The Bass and Lead follow the same principle: there are three dials for Rhythm, Range and Scale Steps. Each parameter can be altered by dragging up or down on the dial to increase or decrease complexity or range. So a Rhythm setting of 3 with Scale Steps set to 4 and Range set to Low will play a repeating rhythm of 3 notes based on 4 different scale steps within a limited range. Which scale step is determined by where you place your finger on the performance box, left to right. Moving up and down on the performance box changes the timbre. Any Rhythm setting but 0 is latched to the tempo so if Figure is in Play or Record mode (see below) you quickly get the hang of tapping the performance box in time. With a Rhythm setting of 0 you can play Figure in real time.
The drum part consists of Kick, Snare, Hi-hats and Percussion (various!), each of which has a rhythm setting ranging from 0 (for free play) to 16. Moving left to right on each drum pad plays a different sound (as many as 3 for the percussion box) and moving up and down changes the timbre.
Recording in Figure
The '˜sequencer' records and plays just 2 bars at a tempo determined in the Song tab, where you can also choose the tonality from a choice of 6 major and 6 minor keys and how much the rhythm is shuffled on a scale of 0 to 75.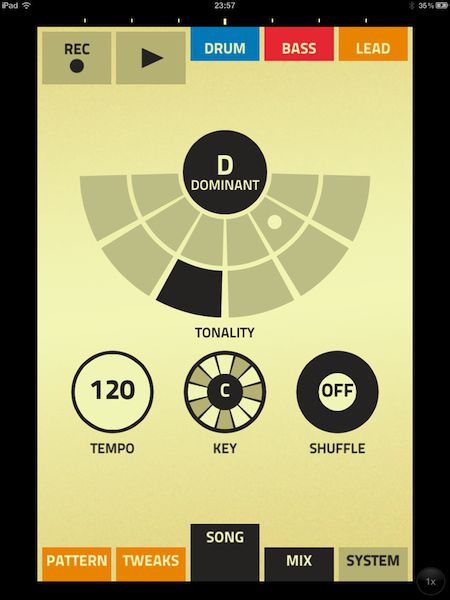 Figure's song settings.
Once you have recorded two bars (and if recording continues), Figure simply replaces what you have already captured, but only if you play something in that part. This is a great touch that makes recording intuitive and invites constant experimentation. The fact that unless you have set the Rhythm setting to 0 you are triggering pre-recorded patterns that latch to tempo also mean that everything you record will sound in time.
And there's more: once you have recorded a two-bar piece you can play along in playback mode, and whenever you touch the performance box you replace the recording so you can interact with your song in real time to create constantly evolving music. Drop back into record mode and replace any part of your recording'"genius! But my favorite effect so far is to record long synth notes then create a stutter effect by using Erase mode and tapping the box in 16th notes...
Tweaking in Figure
Once you have notes recorded you can tweak them in the Tweaks tab. For example: tweaking a bass part lets you use the performance box to control the filter cutoff frequency and resonance as well as the filter envelope and oscillator waveform. But even better, you can record any changes you make in Tweaks in real time (yes, track automation!). Real time changes to all Pattern parameters can also be recorded so your song can always evolve...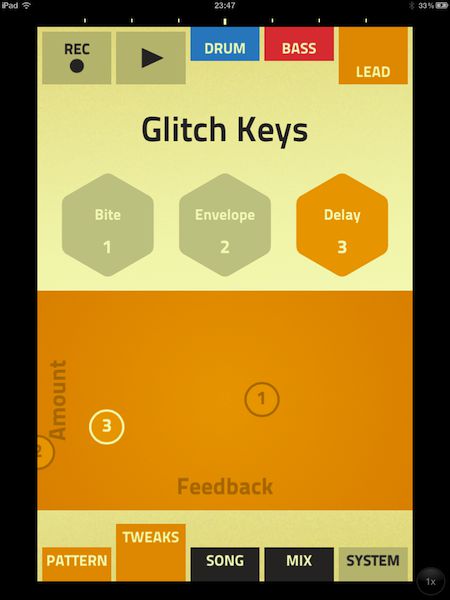 Tweaks is an excellent implementation of real-time track automation.
Mix it up
The Mix tab offers simple track volume and muting along with '˜Pump' to give your song a club sound. And it's at this stage that I have but one criticism: there is no facility to share your creation in any format. I am sure that the developers are already aware of this (as it's a feature in many other audio apps), and are busy developing a Props social network for version 2, as we speak!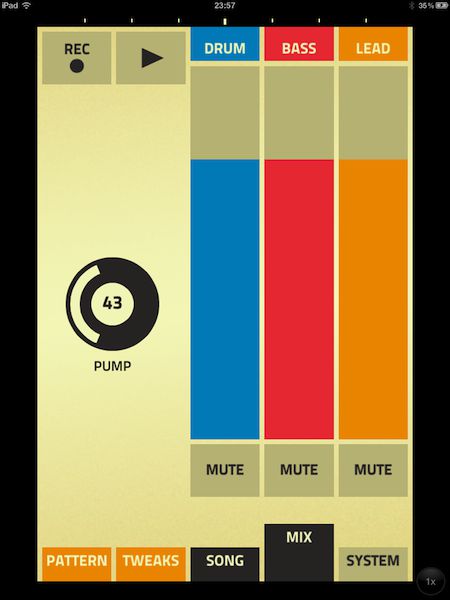 The Mix screen is as intuitive and easy to use as the rest of the Figure interface.
Conclusion
Figure is a huge amount of fun. It draws you right in and gets you making great sounding music right from the off, and has the depth to keep you there. There aren't many apps that have succeeded in exploiting the full potential of the iOS platform but Figure is certainly one of them. If you can spare the £0.69 GBP/$0.99 US asking price download it right now!
Download Figure for iPhone/iPad from iTunes here.